Official warns against improper weight cutting by UFC fighters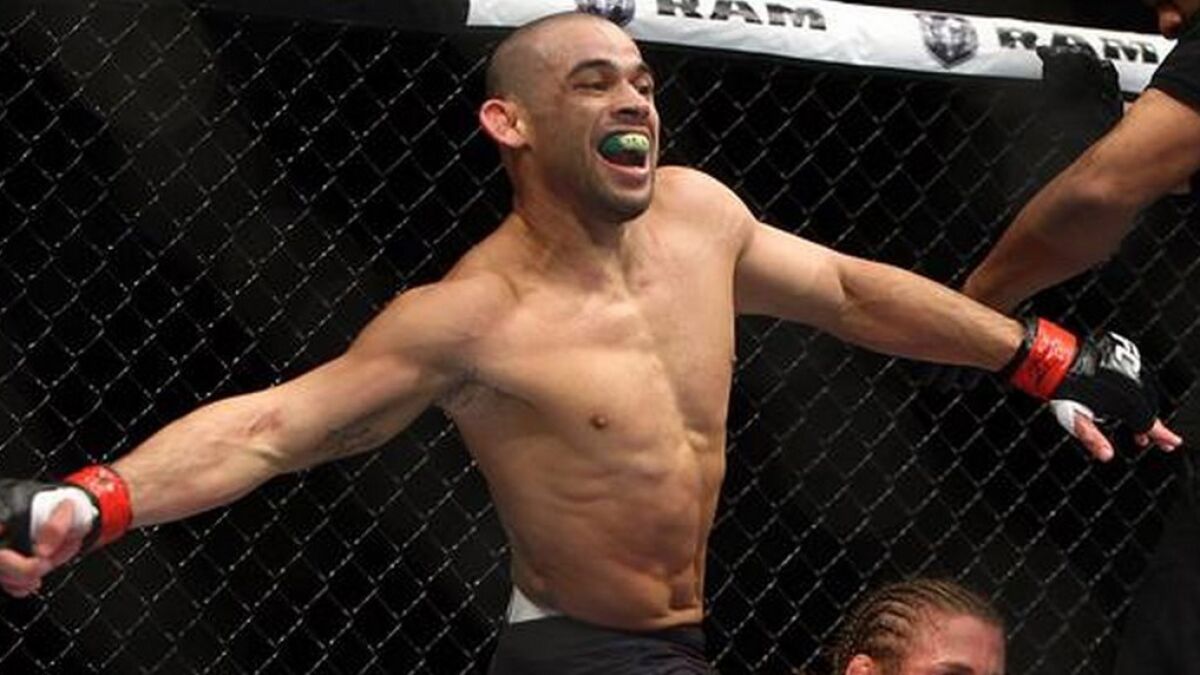 The head of the California State Athletic Commission warns that improper weight cutting by combat-sports fighters like the Ultimate Fighting Championship athletes who stepped on the scale near Staples Center on Friday is "the biggest problem in the sport today."
Andy Foster, executive officer of the commission presiding over UFC 184 at Staples Center on Saturday night, distributed a pamphlet headlined, "The Dangers of Cutting Weight and Dehydrating" to fighters, addressing the risk and toll of unhealthy weight-loss methods.
One fighter on the UFC card, Orange County's Mark Munoz, weighed in over his limit Friday.
"We need to educate these athletes that they need to be fighting around their natural weight, not so many weight classes below," Foster told the Los Angeles Times in a telephone interview.
The gravity of Foster's warning is significant given recent positive tests for performance-enhancing and street drugs by UFC fighters Anderson Silva (steroids), Jon Jones (cocaine) and Nick Diaz (marijuana).
In recent months, former bantamweight champion Renan Barao was pulled from his rematch with champion T.J. Dillashaw in Sacramento after missing weight. Welterweight Kelvin Gastelum was nine pounds over his limit before his Jan. 30 UFC co-main event. And UFC competitors T.J. Waldburger, Nik Lentz and Jimy Hettes, who passed out on fight night, have also battled health issues connected to weight-cutting situations.
One of the possible biggest fights in the UFC could be women's bantamweight (135 pounds) champion Ronda Rousey against Cris "Cyborg" Justino, who's fighting at 145 pounds. The UFC doesn't have a 145-pound division and company executives have said they'd want "Cyborg" to fight at 135 once before meeting Rousey at the same weight.
The CSAC letter warns athletes in an underlined passage not to "use extreme methods for making weight, such as excessive heat methods (rubberized suits, steam rooms, saunas), excessive, intense bouts of exercise, vomiting, laxatives and diuretics."
Along with the Assn. of Ringside Physicians, the CSAC letter notes that a recent report found 39% of MMA fighters enter competition in a dehydrated state.
Decreased performance, hormonal imbalance, decreased nutrition and increased injury risk are at play during dehydration, according to the pamphlet. Kidney and vision problems, diminished strength and endurance and increased risk of brain injury are other side effects of a sudden drop in weight.
"So many of the fighters getting ready to step onto the scale look like walking death," Foster said.
Year-round proper diet and training, weight maintenance, proper hydration and a push toward athletes fighting around their true weight class are being advised.
Raquel Pennington, who's fighting former boxing champion Holly Holm in Saturday's UFC 184 co-main event, said she shed 17 pounds to make weight at 135.5 pounds Friday.
"With me, I have my body figured out scientifically," Pennington said.
When asked who advises her and assists her through the weight-cutting process, she pointed to herself.
"I went through a couple rough weight cuts and said, 'We've got to figure this out. I don't want to struggle each time.' Now I have it down. People freak out when I tell them I'm 20 pounds over weight. I don't start my weight cut until the Thursday before the fight and I finish that morning. In between that time, I still hydrate and eat because I have it down so pat."
Dehydration is a common symptom of weight cutting, the report notes, with a body requiring several hours to days to effectively re-hydrate.
"I was going to a school to be a doctor, so figuring out nutrition, that's really worked," Pennington said. "Nobody knows your body like yourself."
Get our high school sports newsletter
Prep Rally is devoted to the SoCal high school sports experience, bringing you scores, stories and a behind-the-scenes look at what makes prep sports so popular.
You may occasionally receive promotional content from the Los Angeles Times.