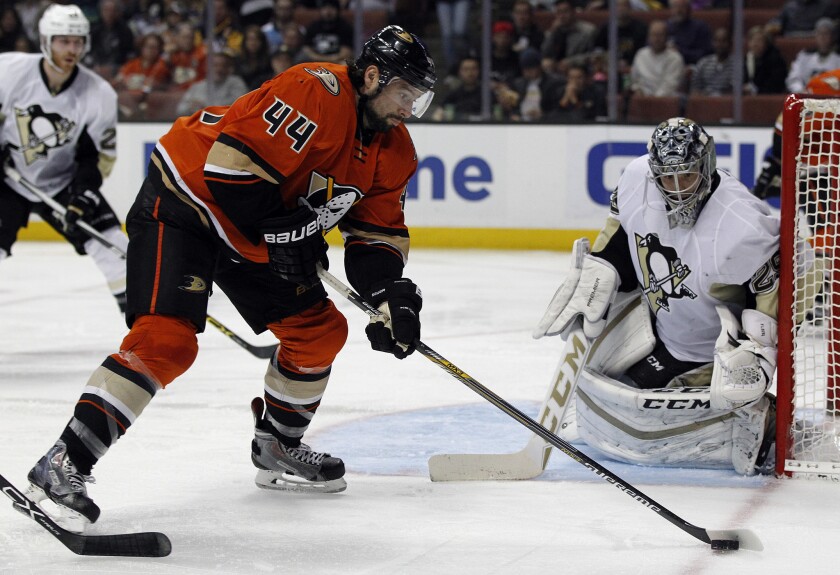 Ducks forward Nate Thompson on Monday was suspended three games by the NHL for his hit to the head of Carolina Hurricanes defenseman Justin Faulk on Friday in Anaheim.
Thompson will lose $25,806.45 in salary.
The Ducks start a trip Thursday in Buffalo and Thompson will be eligible to return Dec. 22 at the New York Rangers.
The incident between Thompson and Faulk came at 6 minutes 25 seconds of the first period. Thompson received a five-minute major for elbowing and an automatic game misconduct. Faulk remained in the game.
The NHL's Department of Player Safety explained the decision, calling it an "illegal check" to the head, noting on the video explanation that Thompson "extends his body unnecessarily and makes Faulk's head the main point of contact."
Thompson was suspended two games in 2013 when he was with the Tampa Bay Lightning, also for an illegal hit to the head.
Khudobin waived
The Ducks put goalie Anton Khudobin on waivers.
He was 3-3-0 with a goals-against average of 2.70 and a save percentage of .908.
Khudobin's $2.25-million salary might prevent a team from putting in a waiver claim by the Tuesday morning deadline.
The Ducks acquired him a trade with the Hurricanes in the off-season.
lisa.dillman@latimes.com
---