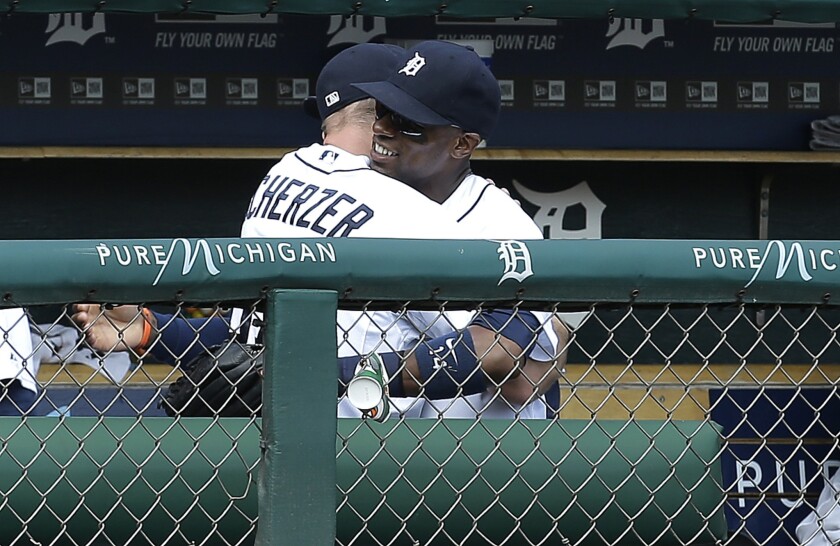 Detroit outfielder Austin Jackson was standing in center field at Comerica Park during the seventh inning when he was suddenly summoned off the field just before Thursday's trade deadline.
Jackson's time as a Tiger was over and he knew it. He'd been traded along with teammate Drew Smyly as part of a three-team deal to allow Detroit to acquire David Price from the Tampa Bay Rays. Jackson will go to the Seattle Mariners and Smyly (6-9), who also started Thursday, will join the Rays.
Rajai Davis replaced Jackson in the outfield, and Jackson ran to the dugout to a standing ovation from Tigers fans for the last time as a member of the home team.
It was an emotional moment for the 27-year-old outfielder.
"It definitely meant a lot," Jackson told the Detroit Free Press after learning of his trade. "This is where I started. Once I seen Rajai come to the top step I pretty much kind of knew what was going on. It was kind of a sad moment right there, knowing that last run off the field. ... It was pretty tough. You run by all your teammates that you played with. Like I've always said I appreciate the opportunity that the Tigers gave me because this is where it started for me. That's why it's a sad moment running off."
Jackson hit .273 with 33 runs batted in and four home runs this season for Detroit, where he has spent his four-year career.
He had two hits and drove in a run before being pulled in the seventh in the Tigers' 7-4 loss to the Chicago White Sox.
The Tigers have a 4 1/2-game lead in the American League Central over Kansas City.
In Seattle, Jackson will be joining a Mariners squad that is 11 games behind the Oakland Athletics, who nabbed pitcher Jon Lester in a trade with the Boston Red Sox on Thursday.
---