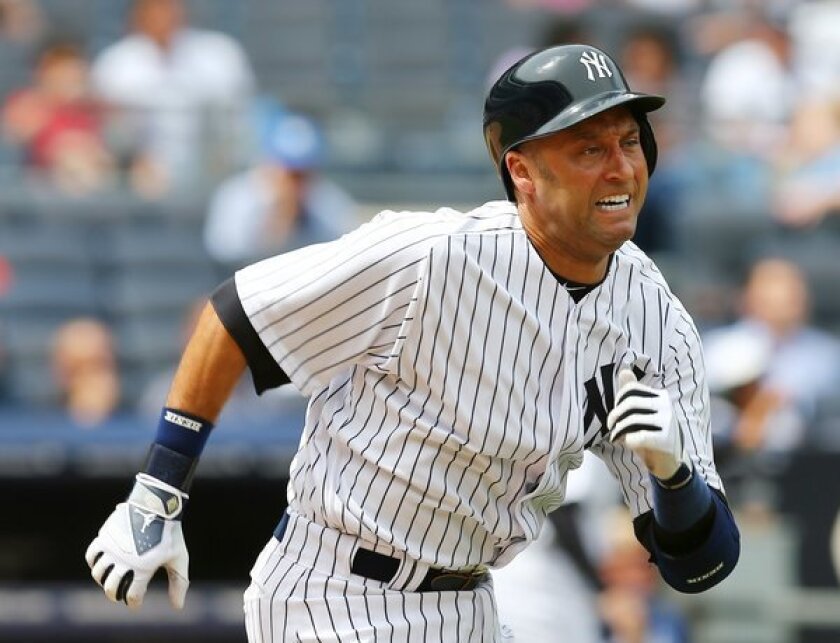 Derek Jeter delivered a single on the first pitch he saw in his season debut with the New York Yankees, helping the club rally for an 8-4 victory over the Kansas City Royals on Thursday afternoon in the Bronx.
Jeter, who missed eight months after breaking an ankle in the playoffs last season, batted second in the lineup as the designated hitter. He reached base in the first inning on an infield hit, moved to third base on a single by Robinson Cano and scored on Vernon Wells' sacrifice fly.
Jeter drove in Luis Cruz with a groundout to shortstop in the sixth inning. Jeter also grounded out to third base in the second inning and to second base in the fifth to advance Ichiro Suzuki from second to third.
The Yankees' captain, who was replaced by pinch-hitter Brett Gardner in the eighth inning, had just been activated from the 60-day disabled list after playing four games in the minors to complete his rehabilitation assignment.
Jeter was originally projected to play in a weekend series against the Minnesota Twins, but injuries to DH Travis Hafner and Gardner hastened his return.
The Yankees fell behind 3-0 in the first inning when Andy Pettitte (7-6) was hit hard by the Royals, who had three hits, including a two-run double by Salvador Perez, a walk and a sacrifice fly.
Pettitte, though, made it through 5 2/3 innings and got the victory when New York rallied for four runs in the fifth inning as Lyle Overbay delivered a go-ahead, two-run single off Kansas City starter Ervin Santana (5-6).
ALSO:
Marcel Kittel wins Stage 12 of the Tour de France
Patriots defensive back Alfonzo Dennard arrested again
Q&A: Kobe Bryant on rehab, Dwight Howard and the Lakers' future
---