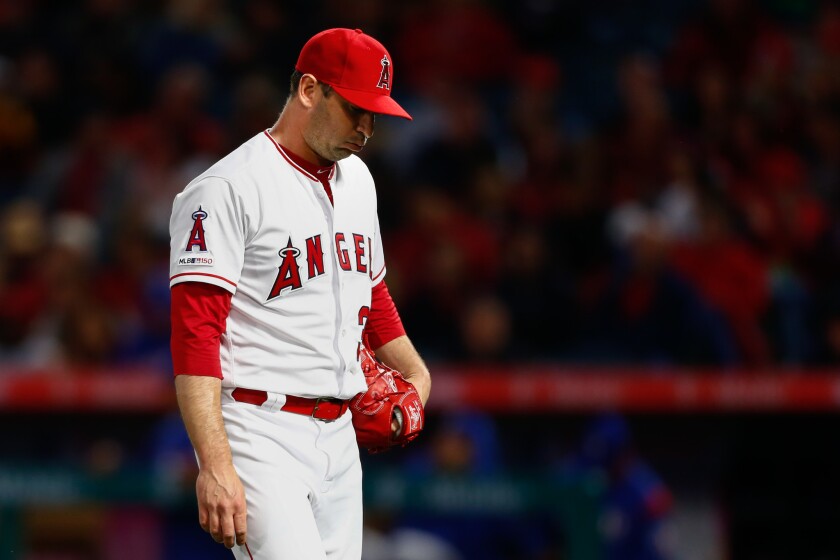 Howdy everyone, my name is Houston Mitchell, proprietor of this here newsletter. Let's get right to the news.
Angels
I haven't written that much about the Angels in this newsletter, and there's a good reason for that: They aren't very good.
They had their home opener on Thursday at Angel Stadium and were routed, 11-4, by the Texas Rangers. The Angels are now 1-6 on the year. Which means, you could have gotten together eight of your friends, challenged a major league team to seven games, and ended up with only one fewer win than the Angels.
Matt Harvey started for the Angels, but they would have been better off with Bryan Harvey out there, as Matt gave up eight runs in four innings.
---
Thursday was also the first day of the Angels' new policy of cutting down on as many paper tickets as possible. They prefer you buy your tickets through the MLB app and, when you get to the stadium, the ticket taker will scan your phone to let you in. No fuss, no muss.
The Angels will tell you it's for convenience and security. And that may be partly true. But when I read Bill Shaikin's story about it, I figured out the real reason for this. As Bill writes, "The teams also embrace mobile ticketing as a way to make more money. Once your ticket is scanned, for instance, a team could send an alert to your phone, with a special offer at the concession stand or team store, or an opportunity to buy an upgrade to a vacant seat in a prime location."
OK, now I get it.
---
Shohei Ohtani is still on target to return in May, but he'd like to come back next week.
"As a player I think it's natural to want to get back as early as possible," Ohtani said through interpreter Ippei Mizuhara. "That's how I'm feeling right now. But also it's going to be ultimately up to the team and the front office.
"I know they're trying to be really careful with me. I understand that. Just need to work things out with them."
---
Helene Elliott writes about new Angels manager Brad Ausmus. An excerpt:
"Before Thursday, the last time the Angels had played a home opener with someone other than Mike Scioscia as their manager was on April 6, 1999, when Terry Collins was in charge for a 6-5 victory over the Cleveland Indians.
"Collins didn't finish that season, tearfully resigning by "mutual agreement" with then-general manager Bill Bavasi on Sept. 2 after bickering players mutinied and everything spiraled out of control. Bench coach Joe Maddon finished what was a 70-92 season. Two months later. Bavasi was replaced by Bill Stoneman, who hired Scioscia. The rest was history — and 19 seasons of stability in the manager's seat — until Scioscia announced at the end of last season that he would not return.
"It was time, both for him and for the Angels. They had grown stale. The moment was right for a new face, a new voice. But it was still jarring to see someone else in the middle of that media scrum on Thursday, someone else introduced as the Angels' manager during the pregame ceremony.
"I've been here for a long time. I've had one manager," said right fielder Kole Calhoun, who is in his eighth season in Anaheim. "Definitely different.
"Is that a bad thing? Is that a good thing? I don't really know the answer to that, honestly, so far," Calhoun said before his first-inning home run accounted for the Angels' first run in their 11-4 loss to the Texas Rangers on a chilly April evening. "But I know I like him as a guy and so far he's letting us play free, and that's all you could really ask for in a manager."
UCLA
UCLA's quest to hire TCU's Jamie Dixon to be their new men's basketball coach hit a snag: His $8-million contract buyout with the Horned Frogs.
A breakdown in negotiations with Dixon could force the Bruins to pivot to Cincinnati coach Mick Cronin, the other finalist for the job, or other backup candidates such as former UCLA point guard Earl Watson, who tweeted the following message to those criticizing the Bruins for how they handled this coach search. Watson's tweet said, "Leadership doesn't react it responds!" All of these inner combating UCLA tweets from Bruins are classless. If you knew Coach [John] Wooden like me then you know he'd be disgusted & most of you would be quiet! Don't forget who we are! Best of luck in the search!"
---
The many perfect 10s scored by the UCLA gymnastics team appears to be raising a few eyebrows.
As our own Blake Richardson writes, "Like judging in diving and figure skating, judging in gymnastics is subjective. While there are scoring standards, even judges can be affected by outside influences. As such, NCAA judges were warned about this in an email sent Feb. 22.
"First reported by Lauren Hopkins, a gymnastics journalist, the email was sent from the same no-reply address that notifies judges of their schedules during gymnastics season. Its author was unnamed.
"It has come to our attention that name recognition, team rankings, or media exposure may be affecting scores given by some judges," the email said. "This could result in some athletes being overscored or underscored due to reputational bias."
"The email reminded the judges that televised meets and social media make their scores subject to wider scrutiny.
"Make sure that your scores are justifiable when reviewed by knowledgeable professionals," the email instructed.
"For most of the 10s awarded in college, Hopkins said, video replays reveal overlooked deductions — an unpointed toe, a slightly arched back, knees spread slightly too far before a landing. The "out-of-control" 10-giving is a regular conversation among gymnastics fans, Hopkins said.
"I feel like it's every year," said one new collegiate judge, who requested anonymity because of the topic's sensitivity.. "But the only place where I feel it's more common this year is at UCLA."
---
After a two-week break, the Bruins football team held their eighth spring practice, and coach Chip Kelly was pleased.
"Same exact objective from the first half … we're trying to improve every day," Kelly said. "We were better in training session 7 than we were in 6. As far as the break goes, it broke the way it broke because of our schedule. You can't practice during finals and you can't practice during spring break, so it was a nice break. It's kind of like having an open date in the regular season. They came back and were picking up right where we left off so I thought they did a really nice job."
March Madness
Saturday's men's Final Four schedule
All times Pacific
No. 1 Virginia vs. No. 5 Auburn, 3 p.m., CBS
No. 2 Michigan St. vs. No. 3 Texas Tech, 5:45 p.m., CBS
Today's women's Final Four schedule
No. 1 Baylor vs. No. 2 Oregon, 4 p.m., ESPN 2
No. 1 Notre Dame vs. No. 2 Connecticut, 6 p.m., ESPN 2
Scheduling alert
There will be no newsletter this Saturday or Sunday as I take a couple of days off.
Odds and Ends
Lakers are no match for Warriors, 108-90…. Clancy Pendergast simplifies USC's defense with goal to stop the run…. Lexi Thompson battles difficult conditions and leader Ally McDonald in ANA Inspiration…. Dodgers' Clayton Kershaw gives up two runs and four hits in triple-A rehab start…. Why are horses dying at Santa Anita? Horse racing comes under scrutiny…. Gift Box aims to defy age in the Santa Anita Handicap…. Jillian Alleyne's legacy lives on in Oregon women's basketball program…. Three SoCal golfers have a shot to win first Augusta National Women's Amateur…. Blake Lizotte, the latest Kings player from St. Cloud State, could make his NHL debut Saturday…. Clippers hope slow start against Rockets won't carry into playoffs…. Zlatan Ibrahimovic won't let fake turf keep him out for Galaxy vs. Vancouver…. Pacific Palisades is trying to reconnect with its legacy of volleyball greatness
Today's local major sports schedule (all times Pacific)
Lakers at Clippers, 7:30 p.m., Spectrum Sportsnet, FS West, 710 ESPN, AM 570
Dodgers at Colorado, 1 p.m., Sportsnet LA, AM 570
Texas at Angels, 7 p.m., KCOP Ch. 13, KLAA 830
Kings at Ducks, 7 p.m., PRIME
Galaxy at Vancouver, 7 p.m.
Born on this date
1958: Tennis player Johan Kriek
Died on this date
2007: NFL player Darryl Stingley, 55
And finally
That concludes the newsletter for today. If you have any feedback, ideas for improvement or things you'd like to see, please email me here. If you want to subscribe, click here.
---