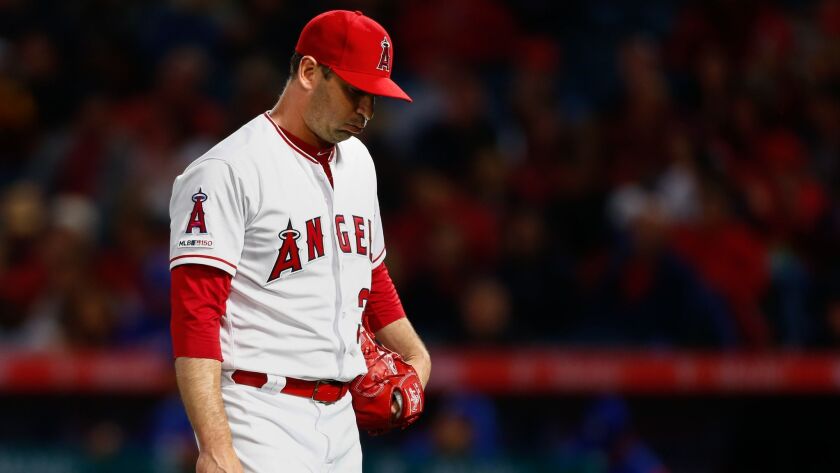 When their bats fell silent and the losses piled up during their season-opening trip, the spiraling Angels could at least count on their pitching staff to keep games within reach.
Then they returned to their home confines at Angel Stadium to play in front of an announced crowd of 42,027 on Thursday night. And instead of struggling only with the lumber, the Angels saw the man who started their home opener implode before his teammates could even step in the batter's box.
The Angels lost to the Rangers 11-4 and fell to 1-6.
Hours earlier, manager Brad Ausmus sat in the home dugout and extolled the virtues of patience. He was asked why it seemed the Angels weren't panicked about their slow start, why they remained confident in spite of the team's paltry hitting. He said with a hint of sarcasm, "I think we have somewhere in the neighborhood of about 156 games left."
His argument was logical. A baseball season is too long to worry about one bad stretch at the start of a campaign.
But the Angels needed better fortune. Starter Matt Harvey, who was a revelation in his first regular-season outing last Friday against the Oakland Athletics, seemed poised to deliver it. Even Angels fans seemed confident, greeting him warmly when he was shown on the video boards throwing in the bullpen during team introductions.
Harvey stepped off the mound about two hours later to the sound of indifference. There were no audible heckles or applause.
Harvey allowed six runs in four-plus innings, yielded 10 hits and hit two batters with a pitch. He gave up two first-inning home runs — a three-run blast hit by Joey Gallo and a two-run shot Ronald Guzman hit off the foul pole. When he departed, Harvey left two men on base for reliever Luke Bard. Both runners scored on a Shin-Soo Choo three-run double that was misplayed by left fielder Brian Goodwin a few batters later.
"It was kind of a battle the whole time," said Harvey, who threw 58 of 91 pitches for strikes and struggled to command his mid-90s fastball. "Even when I did have a quick inning, it was two hard-hit balls right at somebody."
Harvey's struggles took away from Kole Calhoun's big hit in the first inning, when he crushed the Angels' second home run of the season on the fifth pitch from Rangers starter Edinson Volquez.
Harvey's performance also deadened the impact Mike Trout made. The center fielder threw out Guzman at home plate. Guzman had tried to score from second base on Logan Forsythe's single up the middle in the third inning, when the Rangers were up 5-1.
In the bottom of the inning, Trout again brought many in the crowd to their feet. He caught a low changeup with the barrel of his bat and golfed it easily over the fence in right-center field for his first homer. He hopped on his way out of the batter's box and tossed his bat aside as the ball traveled 422 feet. By the time he made it back to the dugout, chants of "MVP" followed Trout down the stairwell.
The Angels squandered every other chance they received to score runs. They logged eight hits but none with runners in scoring position. They left 11 on base.
With the loss, the Angels plummeted deeper into the cellar of the American League West.
"We're battling, all of us," Trout said. "I felt good up there tonight, had some good swings. We had a lot of good at-bats, hit the ball hard. Had our chances to score some runs, just fell short.
"We got off to a slow start," he added. "Just gotta come to the ballpark tomorrow with a mindset about winning."
Sign up for our daily sports newsletter »
---