Zlatan Ibrahimovic won't let fake turf keep him out for Galaxy vs. Vancouver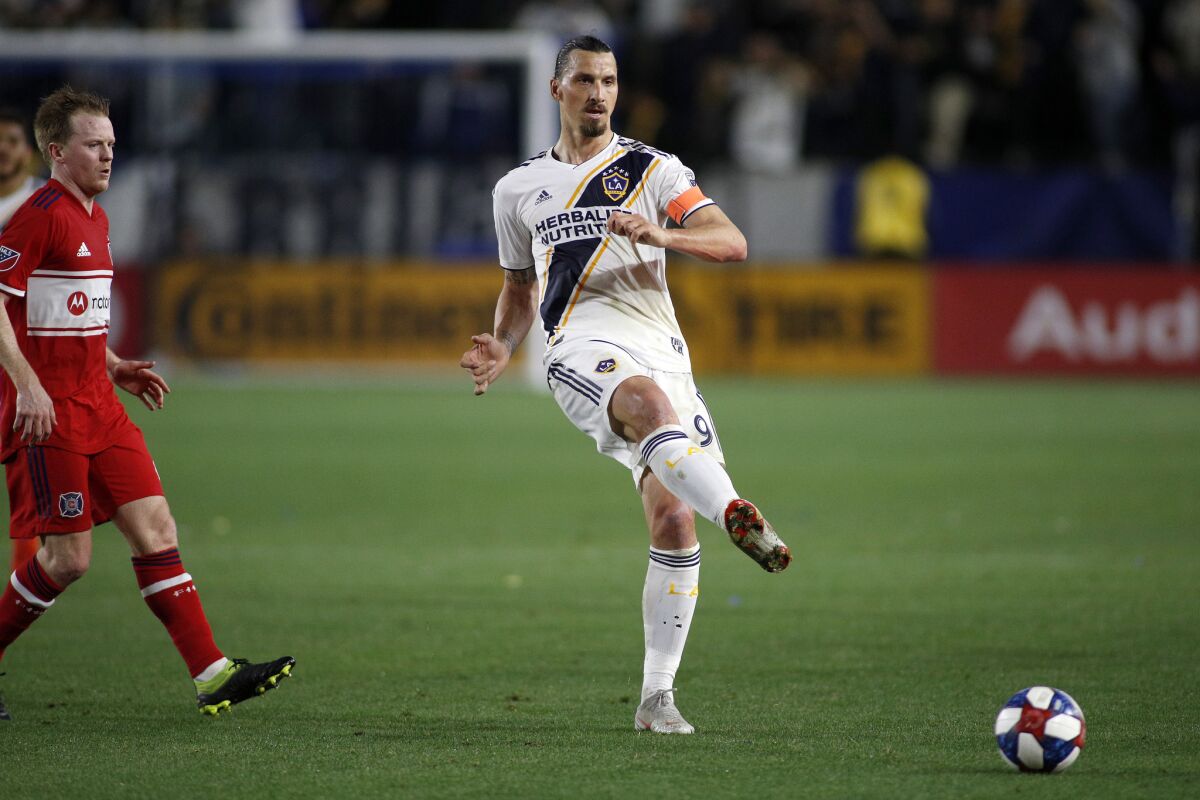 Zlatan Ibrahimovic sat out four games after joining the Galaxy last season, two were road games played on turf fields and he missed another because of a suspension for not participating in the MLS All-Star Game, which was also on turf.
So when the team's 2019 schedule came out, there was a big question mark next to Friday's game on the unforgiving Polytan surface at BC Place in Vancouver. Ibrahimovic erased that doubt Wednesday, promising to play despite an Achilles tendon injury that kept him off the field for 25 days last month.
"I'm ready," he said. "No consequences [from] my issue I had a couple of weeks ago. If I feel good, I will play."
That could be bad news for the winless Whitecaps (0-3-1) since Ibrahimovic has three goals in two games this season, including a pair on penalty kicks in Sunday's win over the Portland Timbers.
"He does it all the time against everybody," said Vancouver coach Marc dos Santos who, as an LAFC assistant, watched Ibrahimovic gather three goals and an assist in three games against his team last season. "He's a dangerous player, a player [whose] quality could make the difference at any time.
"He's smart in how he moves on the field, he's smart in how he chooses his moments."
Last year he chose not to play on artificial surfaces because he was just a season removed from major knee surgery. But the knee is strong now, he says, and his left Achilles is about as good as it's going to get as well.
"You will never be 100%. When you are above 30, the pain just moves around and you just handle it," said Ibrahimovic, 37.
Fatigue might be a bigger issue since the Galaxy (3-1-0) had just four days to recover between Sunday's win over Portland and Friday's game in Canada. In addition to Ibrahimovic, the Galaxy got midfielder Romain Alessandrini (hamstring) back for the Portland game and are healthier than they have been since the first half of their preseason opener.
The question now is can they stay that way on turf.
Ibrahimovic scored two goals in his only previous appearance against Vancouver last September. And with his two goals against the Timbers last week, he has scored against nine of the Galaxy's 11 Western Conference foes and has had a goal or assist against 17 of the 20 MLS teams he has faced overall.
Sign up for our weekly soccer newsletter »
kevin.baxter@latimes.com | Twitter: @kbaxter11
---
All about the beautiful game
Go inside the L.A. pro soccer scene and beyond in Kevin Baxter's weekly newsletter.
You may occasionally receive promotional content from the Los Angeles Times.