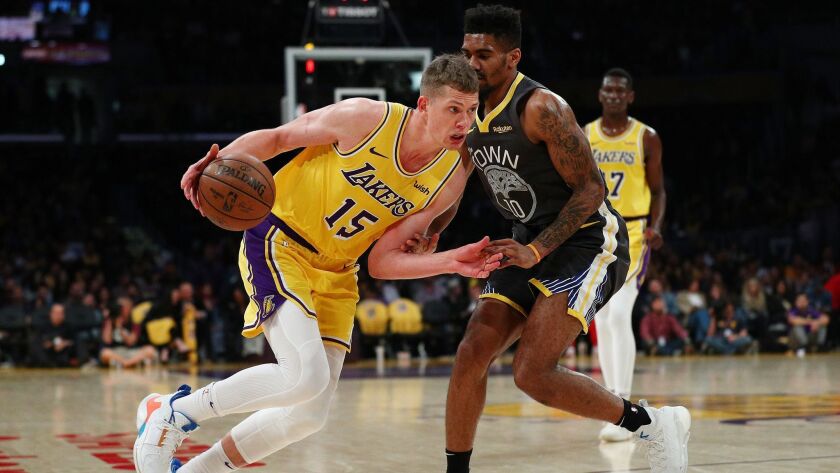 The injury-riddled Lakers used a different starting lineup for the 26th time this season, giving Alex Caruso his first start Thursday night with Rajon Rondo, Kentavious Caldwell-Pope, Moritz Wagner and JaVale McGee.
Predictably they were swallowed up whole by the back-to-back NBA champion Golden State Warriors, 108-90 at Staples Center before 18,997 fans.
Caruso (nine points) provided the highlight of the game, a running, one-handed dunk in traffic that had his teammates off the bench and the fans cheering. Otherwise it was just another loss in a lost season.
They had just 10 players in uniform, losing Kyle Kuzma for the third consecutive game because of left foot tendinitis. Lakers coach Luke Walton turned to Johnathan Williams (17 points, 13 rebounds), Jemerrio Jones (four points, seven rebounds) and Isaac Bonga (four points), three call-ups from their developmental team, the South Bay Lakers.
"I thought we had some really nice performances from some of the younger guys that are getting opportunities right now," Walton said. "So it was good to see that."
A friend and fellow coach, Golden State's Steve Kerr, sympathizes with Walton, who was an assistant on Kerr's Warriors staff from 2014 to 2016. Kerr was asked about the difficulties Walton is facing, not only with the injuries but with the talk of his job security.
"Yeah, pretty much impossible job," Kerr said. "They were playing at a really high level on Christmas when they came in [to Golden State] and beat us by about 30 [actually 26], things were looking good and then the injuries hit hard. Not much you can do. Not much anybody can do."
The Lakers at one point were fourth in the Western Conference. But LeBron James that Christmas suffered a groin injury and missed 17 games. Lonzo Ball (ankle injury) and Brandon Ingram (right arm surgery) are out for the season. The Lakers haven't recovered.
"When injuries hit and circumstances being the way they've been, tough job," Kerr said. "But always impressed by the way Luke handles himself and the way he handles his players and handles the pressure of the job. He's just cut out for this because he's unbothered by pressure, by criticism, by anything. He just is who he is. He 100% authentic, genuine, great human being and great basketball coach. So it's always tough to see friends in the league going through struggles like the Lakers have, like Luke has with the team. It's also part of it. We all know. I haven't had to deal with it yet, but I will someday where things go wrong and you get a lot of heat and all that stuff. ... This is what we signed up for."
Etc.
Lakers point guard Lonzo Ball and his agent, Harrison Gaines, mutually parted ways. Ball said he wanted a "clean slate" as he moves into the next phase of his career, and said there is no ill will between he and Gaines. They parted with mutual respect for each other, people with knowledge of their relationship said. Ball was Gaines' first client and helped steer Ball through his first two NBA seasons. Ball has not played since Jan. 19.
Twitter: @BA_Turner
---