UCLA's pursuit of Jamie Dixon as its next basketball coach hits a snag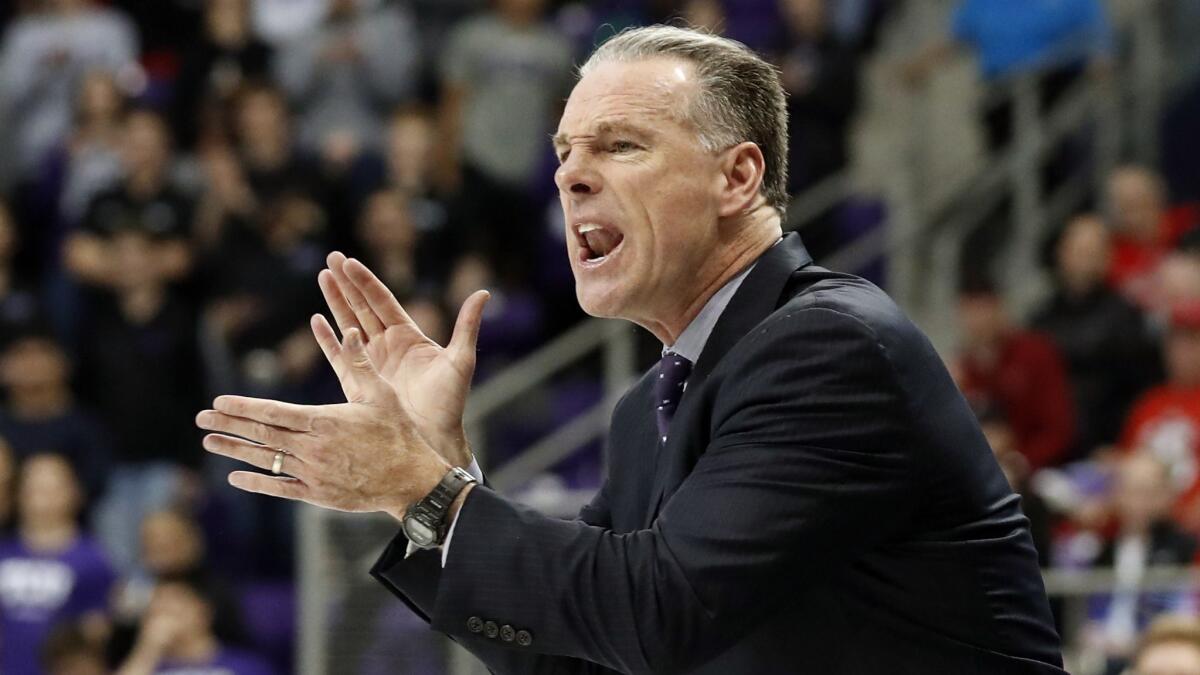 UCLA entered a holding pattern with its basketball coaching vacancy Thursday after the school's pursuit of Texas Christian's Jamie Dixon went into an apparent stall.
Dixon did not address the Bruins' opening during a previously scheduled end-of-the-season meeting with his players, according to a person close to the situation, instead focusing on routine topics two days after the Horned Frogs' season ended with a loss to Texas in a semifinal of the National Invitation Tournament.
The same person, who spoke on condition of anonymity because of the sensitivity of the situation, said the Bruins' hopes of hiring Dixon were being delayed by a snag: his $8-million contract buyout with the Horned Frogs.
While negotiations with TCU to significantly lower the amount owed for Dixon to leave his alma mater struggled to gain traction, the person said, UCLA was hesitant to foot the necessary bill for him to become the next coach of its flagship sport.
When Dixon came to TCU in 2016, it was only after Pittsburgh lowered the $10-million buyout on Dixon's contract to an undisclosed sum.
A breakdown in negotiations with Dixon could force the Bruins to pivot to Cincinnati coach Mick Cronin, the other finalist for the job, or other backup candidates such as former UCLA point guard Earl Watson.
Watson tweeted about the criticism levied by UCLA alumni at their alma mater over its 95-day search to replace coach Steve Alford.
"Leadership doesn't react it responds!" tweeted Watson, who is completing requirements for his bachelor's degree, a prerequisite to hold the UCLA job. "All of these inner combating UCLA tweets from Bruins are classless. If you knew Coach [John] Wooden like me then you know he'd be disgusted & most of you would be quiet! Don't forget who we are! Best of luck in the search!"
If the Bruins were unable to complete a deal with Dixon, it would be another blow to a search in which the school has already struck out with a number of more established college and NBA coaches. The bigger names were either not interested, unable to pass the school's background checks or unwilling to interview before the Final Four, forcing UCLA to move ahead with its pursuit of Dixon for fear of losing more candidates as the pool of available coaches dwindled.
Dixon, a native of North Hollywood who starred at Sherman Oaks Notre Dame High, has enjoyed substantial success with the tradition-starved Horned Frogs, going 68-41 in three seasons. TCU won the NIT championship in his first season and made its first appearance in the NCAA tournament in 20 years in his second season.
Sign up for our daily sports newsletter »
A disciple of former UCLA coach Ben Howland, Dixon has compiled a 395-164 record in 16 seasons at TCU and Pittsburgh, advancing to three regional semifinals and a regional final in 2009. His winning percentage of .715 entering last season ranked No. 12 among active Division I coaches.
Dixon recently hired Duane Broussard, who had been UCLA's associate head coach under Alford, as an assistant on his staff.
Cronin's resume features fewer deep forays into the postseason than Dixon has made but more consistency.
Cronin has made nine consecutive appearances in the NCAA tournament during his 13 seasons at Cincinnati, guiding the Bearcats to a regional semifinal in 2012, and has compiled a 365-170 overall record that also includes three previous seasons at Murray State.
Cronin's teams beat UCLA in two of the last three seasons, including a 29-point thrashing in December. The Bearcats finished this season 28-7, winning a second consecutive American Athletic Conference tournament championship before losing to Iowa in the first round of the NCAA tournament.
Cronin was forced to miss the final 25 games of the 2014-15 season while recovering from an unruptured aneurysm that was discovered after he complained of lingering headaches. He was given a clean bill of health afterward and returned to his full coaching duties before the following season.
Cronin's teams have routinely been among the most efficient in the nation defensively, falling outside the top 20 in basketball analyst Ken Pomeroy's rankings only twice in the last nine years. But the Bearcats have also featured one of the slowest tempos in the college game while remaining among the top 50 teams in offensive efficiency over each of the last three seasons.
Get the latest on L.A.'s teams in the daily Sports Report newsletter.
You may occasionally receive promotional content from the Los Angeles Times.