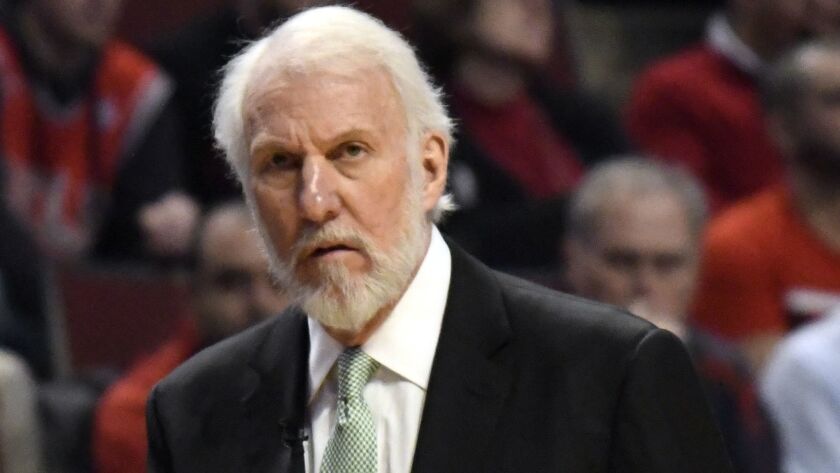 The San Antonio Spurs have had a tendency to come out flat during the first half of their games this season, but most of the time, they've been able to overcome the slow start.
That was not the case Thursday night, as the Spurs fell behind early and never were able to fully recover during a 95-91 loss in Chicago, their first road defeat of the season.
After the game, Coach Gregg Popovich said he doesn't know why his team isn't able to put together complete efforts on a consistent basis. But he does know one thing — it's not his fault.
"Guys get a lot of money to be ready to play," the outspoken coach told reporters.
Asked whether he should be the one getting the players fired up before games, Popovich said he didn't think so.
"No Knute Rockne speeches. It's your job," he said. "If you're a plumber and you don't do your job, you don't get any work. I don't think a plumber needs a pep talk. A doctor botches operations, and he's not a doctor anymore. If you're a basketball player, you come ready. It's called maturity. It's your job."
The Spurs trailed the Bulls by 13 at halftime and as many as 18 midway through the third quarter before closing the gap in the fourth.
It was a somewhat familiar story line for a team that has fallen behind by double digits in seven of its last eight games. San Antonio was able to pull out a win in six of those seven but couldn't make it happen this time.
"We played 24 minutes again, as we have for about the last 10 games," Popovich said. "We go through the motions in the first half. … We're not a very consistent team, and we haven't learned as a group that the game is 48 minutes. We also have some people playing very poorly. You have to participate in your own recovery. Some players have to play better."
Popovich had a similar message for the team after the game, several players told ESPN.
"Like any coach, he wanted us to play harder," Kawhi Leonard said. "He felt like we only played hard for 24 minutes in the game. We've just got to bring energy. We just want to play better, play hard, smart."
Tony Parker added of the team's lack of consistency: "I don't know what's going on. It's been almost the whole season. I don't know why we have slow starts. We just have to respond — everybody, individually — and make sure we play for 48 minutes. Everybody has to do more to make sure we have good starts, make sure we bring more energy, more juice, and we have to get excited."
Twitter: @chewkiii
---