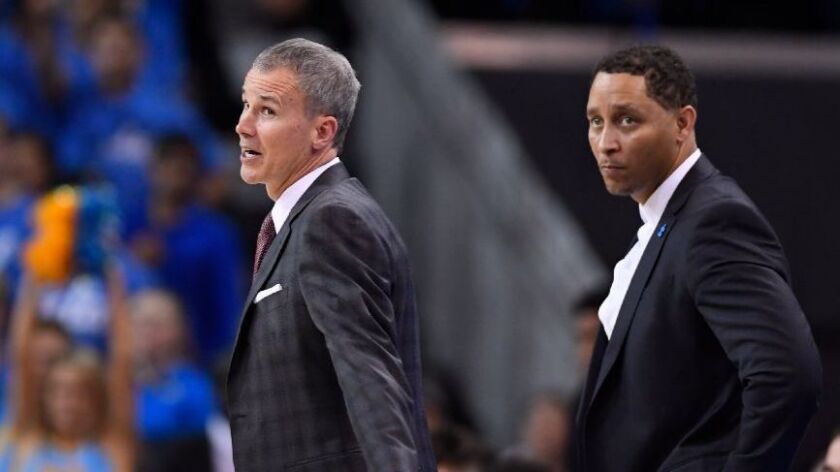 The college basketball bribery and corruption scandal has cost USC a top recruit, at least temporarily. Forward J'Raan Brooks, a 6-foot-8 forward from Seattle Garfield High who is ranked among the nation's top 100 high school players, said he is reopening his college search.
"Due to unforeseen circumstances stemming from the recent news that has come to light in regards to the Trojan basketball program — I have decided to reopen my commitment to examine other available options," Brooks wrote in a Twitter post. "While USC is still very much a possibility, the uncertainty of their situation has led me to believe I should reassess my own."
Tony Bland, USC's associate head coach, was among 10 men connected to college basketball the FBI arrested last month. He faces six charges in U.S. District Court in New York, including soliciting a bribe and wire fraud.
Prosecutors allege Bland accepted a $13,000 bribe in exchange for directing USC players to sports agent Christian Dawkins and financial advisor Munish Sood. The prosecutors also said Bland facilitated $9,000 in payments to two current USC players, an incoming freshman and a rising sophomore. USC put Bland on administrative leave the day of his arrest and later removed his name and biography from the school's website.
USC has hired former FBI director Louis Freeh for its investigation but athletic director Lynn Swann, during an interview with The Times on Saturday, said the university was in a holding pattern.
"Nothing can get done until the FBI gives you the clearance," Swann said. "A criminal investigation, they have to go through their process, so we wait."
Swann said he has not had conversations with coach Andy Enfield about how USC would handle players who could potentially be ruled ineligible by the NCAA. Every player on the roster has been participating in practice.
"Andy is focused on coaching the basketball team, and rightfully so," Swann said. "These are the things he can control."
Swann said he did not know how long USC would have to wait for a determination.
"If you can tell me what the time frame of the FBI, the NCAA and any investigator is, I'd be happy to know," he said. "It would help out a lot."
Brooks said he would be watching to see what determinations were made.
"I have nothing but the utmost respect for Coach Enfield, the rest of the staff, the school, and fans of the program," Brooks wrote. "However, I need to make sure what I do is best for my future, and ensure I am making an informed decision, while seeing how this entire process transpires."
Two other highly regarded USC recruits,Taeshon Cherry and Kevin Porter Jr., remain committed.
Twitter: @nathanfenno
Twitter: @zhelfand
ALSO
'Tip of the iceberg': More charges expected this month in college basketball scandal
USC basketball gets set for a season with high expectations despite bribery allegations
Who is Tony Bland? USC's assistant coach charged with involvement in a federal bribery scheme
---
UPDATES:
3:56 p.m.: This article was updated with comments from USC Athletic Director Lynn Swann.
---