USC basketball gets set for a season with high expectations despite bribery allegations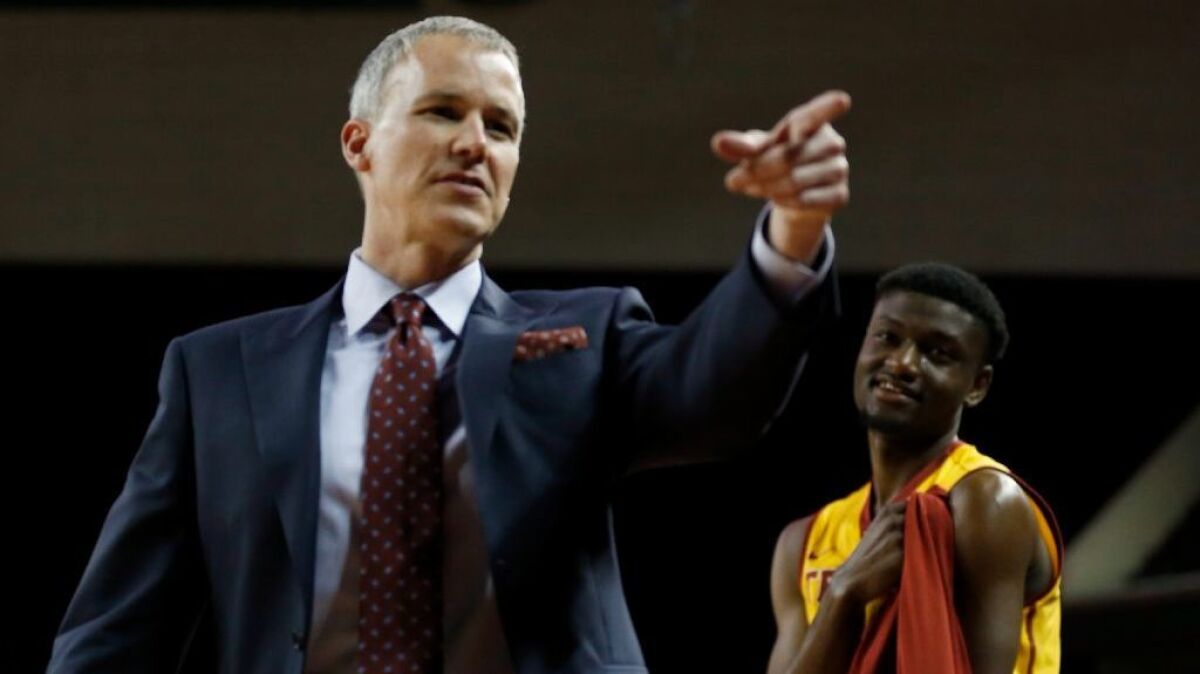 In a stuffy, windowless room at Galen Center, USC coach Andy Enfield did his best Friday to avoid discussing the bribery scandal rippling through his team and the rest of college basketball.
The Trojans had completed their first practice since piling up 26 wins last season — including two NCAA tournament games. They return a deep and experienced roster that numerous preseason polls rank among the Pac-12 favorites and the nation's top 10 teams.
The last time expectations were so high, sanctions from the O.J. Mayo extra-benefits scandal tore the program apart. Enfield, starting his fifth season at USC, had finally repaired the damage. Then came the FBI's arrest Tuesday of his top assistant, Tony Bland, on a slew of federal charges that include soliciting a $13,000 bribe to steer Trojans players to an agent and financial advisor.
"The situation this week with coach Bland has been difficult and very challenging and emotional for all of us," Enfield told a half-dozen reporters in his first public comments on the matter. "Due to the situation, I'm not allowed to comment, I've been instructed not to comment."
The phrase would be invoked repeatedly during the 17-minute news conference.
Enfield, for example, said he couldn't reveal who instructed him not to discuss the scandal that led to 10 indictments in U.S. District Court in New York — and the promise from prosecutors the investigation is far from over. Same for if he's spoken to Bland since the arrest.
"I can't say a word about that," Enfield said. "I'm sorry."
The coach said everyone listed on the team's roster practiced Tuesday. Prosecutors alleged Bland helped direct $9,000 in payments to the families of two current USC players referred to in the criminal complaint as "Player-8" and "Player-9."
"As of now we have everyone playing and I expect them to be eligible," Enfield said.
Martin Bahar, a former assistant at Fairfield and Princeton who served as USC's director of scouting since 2015, will fill Bland's coaching role. Enfield called the transition "seamless."
Senior guard Jordan McLaughlin and junior forward Chimezie Metu sat on either side of Enfield. The players rubbed their hands together, stared at the table and answered questions in low voices.
"It affects us emotionally," McLaughlin said. "But we're focused on what's ahead of us."
Metu, who passed up entering the NBA draft earlier this year to return to school, insisted the allegations won't impact the team that's scheduled to open the season Nov. 10 against Cal State Fullerton.
"Not at all," he said. "We're a family."
But reminders of the scandal seem to be everywhere. Bland's biography on USC's website now notes he's on indefinite administrative leave. Athletic director Lynn Swann said in a statement that the arrest "shocked" him. Within hours of the indictments being unsealed, USC hired former FBI director Louis Freeh to examine the school's basketball program.
Enfield, wearing a maroon long-sleeved shirt and a calm look on his face, tried to talk about anything else.
Does the scandal tarnish the program's reputation?
"When you look at the players we have on the roster, we're excited for the season," Enfield said.
Has he retained an attorney in connection with the case?
"I just can't comment on any of that," Enfield said. "I'm sorry."
Why can't he say whether he has an attorney?
"I'm just not going to comment. There will probably be a time and place [to discuss the case], an appropriate time and place," Enfield said. "But I don't want to say anything."
The coach's words trailed off and, a few minutes later, the news conference ended.
Follow Nathan Fenno on Twitter @nathanfenno
Get the latest on L.A.'s teams in the daily Sports Report newsletter.
You may occasionally receive promotional content from the Los Angeles Times.