Why Wyatt, why are you leaving us to play football at Ohio State?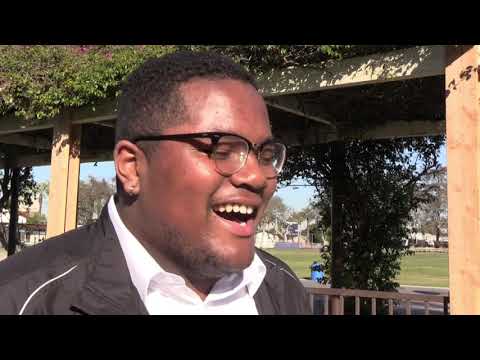 Why did St. John Bosco offensive lineman Wyatt Davis choose Ohio State?
If you fish and have ever lost a big one — a four-digit-sized marlin kind of big — then you know how the football staffs at USC and UCLA are likely to feel this week.
Wednesday is national signing day for football, when the very best high school football seniors will be officially accepting scholarships from the nation's very best college programs.
Which brings us to Wyatt Davis, the big one — literally and figuratively.
Davis' height is listed at either 6 feet 3 or 6 feet 4; his weight anywhere from 310 to 328 pounds. He played left tackle for state champion Bellflower St. John Bosco High sort of in the way Kobe Bryant played against the Toronto Raptors the night he scored 81 points.
YouTube has a nice selection of videos that show the force of nature Davis was against high school competition. In one, he drives a defender nearly 10 yards backward, then turns him toward the sideline. The clip ends with him shoving his man out of bounds to the left while the running back — more than 40 yards away — continues to scoot down the sideline on the right.
In others — many, many others — the back-pedaling by defenders doesn't last nearly as long. Those clips typically end just after their legs have buckled and they've fallen on their backs, Davis launching his 300-and-whatever pounds airborne and arcing his torso to land on them like the anvil that obliterates Wile E. Coyote in Roadrunner cartoons.
Davis, whose grandfather is Green Bay Packers legend Willie Davis, last season became the first offensive lineman ever to win the Los Angeles Times' award as the top high school football player in the Southland.
UCLA has successfully recruited the last four L.A. Times winners, Mique Juarez, Josh Rosen, Jaleel Wadood and Thomas Duarte. USC got the one before that, Su'a Cravens.
Next season, the Bruins have openings across the line; USC is losing both starting tackles plus guard Damien Mama, a St. John Bosco product.
Yet, on Wednesday, first during a ceremony on the Bosco campus and later at an ESPN studio in Los Angeles, when Wyatt Davis is asked his college choice, he says he will answer … Ohio State.
Ohio State?
So, on a recent day under the shade of a large tree just outside the Bosco Braves football office, we played the role of a frustrated Trojan/Bruin, questioning Davis' reasoning and peppering him with questions.
We had done some homework on him beforehand, and told people who knew him that the plan was to get in his face a little. We were told to bring a ladder, and that he was smart, thoughtful and affable. Thank goodness it was an accurate scouting report.
Here's a transcription of that conversation, with some of the questions and answers edited for brevity:
Why Wyatt? Why Ohio State?
Come on now. That's the best program out there. And for me, I just felt like that's the place I could truly reach my goals both on and off the field.
Is the Ohio State jacket you're wearing to let everyone know you're not changing your mind?
Yeah, that's to let everyone know. O-H, I-O, baby! All day.
Have you been to Columbus in the winter?
No, I haven't been up there in the winter yet, but I'm looking forward to it. I'm looking forward to all the cold and being freezing out there. I love that.
You like the cold or you're talking yourself into it?
I'm just talking myself into loving the cold.
Are you aware there are no beaches in Columbus?
No beaches. But last time I heard they were going to install a beach in the weightroom, you know, just for me. Just so I could look out there and act like I'm in California.
Does it matter that Jim Harbaugh would like you to go any other place?
Coach Harbaugh? Yeah, well, I don't really like the team up north, so his opinion doesn't really matter.
If you really cared about and respected former teammates Josh Rosen and Jaleel Wadood, wouldn't you go to UCLA? Why do you hate them?
Nah, I don't hate them at all. Those are my guys. I love them. I still talk to them to this day. And they even told me, "You gotta make the best decision for yourself," so that's what I did.
Did they try?
Oh, they definitely tried. Jaleel especially, I would talk to him all the time. Whenever I was up there he wanted me to let him know so he could show me around. Yeah, they definitely tried.
As for the Trojans, is it true that you were unsure whether you could live up to the legend of Damien Mama, and that's why you're not going to USC?
The legend of Damien Mama is definitely true. I was afraid of going to Bosco, too, just 'cause of everything that he's done. I'm trying to follow in his footsteps, definitely. That's exactly why I was afraid. Didn't want to ruin everything that he's taught me. I was his little protégé.
Did you watch USC defeat the Big Ten champion — a team that defeated Ohio State — in the Rose Bowl?
I did watch them win the Rose Bowl, and you know I was happy for USC because I have a lot of friends that play there and it was good to see them beat the team that beat Ohio State, the greatest university on earth.
Flipside: Did you watch Ohio State get blown out of its national semifinal against Clemson?
I don't know what game you're talking about. I'm not too sure … I didn't hear about that game. That game didn't happen.
Are you aware that UCLA beat Ohio State in basketball?
I was not aware of that. Good for UCLA. But I think we know in football that's not going to happen.
As of earlier today, you had 5,738 Twitter followers. Since Ohio State draws more than 100,000 to a typical home game, do you feel ignored?
I definitely don't feel ignored. The Ohio State fans are great, they're always in contact with me and always supporting, so I love the greatest fans on earth.
What about the whole THE Ohio State thing? Isn't that kind of juvenile? Do you see yourself actually saying you're from "THE Ohio State" on a future NFL telecast? Wouldn't it sound better, the very eloquent "University of Southern California" or simply just doing an eight-clap and let it go at that?
THE Ohio State sounds very good. It kind of has a ring to it. You probably hear it when you say it: THE Ohio State. It definitely kind of has a little ring.
And you like that ring?
I like the ring.
It might be the ring tone on your phone?
It is the ring tone on my phone.
What is with the Wavy Dub Twitter handle?
It actually started as a joke at Bosco. Dudes on the team started calling me Wavy Dub. Actually came out here and Cross Poyer, he started calling me Wavy Dub and everyone started calling me it. I was like, Hey, why not? Wavy Dub on Twitter might sound cool, and I can use some followers.
What's the Wavy?
Cuz I'm Wavy. (He runs both hands over his face and torso.) I look nice.
And the WyattDavis53, when you wore number 76? Is this a possible sign that you're a flipper?
I wore 53 as a freshman and that's when I made my Twitter account so I just never changed it since. It's simple. Then the Wavy Dub kind of adds a little pizzazz on it.
But then you "flipped" from 53 to 76.
I changed from 53 to 76 because 53 was actually taken. And I didn't really want 53 when I got to varsity. I actually wanted 52 and that was taken, too, so I was like "You know what, I'm just going to go with 76."
You are called a guard but in high school you mostly played left tackle. Is this another sign that you are potentially a flipper?
The guard stuff and them ranking me, I think it just had to do with me going to camps because I mainly played guard at those football camps, the NIKE elite camps and all that. I think reporters just … I never really did tackle 'cause you got the Walker Littles of the world who are 6-8 and I'm not 6-8. I wish I was, but I just felt guard fit my play style better when I went to those camps. So after that they started ranking me as a guard.
On Wednesday (Jan. 25) you took to Twitter, writing "All the rumors about me not going to Ohio State are crazy I'm 100% a Buckeye!" You remembered the exclamation point but forgot the period after crazy and before I'm. Do you academically qualify to go anywhere other than Ohio State?
I didn't proof read it like I should have. I'll definitely do that next time. And I definitely could have gotten into any other school.
You know you're the only person who isn't grammatically perfect on Twitter, right?
Definitely.
Times reporter Eric Sondheimer wanted to know whether you were aware that sites like Bruin Report are trying to convince people that UCLA still has a chance. Where does that come from?
I have no clue where that comes from. I have never spoken with Bruin Report. Anything that they're saying didn't come from me.
Are representatives from USC and UCLA still contacting you?
They're not still contacting me. After I committed I started letting schools know that I was solid with my commitment and I wasn't really looking anywhere else except THE Ohio State.
Do you have people contacting you other ways, people who have gotten your phone number and might be texting you, or over Twitter?
It's mostly over Twitter. That's where everyone can kind of just tweet at you and you can see it.
As a child, did you ever watch the TV show 'Flipper'?
No, I did not. I do not remember the show "Flipper."
So your grandfather is Willie Davis, the former Packers great?
Yessir. My grandfather is in the Hall of Fame.
And your father was an actor?
Yes, my father was an actor.
So is that what really is, kind of a ruse that you're trying to fool everybody in Southern California into thinking you're going to Ohio State, and then you're going to pick one of the local schools and prove to Hollywood what a great actor you are?
No, me and Hollywood … I've never been an actor. I wish I was, but I'm not pulling no acting stunt. I'm going to THE Ohio State.
Who was the runner-up? If Ohio seceded to Canada and Ohio State became a hockey school where would you go?
I think the team that finished second was actually called DCU. Da Crib University. That was definitely second.
Have you ever told a lie?
No, I've never told a lie.
Until now?
Until right now.
Postscript: Davis said his father is from Cleveland and much of his family from the Cincinnati area. Best guess: he's not a flipper.
Twitter: @MikeHiserman
Get our high school sports newsletter
Prep Rally is devoted to the SoCal high school sports experience, bringing you scores, stories and a behind-the-scenes look at what makes prep sports so popular.
You may occasionally receive promotional content from the Los Angeles Times.