She had the wrong kind of build, compact and powerful instead of delicate and pixie-like, which were then considered ideal and "feminine."
She came from Fairmont, W.Va., an out-of-the-way spot for an elite American gymnast to develop because she had little opportunity to train with and learn from other top-notch competitors. Until about a year before the 1984 Los Angeles Summer Olympics few people other than devoted gymnastics fans knew who Mary Lou Retton was.
But Retton, 4 feet, 9 inches of muscle, determination and adventurous spirit, claimed those Games as her own. With her explosive strength and a repertoire of moves that few other female gymnasts dared to do on the vault and in their floor exercise routine, she became the first American woman to win an Olympic gold medal in the all-around competition. She also won silver in the team event and the vault, as well as bronze on the uneven bars — always a challenge for her because of her height — and floor exercise.
Simone Biles became America's most decorated gymnast — male or female — in 2019 when she won her 24th and 25th medals at the world championships.
She was the first female athlete to be pictured on the front of a Wheaties box, and her dazzling smile became a familiar sight in magazines and on TV. She got fan mail at home addressed to Mary Lou Retton, Olympic champion. She and her mother answered all of it. "It's like an all-American story. Something you read about," she said in the book "Mary Lou: Creating an Olympic Champion," published in 1986. "Never, never did I dream it would happen to me. But it did."
American women routinely dominate international gymnastics now. Simone Biles' all-around gold at the 2016 Rio Olympics was the fourth straight won by an American, and she extended the U.S. women's all-around title streak at world championships to seven in 2019 by winning her fifth all-around world title. In the same meet, Biles became the leader in medals won at the world championships by winning her 25th. But that kind of success was rare when Retton was competing: The only American to win a medal at the world level was Cathy Rigby's silver on the balance beam at the 1970 world championships.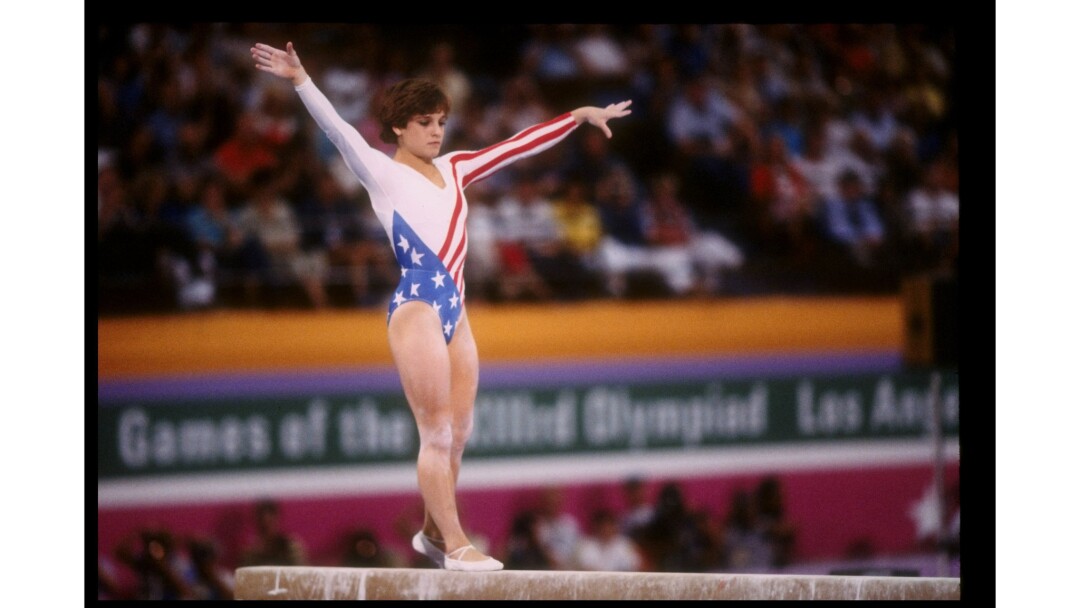 Retton, 52, had great energy but lacked finesse. Realizing she couldn't improve much where she was, she moved to Texas to train at the ranch of coach Bela Karolyi, who had trained 1976 all-around gold medalist Nadia Comaneci before he defected to the United States from Romania. He was a taskmaster, sometimes telling Retton, "You are crazy. Your head is full of rocks. You should not be doing gymnastics. You should be planting flowers." But he helped her refine her form and improve in every event. "If I'd stayed in West Virginia I might still have made the Olympic team and possibly have had a chance for a medal in one of the event finals. And people would have said, well, she did pretty well — for her. And I would have always thought, what if," she said in her book.
She burst onto the scene by winning the American Cup in 1983 as a substitute for injured teammate Dianne Durham and followed up by winning the prestigious Chunichi Cup and the U.S. Nationals. But all her work was in peril when she injured her knee before the Games and needed surgery. "I did about three months' rehabilitation in two weeks," she wrote.
Her main rival for all-around gold was Ecaterina Szabo of Romania, and the decision came down to the last two events at Pauley Pavilion. Szabo got a 9.9 (on a 10.0 scale) for her vault; Retton's high tumbling passes helped her earn a 10 on floor exercise. Szabo led by .05 as she performed on the uneven bars, but a big step on her landing left her with a score of 9.9. Retton needed 9.95 to tie and 10.0 to win — and not only did she get a perfect score on her first vault, she achieved perfection on her second try, too. "This is the moment I worked nine years for," she recalled thinking while the American flag rose in her honor at the medal ceremony.
Retton competed once more, at the 1985 American Cup, and won for a historic third straight time. She retired in 1986, her place in history and in the heart of sports fans intact.
Two-time Olympic medalist Michelle Kwan serves as an inspiration to Alysa Liu and the next generation of figure skaters.
---
Get our high school sports newsletter
Prep Rally is devoted to the SoCal high school sports experience, bringing you scores, stories and a behind-the-scenes look at what makes prep sports so popular.
You may occasionally receive promotional content from the Los Angeles Times.