(Lindsey Wasson / Associated Press)
MELBOURNE, Australia —
At first, Mason Cox was sure the email that changed his life was a prank.
Cox's basketball career at Oklahoma State had just ended when a member of the school's sports information department received a note from someone professing to be interested in Cox's "athletic ability." Until then Cox's athletic ability mostly had been hidden since the walk-on had played just 57 minutes and scored seven points in college.
But what really raised eyebrows was why the writer was interested in his subtle skills: Cox was being asked to try out for something called Australian rules football.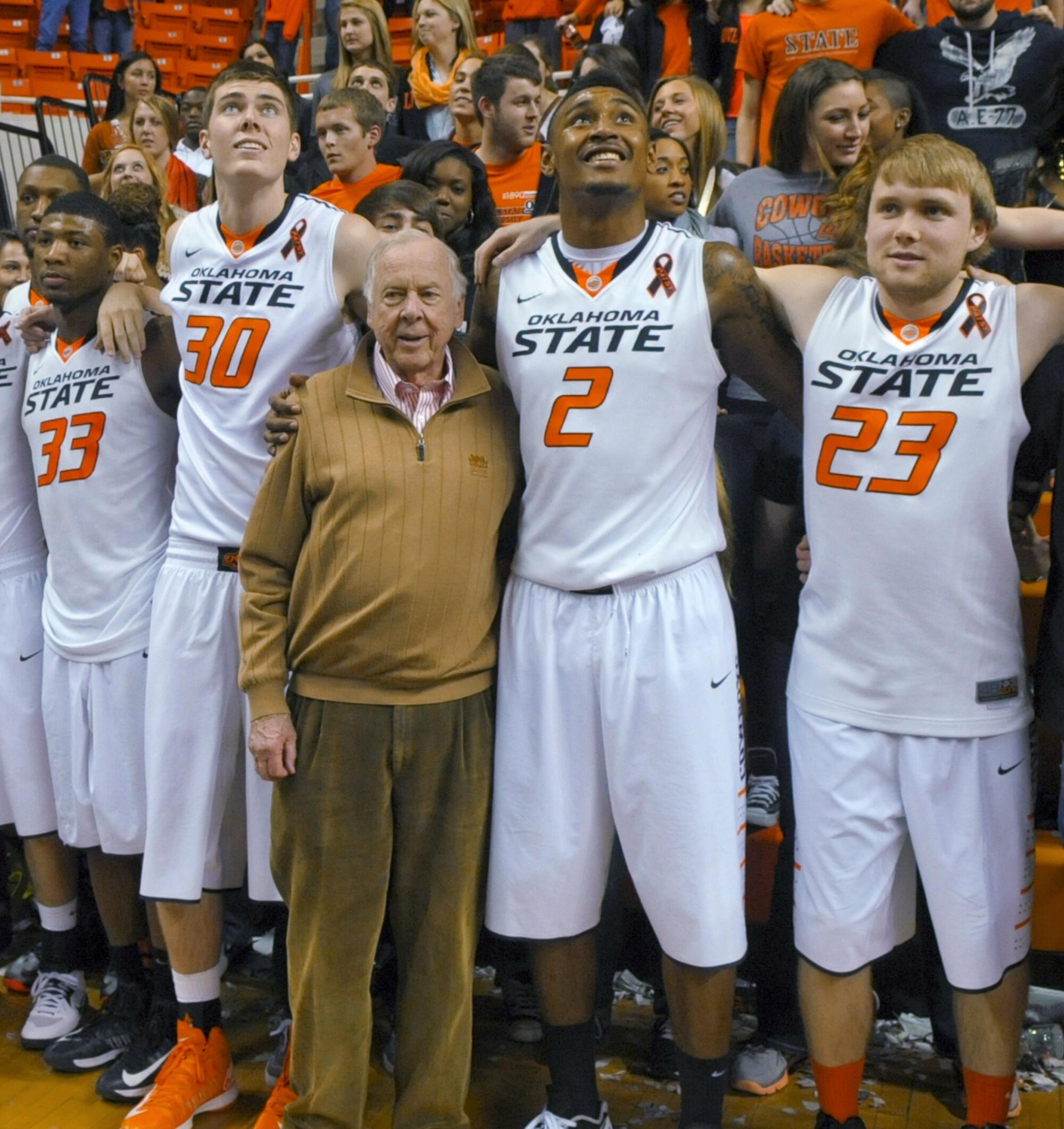 "We didn't believe it was a real thing," he said. "Surely at some point, being sports fanatics, we would have seen this sport on TV or 'SportsCenter.' We never did."
Nine years later the sport still is largely ignored by U.S. television, which is a shame because Cox, who decided to go to that tryout, has become the best American player in Aussie rules history, scoring 117 goals in 112 games for Collingwood, a Melbourne-based team that has won 15 national titles.
"Every person I've ever introduced it to, they become obsessed with it," he said of the sport. "Anyone who watches it is almost intrigued by how unique it is. Everyone is just like, 'This the most insane thing I've ever seen in my life.'"
A fast-paced mashup of soccer and rugby played on a cricket ground with a plump, oval-shaped ball, Aussie rules, or footy, was born in Australia 165 years ago. And at the professional level at least, it has remained there.
Yet if the sport is a secret to the rest of the world, it borders on a religion Down Under, where the game is played by 517,000 registered participants. There are more than 2,500 club teams, including the 18 in the top-tier Australian Football League — 15 of whom broke records for club membership this season.
The league's Grand Final has drawn average crowds of about 100,000 in each of the past 13 non-COVID seasons. By comparison the NFL's Super Bowl, played in a country with 300 million more people, has had a crowd that large just once this century.
"It's kind of this weird enigma," said Cox, 32, who was born in Texas but has lived in Australia long enough to develop an accent. "The rest of the world, it's not quite as publicized and people don't really know about it. But it holds its weight in comparison to other sports."
The game recently has begun shedding some of that anonymity in the U.S., where the unique talents of its players are in high demand. Three NFL teams and nearly half the 133 teams at the NCAA Football Bowl Subdivision level have punters who learned their craft by playing Aussie rules, where points are scored by kicking the ball between goalposts at either end of an oval field that can be more than 200 yards long.
And the presence of those Australian players is changing the American game.
Seven of the past 10 winners of the Ray Guy Award, which goes to college football's outstanding punter, are Australian as is the Seattle Seahawks' Michael Dickson, who leads the NFL in punting average. But it's not just a big leg that has made Aussie rules players attractive to American teams. In Aussie rules players kick on the run, a skill Australian kickers can exploit in the college game by rolling to one side or the other before punting, angling the ball away from the kick returner. And because kids in Australia grow up kicking an oblong ball almost from the time they can walk, they've mastered ways to make it bounce, spin, roll or curve depending on where they strike it. That too can make punts difficult to return, pinning opponents deep in their own territory.
Women's World Cup organizers are celebrating previously suppressed Indigenous New Zealand culture, which extends far beyond the popular Haka.
"They've got a great advantage of doing things instinctively," said Nathan Chapman, who founded ProKick Australia to train, guide and transition Australian athletes to American football at the college and pro levels. "You can make it do all different things. That's one of the areas in the game that you can get an advantage in; you can provide something different."
Chapman, who played eight professional seasons of Aussie rules, founded ProKick in 2007 after failing to make a roster in tryouts with the Green Bay Packers, Cincinnati Bengals and Chicago Bears.
"There was no avenue to sort of work out how to do it. I knew there were plenty of other guys that could do it, they just had to learn the right way," said Chapman, 48. "So I thought I'll put my put my time and effort into helping others try to get across, but do it properly."
One of the first lessons at ProKick involves the proper way to put on pads and a helmet, neither of which is used in the Australian game. Tuition at the academy costs about $10,000 a year and includes instruction on punting and the American game, strength and conditioning, help in negotiating the eligibility requirements to attend college in the U.S. and the distribution of taped recruiting videos.
Using athletic talent as a way to fully fund a college education is unusual in Australia, where athletic scholarships are rare. But Chapman says more than 200 of his students have gone on to play at U.S. schools since 2009, with the vast majority coming back with a degree.
The chance at an education is what drew Lou Hedley to the U.S., where he kicked at City College of San Francisco and the University of Miami before signing with the New Orleans Saints last spring, becoming the 13th Australian to punt in the NFL.
"An adventure over to the United States seemed appealing to me," said Hedley, who had played for more than a half-dozen seasons at the lower levels of Aussie Rules Football before enrolling at ProKick.
Like most of the Australians who come to the U.S., Hedley made the move in his late 20s, which meant he played in college with teammates who were a decade younger. And a try at Aussie rules wasn't the only thing that delayed him. He also worked construction for a time in Australia, then opened a tattoo shop in Bali — Hedley, who sports a mullet, is inked from head to toe — before becoming a college punter.
"Punters can come over here and get away with it because we've kind of been kicking a football our whole life," said Hedley, 30, who averaged 45.3 yards on 46 punts in his final season at Miami, where he was an All-ACC selection and a semifinalist for the Ray Guy Award. "It is still a bit of a challenge to learn how to kick the American balls, but we pick it up pretty quick."
Arryn Siposs, 30, played parts of four seasons in the AFL for St. Kilda before being out of a job at the age of 22. But he wasn't ready to give up his athletic career, so he enrolled at ProKick, went on to punt at Auburn in 2018, spent part of 2020 on the Detroit Lions' practice squad, then played two seasons as a punter and holder for the Philadelphia Eagles before being released two weeks into this season.
Although American football is widely available on TV and the internet in Australia, Siposs said the toughest part of the transition was learning the rules.
"When I first tried to start following the NFL, it took me a little bit of time to realize what was going on," he said. "Australians are definitely starting to understand the game and definitely there's been a big following probably over the last eight to 10 years. I think that probably entice[s] you to come over here and have a shot at it."
Well that and the salaries. Only 12 AFL players earned at least $1 million last year, when the average pay topped $400,000 for the first time. Compare that to the $1.48 million Siposs made in two seasons with the Eagles or the four-year, $11.2-million contract extension former Aussie Rrules player Mitch Wishnowsky signed with the San Francisco 49ers last fall.
"My goal was always NFL," said Wishnowsky, who played soccer, then Aussie rules before a series of shoulder injuries sent him to the sidelines. He was working as a glazier and playing a limited-contact flag version of Aussie rules with friends when he was introduced to Chapman.
"I'd never heard of ProKick," he said. "I thought the only way to get to the NFL was [to] have a reputation of a big leg in AFL and get yourself a workout. Nathan Chapman's sort of changed it and gave regular dudes like me a chance to come over and chase their dream."
Wishnowsky, 31, enrolled at Santa Barbara City College in 2014 and moved on to the University of Utah two years later, winning the Ray Guy Award in 2016 when 17 of his 64 punts were downed inside the 10-yard line. This season seven of his 10 punts with the 49ers have been downed inside the 20, most in the NFL.
"It's become more of a known thing that there is a pathway to the NFL from Australia," he said. "There will be more in the pipeline coming through. Hopefully there's a solid five or six punters in the league for the next few years."
The physical nature of Aussie rules, a close cousin to rugby, would seem to make it a place to groom defensive backs, wide receivers and linemen as well as punters. But with players commonly covering more than eight miles in a game, which is played over four 20-minute quarters with few stoppages, aerobic fitness is far more important than physical size and strength.
As a result, Adam Gotsis, a defensive tackle with the Jacksonville Jaguars, is the only non-kicker to make the jump from Australian Rules to the NFL. Gotsis grew up playing Aussie rules in Melbourne before his mother found a nearby American football team through Google, starting him on a path that would allow him to play four years at Georgia Tech and eight seasons in the NFL.
Then there are the cultural differences between Australia and the U.S., which also favor punters.
"We prioritize punting at a young age because of Aussie rules whereas Americans prioritize throwing. That's our advantage," Wishnowsky said. "You've got freak athletes in America. There might be the odd freak [Australian] that can mix it up in in the NFL. But I think the advantage for Australians is definitely in punting."
While Wishnowsky and the 49ers are easing into the NFL season, back in Australia Cox, one of four Americans who have played in the AFL, was preparing for Saturday's Grand Final, his second with Collingwood.
Turns out the "athletic ability" the Australians were interested in when they invited him to their tryout camp was his height and kicking ability, both of which are vital in Aussie rules. Cox played on a Texas state championship soccer team in high school, which is where he learned to kick, then had a growth spurt after entering college at Oklahoma State and now is 6 feet 11.
Because of his height he stood out on campus and was recruited to practice with the women's basketball team, simulating then-Baylor star Brittney Griner. When men's coach Travis Ford saw him in the gym, he invited Cox to walk on to his team, and when the Cowboys made it to the NCAA tournament, he was discovered by the Australians, who invited him to the AFL combine in Los Angeles.
"The combine went really well. It was a bit of an unexpected turn in life," said Cox, who last year became an Australian citizen.
Cox needed a full year to learn the sport before making his premiership debut in 2016. Because of his height, he often features as Collingwood's ruckman, a position in which he contests center bounces, boundary throw-ins and ball-ups, making him one of the most important players on the field. His success proves there's a path for Americans with unique talents to come play Australia's national game, just as Chapman opened a path for Australians going the other way to the NFL.
"The guys that leave here and go to the NFL are specialists. And it's not so different with the Americans that come our way," said Kevin Sheehan, a former Aussie rules player and now the league's national and international talent manager. "They're playing a specialist role too. We don't have enough, with just 26 million people in our country, to keep producing unique athletes who are huge."
Sheehan said the recruitment of Cox and a handful of other Americans a decade ago was an experiment.
"Basically can we convert someone that knows nothing about game?" Sheehan said. "He's been a great success and will lead to others having a go with this unusual game in the years to come.
"It's the multiplier effect. If we get 10 doing what Mason Cox [is] doing, there's going to be lots more people that take an interest in your game, so it gradually grows. We'll be back there again, continuing the USA experiment."
Only this time, nobody will think it's a joke.
Get our high school sports newsletter
Prep Rally is devoted to the SoCal high school sports experience, bringing you scores, stories and a behind-the-scenes look at what makes prep sports so popular.
You may occasionally receive promotional content from the Los Angeles Times.