Examining Rams' biggest offseason moves: How they landed Aqib Talib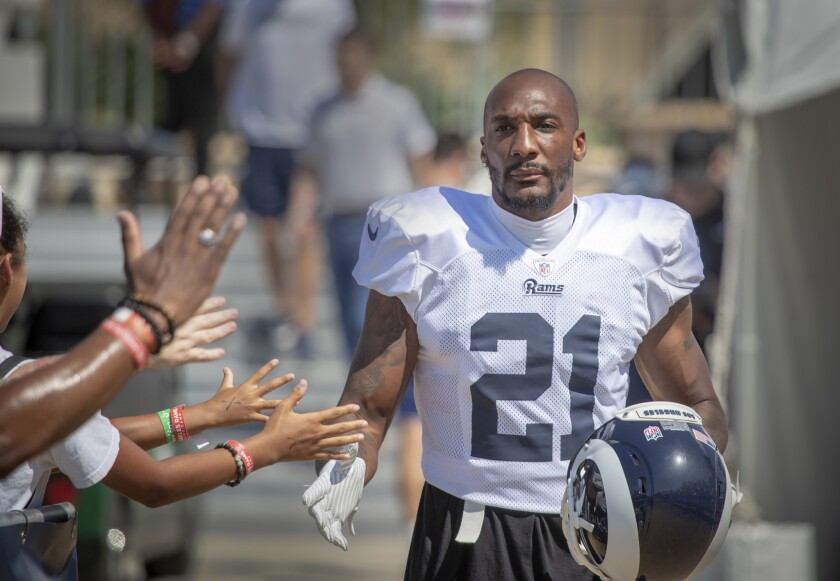 Second in a four-part series
After a flurry of offseason moves, the Rams begin the season with a remade roster that features newcomers in cornerbacks Marcus Peters and Aqib Talib, defensive lineman Ndamukong Suh and receiver Brandin Cooks. Here is the behind-the-scenes story of how each was acquired, in the voices of the people involved. Part 2: Talib.
March 8, Rams acquire Aqib Talib from the Denver Broncos for a fifth-round draft pick in 2018. The trade could not become official until March 14.
General manager Les Snead: You always read, in terms of headlines, what's going on around the league. You knew they were willing to trade Aqib through the media reports.
VP football & business administration Tony Pastoors: Like anyone else, you can turn on "SportsCenter" or NFL Network and hear what everyone's saying, so you try to keep tabs on some of those things.
Executive VP of football operations Kevin Demoff: Denver was looking to clear salary-cap space to go acquire a quarterback.
Denver Broncos general manager John Elway: If rumors get out there, then teams call.
Snead: So what you do is check in with Denver and John [Elway]. "Is this true?" He says, "Yeah." At that point you begin to flirt.
Pastoors: Our pro department is ahead on all that stuff. They watched everybody and they have grades on people. I'll work with [director of pro personnel] Ray Agnew and his staff for potential cap casualties with high salaries, or that may have lost favor with the coaching staff, or the staff has changed. He's got two years left on his contract, it's $11 million and $8 million, nothing's guaranteed. You know that stuff so when Les or Sean [coach Sean McVay] brings it up in a discussion you can say, "Hey, this is what it is."
Demoff: This was different from Marcus [Peters trade], which came up quickly and you were trying to figure out, "How do we piece this together?" Aqib's situation was a scenario we had discussed in January and February and were much more prepared for.
Coach Sean McVay: I was with him in Tampa, and [defensive coordinator] Wade [Phillips] obviously has a great history with him.
Snead: You say, "Hey Wade. Thumbs up or thumbs down on Talib?"
Wade Phillips: I just said, "Yeah, it would be great." I mean, I kind of OK'd it.
Snead: Then you want to go watch Aqib and see what he's done in the year that Wade didn't coach him to make sure, "Hey, he's still who you think he is" and things like that.
Elway: We had a deal [to trade Talib] with San Francisco.
Aqib Talib: I got a heads up that it really wasn't a trade if I take no physical. I talked with [49ers general manager] John [Lynch] and coach [Kyle] Shanahan and I told them I have the utmost respect for John Lynch. I love that guy. Man, I've been around him a lot too, Tampa to Denver. I just told them like just going into year 11, I wanted to just be comfortable. I ain't really want to learn a whole new defense. … Then I kind of told them, "'Hey, I don't know if I'm going to come out there and take no physical." So they were kind of, "All right."
Elway: San Francisco, I thought, would have been a good spot for him with John Lynch there. But that was not in his plan.
Talib: John Elway gave me a call back and it was like, well, I kind of told them, "Man, if I'm going to be uncomfortable then my contract needs to be comfortable." They was like, "Well, we'll see." And they didn't really want to do anything with the money, so John was like, "Where would you go with your contract as is?"
Elway: The two teams he had mentioned that he wanted to go to were the Rams or even the Patriots.
Snead: Once you do [the] Marcus [Peters trade in February] you're like, "You know what? We're never getting Aqib Talib." But then everybody's juggling all the balls and the dust settles and he's still out there.
Talib: The next thing I know, coach McVay is giving me a call.
McVay: We were happy that he wanted to be a part of us.
Pastoors: [The Talib-to-49ers trade] was one of those, "Nothing's done until the paperwork gets signed March 14." That's an example of it.
Snead: John [Elway] and I worked for however many days talking back and forth and there was a good possibility of getting something done.
Demoff: The main thing on Aqib was we had gotten Marcus and we're trying to figure out, "OK, how do you absorb the salary?" Because it was pretty clear after the 49ers that Aqib was not intending to take a pay cut.
Pastoors: My role is to make sure it all works and adds up. One of the things you never want to have to say is, "No. We can't do that because of cap space." You never ever want that to be an excuse. You can always create cap space and do all these different things.
Snead: You have to make an internal decision on, "OK, if we can get Aqib we thought for the big picture we might have to move [linebacker] Alec [Ogletree]."
Demoff: That's really where the [March 7] Ogletree trade [to the New York Giants] came into play with what were very similar salaries and costs.
McVay: To be able to take on some of these great players, unfortunately you have to give a little bit and that's where you lose a great player in Alec Ogletree.
Demoff: One of the conversations all season last year was really focusing the offseason on rebuilding the defense for Wade the way he likes it. Alec Ogletree doesn't get traded unless you're trying to solve the corner position.
McVay: [Soon-to-be free agent cornerback] Trumaine [Johnson] and I had a good rapport. We had actually talked the day before in person because when the Ogletree thing went down, obviously he had a lot of loyalty to Alec, and I think there were some things he wanted to know as to the reason behind it. [As the trade for Talib was getting done] I was on the bus to the terminal at Burbank Airport to go to Vegas for my brother's bachelor party. I called Trumaine. You tell him, "Hey, just want to let you know, so you hear it from us, we're probably getting ready to get a deal finalized where [we] sign another high-profile corner like yourself. And that probably means you'll be able to pursue some of the other options and opportunities out there." He couldn't have been more classy about that.
Trumaine Johnson: I understand. It's a business at the end of the day, it really is.
Demoff: I'm in Vegas [at the Pac-12 Conference basketball tournament] catching up on the Pac-12 and talking to them about the Pac-12 [football] championship game potentially coming to Hollywood Park and a bunch of other concepts. I was sitting courtside with Magic Johnson — one of our new suite holders — and I got a call that a deal is close.
Snead: You're like, "All right, by the time you land in L.A. there's a chance this is done."
Kevin Demoff: Les called back when the deal was done, which was the first half of the UCLA-Stanford game. … I said to Magic, "Hey, we just traded for Aqib Talib." Got a nice fist bump from Magic, and that was that.
Follow Gary Klein on Twitter @latimesklein
---
Get the latest on L.A.'s teams in the daily Sports Report newsletter.
You may occasionally receive promotional content from the Los Angeles Times.