UCLA beats Arizona, 45-24, after taking charge in the second half
Arizona defensive back Jace Whittaker strips the ball from UCLA receiver Eldridge Massington during the first half.
(Sean M. Haffey / Getty Images)
UCLA running back Nate Starks celebrates after a two-yard touchdown run against Arizona in the first quarter Saturday.
(Sean M. Haffey / Getty Images)
UCLA quarterback Josh Rosen calls a play at the line of scrimmage during the first half.
(Sean M. Haffey / Getty Images)
Bruins receiver Kenneth Walker III eludes Wildcats defensive back DaVonte' Neal on a 62-yard pass play for a touchdown in the first quarter.
(Sean M. Haffey / Getty Images)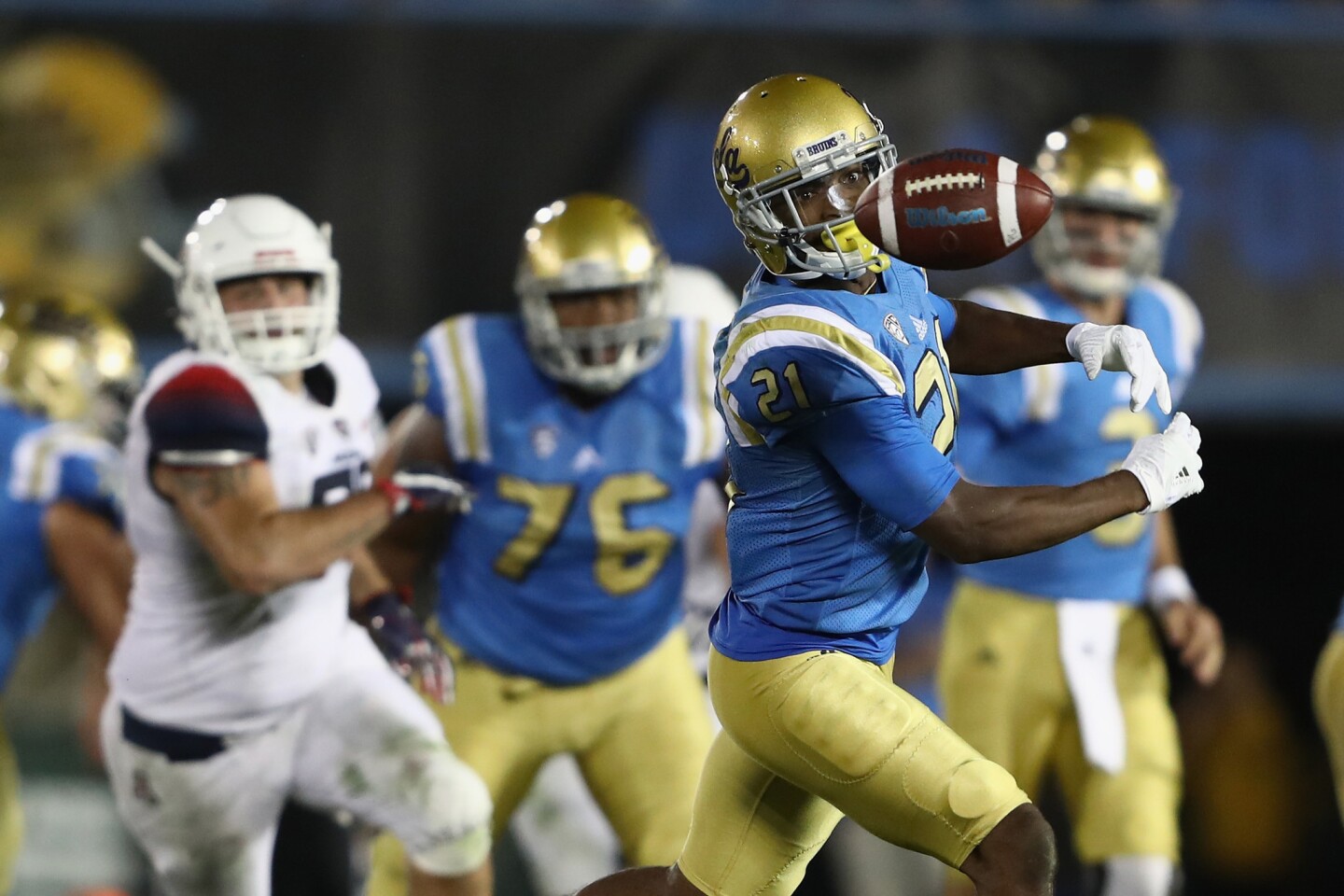 Bruins receiver Mossi Johnson is unable to hold onto a pass during the first half.
(Sean M. Haffey / Getty Images)
Arizona quarterback Brandon Dawkins carries for a gain with UCLA defensive lineman Jacob Tuioti-Mariner in pursuit.
(Reed Saxon / Associated Press)
Arizona receiver Trey Griffey pulls in a catch against UCLA defensive back Randall Goforth during the first half.
(Sean M. Haffey / Getty Images)
UCLA fans were relentless in expressing their feelings in the first half Saturday night.
They booed the Bruins when they punted on fourth and one near midfield. They booed tailback Soso Jamabo when he followed a six-yard loss with a run for no gain. They booed receiver Mossi Johnson after he dropped a pass. They booed their team when it took a knee in the final seconds before halftime.
The soundtrack changed appreciably in the third quarter.
There were cheers when Nate Starks, the newly featured tailback who had gone mostly nowhere in the game's early going, ripped off a 29-yard run. Roars followed when Theo Howard, a largely forgotten receiver, turned a short completion into a 19-yard touchdown.
The melodic shift continued for the rest of UCLA's 45-24 victory over Arizona at the Rose Bowl, which fulfilled Bruins Coach Jim Mora's mandate heading into the game.
"I like this football team and I like the direction we're headed," Mora said earlier in the week, "but we've got to win."
That hasn't been a problem recently against Arizona. Mora improved to 5-0 against the Wildcats since taking the UCLA job after quarterback Josh Rosen completed 20 of 37 passes for 350 yards and three touchdowns and rushed for another score.
UCLA (3-2 overall, 1-1 Pac-12 Conference) prevailed easily over Arizona (2-3, 0-2) thanks largely to Rosen's breakthrough and another stout performance from its defense, which held the Wildcats to four of 17 on third-down conversions.
Starks won the battle to become the Bruins' No. 1 tailback and looked worthy of the designation after a dreadful start, finishing with 80 yards in 17 carries with a touchdown.
"He is the most experienced of those three," Mora said of his top tailbacks. "He has a great combination of power and speed. He can catch the ball and pass protect."
Nevertheless, UCLA's running game largely resembled the one that had been among the worst in the nation through the season's first month, gaining 125 yards and averaging 3.9 per carry. The Bruins entered the game averaging 117.8 yards per game, ranking 113th out of 128 major college teams.
"We need to do a better job of running the football," Mora said. "I don't care what kind of unscouted looks that we are getting up front."
Drops continued to plague UCLA's receivers, but speed certainly wasn't an issue. Kenneth Walker III flashed his sprinter's acceleration on the final play of the first quarter, turning a short completion into a 62-yard touchdown that gave the Bruins a 14-7 lead. Walker added a 29-yard touchdown catch midway through the fourth quarter that made it 38-17.
Howard's touchdown catch was somewhat unexpected because Mora seemed to indicate that the prized freshman had fallen out of the rotation after failing to execute a play that was designed for him against Brigham Young two weeks ago.
UCLA scored 31 points in the second half after Mora challenged the offense at halftime, but the bigger takeaway from the coach was that the Bruins still had not fulfilled their potential.
"If, which is a horrible word, but if we could just find a way to put it together as a football team," Mora said, "we could be pretty dynamic."
He performed perfectly on his touchdown catch, giving the Bruins a 21-7 lead and triggering the start of a runaway.
This had the feel of an elimination game after UCLA and Arizona had both dropped their Pac-12 openers because it seemed hard to envision either team rebounding from an 0-2 conference record. Then again, Colorado, of all teams, is the only division team still unbeaten in conference play.
UCLA's running-backs rotation wasn't its only change. The Bruins also shook up their return game, turning to Adarius Pickett after Ishmael Adams had averaged only 3.08 yards on punt returns and fumbled twice through the first four games.
They were certainly glad they stuck with Adams on kickoff returns. He brought the ball back 52 yards to the Arizona 40-yard line on the Wildcats' first kickoff but was hurt trying to pull in a deep pass late in the second quarter.
UCLA had Randall Goforth return kickoffs in the second half, one of which he brought back for 50 yards.
The Bruins' biggest blunder in the first quarter might have belonged to Mora. The coach screamed at an official near the sideline, gesturing toward the field about something that had irked him, and earned an unsportsmanlike conduct penalty that sustained an Arizona drive with the Wildcats lined up to punt on third down.
Arizona eventually turned the ball over on downs later in the drive, allowing Mora to breathe easier.
"I got a flag," Mora said somewhat tersely. "I'm going to take that up with the league and leave it at that. Do I have an objection? Yeah, that's an understatement."
The Wildcats rotated three quarterbacks, with Brandon Dawkins, Zach Werlinger and Khalil Tate struggling to sustain momentum until UCLA had built a considerable lead.
Bruins linebacker Kenny Young and defensive end Takkarist McKinley each recorded a sack and Arizona scored its first touchdown only after Goforth was badly beaten on Dawkins' 12-yard pass to Samajie Grant in the corner of the end zone on Arizona's second drive of the game.
Follow Ben Bolch on Twitter @latbbolch
---
Get the latest on L.A.'s teams in the daily Sports Report newsletter.
You may occasionally receive promotional content from the Los Angeles Times.