UCLA's TJ Leaf prepared to hear it from Arizona fans when Bruins face Wildcats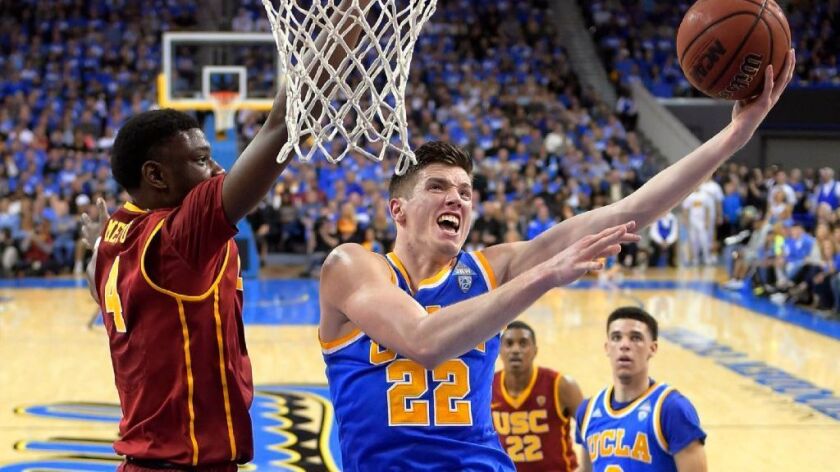 UCLA hasn't just turned the page on its losses this season. The Bruins have rewritten the narratives to their liking.
The prevailing memory of Oregon is no longer Ducks star Dillon Brooks sinking an improbable last-second shot but UCLA counterpart Lonzo Ball making a 30-footer.
The lasting image of USC isn't the Trojans band rocking "Tusk" but Bruins fans reveling in the final minutes of a romp.
UCLA has one other chapter that needs some revision. It came five weeks ago inside Pauley Pavilion, where Arizona scored on seemingly every possession to hand the Bruins their only home defeat of the season, 96-85.
Fifth-ranked UCLA (25-3 overall, 12-3 Pac-12 Conference) can continue to reverse the hurt Saturday evening at the McKale Center when it plays fourth-ranked Arizona (26-3, 15-1) at a place where the Wildcats have won 21 consecutive games and 70 of their last 71.
Emotion should be stacked like a pile of desert rocks in Arizona's favor. ESPN's "College GameDay" will be broadcasting from the arena on a day the Wildcats bid farewell to their seniors in their home finale.
"We get the whole deal from Arizona," UCLA Coach Steve Alford said Thursday night.
That should include plenty of vitriol directed at Bruins power forward TJ Leaf, who backed out of a commitment to spend what will likely be a brief college career in Tucson.
"I don't really know what to expect," Leaf said, "I just know it's a big-time environment and it's sold out every game, so they're going to be probably on all our heads. That's just what they do there."
Perhaps no one on UCLA's roster wants a do-over from the most recent meeting between these teams more than Leaf. He was thoroughly outplayed by Wildcats counterpart Lauri Markkanen, underscoring a season-long trend: When Leaf plays well, the Bruins almost always prevail; when he doesn't, they lose, sometimes in embarrassing fashion.
Leaf is averaging 17.7 points and 9.2 rebounds per game in UCLA's victories. In its defeats, those averages slip to 11.0 and 5.3.
UCLA guard Bryce Alford said earlier this week that the first matchups in Pac-12 play have served as a "kind of feeling-out process" for the team's freshmen, putting them on better footing for the rematches.
"Our three young guys haven't played against a lot of these guys before," Alford said of Ball, Leaf and Ike Anigbogu, "so for them it's huge."
Ball will be playing two days after he tweaked his right ankle against Arizona State, briefly forcing him out of the game. Steve Alford said afterward that he expected the point guard to be "full force" against Arizona.
Ball's right foot was encased in a walking boot Friday afternoon when the Bruins serenaded the UCLA women's basketball team with chants and claps as players departed the team hotel for a game against Arizona. The boot was considered only a protective measure.
A UCLA victory Saturday would sustain the Bruins' flickering hopes of a shared Pac-12 title and a No. 1 or No. 2 seeding in the NCAA tournament should they win the balance of their regular-season games and the conference tournament.
In a way, UCLA owes the Wildcats a bit of gratitude. It took Arizona's nearly hanging 100 points on the Bruins last month for them to realize that their season-long defensive doldrums could no longer be ignored.
"It's kind of hard for coaches to convince players that we need to work on our defense when we were 15-0 or whatever we were," Bryce Alford said. "Arizona coming in here and scoring 96 kind of showed us, hey, we need to work on our defense."
The Bruins have since applied more ball pressure while effectively mixing man-to-man and zone defenses. They've given up an average of 71.5 points during their current six-game winning streak that has included payback victories over Oregon and USC.
Two bad memories erased, one left to purge.
"If we play well, we'll give ourselves a chance," Steve Alford said, "and we're playing good basketball right now, so hopefully we can continue that."
::
UCLA TONIGHT
AT ARIZONA
When: 5:15 PST.
Where: McKale Center, Tucson.
On the air: TV: ESPN; Radio: 570.
Update: The Bruins have clinched a bye into the second day of the Pac-12 Conference tournament as one of the top four teams but retain much higher aspirations. Winning the first Pac-12 matchup involving top-five teams since fifth-ranked UCLA toppled fourth-ranked Washington State in January 2008 would nudge the Bruins toward a more favorable NCAA tournament seeding than their current No. 4 projection. Arizona surpassed nine million fans in the 44-year history of the McKale Center on Thursday during its 90-77 victory over USC. The Wildcats are on pace to lead the conference in attendance for a 33rd consecutive season.
Follow Ben Bolch on Twitter @latbbolch
---
Get the latest on L.A.'s teams in the daily Sports Report newsletter.
You may occasionally receive promotional content from the Los Angeles Times.