UCLA basketball turning into family affair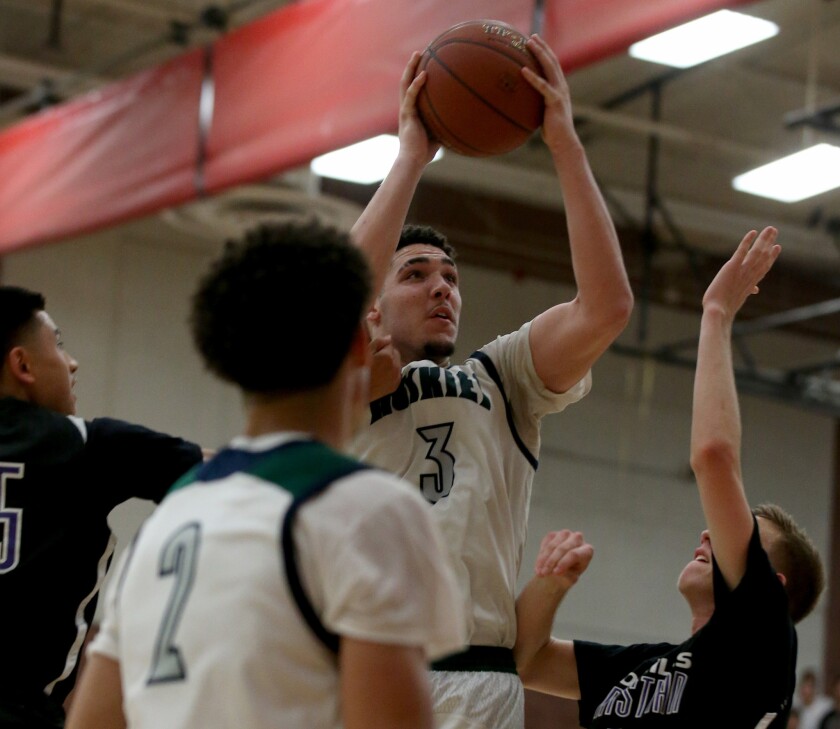 The Ball keeps rolling for UCLA on the basketball recruiting front.
The Bruins are expected in the coming days to land a second consecutive recruiting class ranked in the top five nationally that will include Chino Hills High shooting guard LiAngelo Ball, the younger brother of highly touted freshman Lonzo Ball.
Those hoping for a Ball brothers reunion in Westwood will probably be disappointed.
"The next time the Ball boys are going to link up, I'm going to tell you when — the USA team four years from now," LaVar Ball, the siblings' father, told The Times, referring to the national team that will compete in the 2020 Tokyo Olympics. "That's what people have to look forward to — the Ball boys reunite in the USA!"
So that means Lonzo Ball will be a Bruin for only one season?
"Lonzo's going to be there this year; this is the only year he'll be there," LaVar Ball said.
The Bruins figure to be stocked with talent even if Lonzo Ball does depart after one season.
UCLA's Class of 2017 is also expected to include Cody Riley, a power forward from Chatsworth Sierra Canyon High; Jaylen Hands, a point guard from El Cajon Foothills Christian High; and Jalen Hill, a center from Corona Centennial High. UCLA is also still believed to be in the running for Kris Wilkes, a small forward from Indianapolis North Central High.
Josh Gershon, national recruiting analyst for Scout.com, ranked the Bruins' recruiting class No. 3 in the nation — behind only Arizona and Auburn — heading into the week-long signing period that starts Wednesday.
UCLA's recruiting resurgence is largely tied to bringing in local stars, many of whom had gone elsewhere in recent seasons.
"To me, there's no path for UCLA being successful — nationally, in the Pac-12, anything — without dominating Southern California recruiting," Gershon said, "and I think that's what the Bruins have done over the last couple of years."
Gershon said Riley was probably the most college-ready of the bunch because of his combination of strength and skill as a "hard-nosed, old-school power forward" who could score with his back to the basket while also stepping outside to make jumpers. Hands has morphed from a pure scorer into a pass-first point guard and Hill is a strong defender who has lots of upside considering he's young enough to be in the Class of 2018. LiAngelo Ball is a high-volume shooter who can make three-pointers in bunches.
UCLA's current players surely had a major impact on bringing in the next wave of Bruins. Freshman forward T.J. Leaf was a former high school teammate of Hands, freshman forward-center Ike Anigbogu played alongside Hill and Lonzo Ball has known LiAngelo since the day the younger Ball was born.
Bruins basketball has largely turned into a family affair.
"I told UCLA: 'I'm sending you the best passer and playmaker this year,' " LaVar Ball said, " 'and then next year I'm sending you the best scorer.' "
That won't be the end of the Ball game for the Bruins. LaMelo Ball, LaVar's youngest son and a sophomore at Chino Hills, has also committed to UCLA.
Quick hits
Leaf said he wore protective glasses during an exhibition game last week because of an eye infection but had recovered and wouldn't need the eyewear during UCLA's season opener against Pacific on Friday evening at Pauley Pavilion. … Bruins Coach Steve Alford said he hoped Anigbogu could return from a knee injury in two weeks, meaning he could miss as few as four games. Guard Prince Ali (knee surgery) is still on track to return in December.
---
Get the latest on L.A.'s teams in the daily Sports Report newsletter.
You may occasionally receive promotional content from the Los Angeles Times.