Bruins need some help to tie for Pac-12 title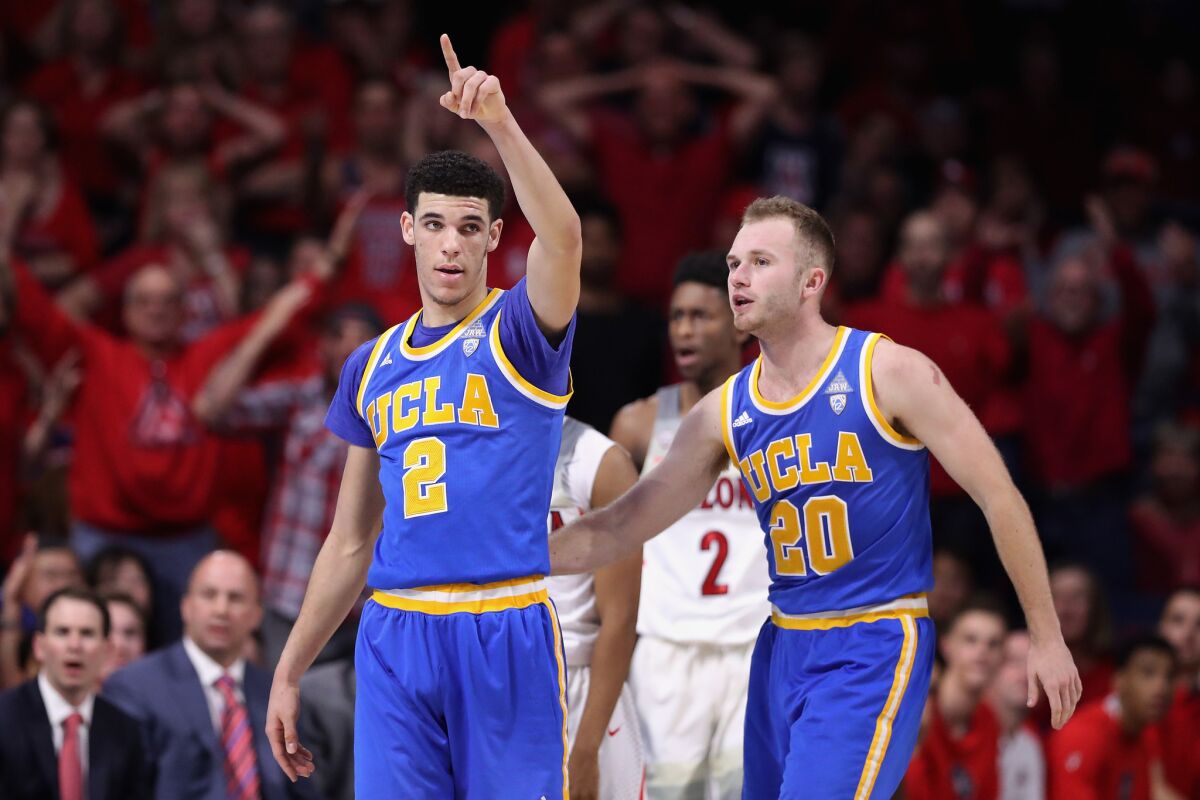 The eight-clap might not be the only cheer heard around UCLA this week. Bruins fans might break out a hearty "Give 'em hell Devils!" on Saturday afternoon followed a few hours later by shouts of "OSU, our hats are off to you."
The fight songs of Arizona State and Oregon State could make their way onto UCLA students' reading lists because the Bruins need some help from their Pac-12 Conference rivals. The Sun Devils and Beavers are UCLA's only hope for winning a share of the conference title alongside Oregon and Arizona.
Third-ranked UCLA (26-3 overall, 13-3 Pac-12) will enter its game against Washington (9-19, 2-14) on Wednesday night at Pauley Pavilion facing a 1 1/2-game deficit in the conference standings. Unlike Arizona (26-4, 15-2) and Oregon (26-4, 15-2), which each play only once this week, the Bruins will play twice, completing their regular-season schedule on Saturday against Washington State.
"As long as we take care of what we can," UCLA shooting guard Bryce Alford said Tuesday, "if the two teams ahead of us slip up, then we can get into that tie for first."
Should UCLA, Arizona and Oregon finish in a three-way tie atop the standings, Oregon would receive the No. 1 seeding for the Pac-12 tournament based on tiebreakers because the Ducks went a collective 2-1 against the other teams in that group. The Bruins would receive the No. 2 seeding in that scenario by virtue of having gone 2-2 against the group, giving Arizona the No. 3 seeding because the Wildcats went 1-2 versus those teams.
The Pac-12's unbalanced schedule hurt the Bruins this season because Arizona and Oregon played each other only once.
"Those are two great teams and when they play each other," UCLA center Thomas Welsh said, "one of those two teams is going to get a loss."
UCLA has already clinched a bye into the Pac-12 tournament quarterfinals and no worse than the No. 3 seeding. The Bruins could claim the No. 2 seeding with two victories this week and an Arizona loss to Arizona State in Tempe, where the Sun Devils have won three of the last five meetings between the teams.
An Oregon loss to Oregon State in Corvallis seems far less likely considering the Beavers have gone 1-16 in conference play. All Bruins fans together now: "Beavers, Beavers, fighters through and through. We'll cheer throughout the land."
Taking a peek
ESPN's Joe Lunardi received at least one web hit on his latest NCAA tournament bracket projections from a Bruin.
"Obviously, being a 22-year-old kid," Bryce Alford said, "you're going to look at it."
Lunardi has deemed UCLA as worthy of a No. 3 seeding in the South Regional, one spot worse than where CBS Sports' Jerry Palm has placed the Bruins in the same regional. If teams were seeded based on the previous month, UCLA would be a consensus No. 1 based on its 7-0 record in February.
"Nobody's probably playing any better in the country," UCLA Coach Steve Alford said of his team.
Etc.
Bryce Alford has broken his own school season record with 94 three-pointers, topping the 93 he made during the 2014-15 season. Alford has made 307 three-pointers in his career, needing 11 more to surpass Jason Kapono (317) for the UCLA record. Alford's 1,832 career points put him only 15 short of edging Toby Bailey (1,846) for fifth place on the school's all-time scoring list. … UCLA's seven-game winning streak has coincided with the termination of the team's four-guard lineup, the Bruins going with a more traditional look featuring two big men and three guards. "I think that's helped our board play, being longer and bigger," Steve Alford said. … Steve Alford on what he sprayed on his players in the locker room after his team's victory over Arizona: "Just harmless water."
::
UCLA TONIGHT
VS. WASHINGTON
When: 8 p.m. Wednesday.
Where: Pauley Pavilion.
On the air: TV: FS1; Radio: 570.
Update: A rematch between star freshmen Lonzo Ball and Markelle Fultz may have to wait until both players are in the NBA because of lingering soreness in Fultz's right knee. Washington Coach Lorenzo Romar told reporters in Seattle on Tuesday that Fultz, the Pac-12's leading scorer at 23.2 points per game, had not been medically cleared to play against the Bruins. Fultz has missed three of the Huskies' last five games, including their 79-71 loss to Washington State on Sunday. Even with Fultz in the lineup, the Huskies suffered their worst defeat in 15 years when UCLA romped its way to a 107-66 victory on Feb. 4 in Seattle. Washington has lost a school-record 10 consecutive games, putting Romar's job in jeopardy.
Twitter: @latbbolch
Get the latest on L.A.'s teams in the daily Sports Report newsletter.
You may occasionally receive promotional content from the Los Angeles Times.