UCLA decisions on length of suspensions for Cody Riley and Jalen Hill could come this week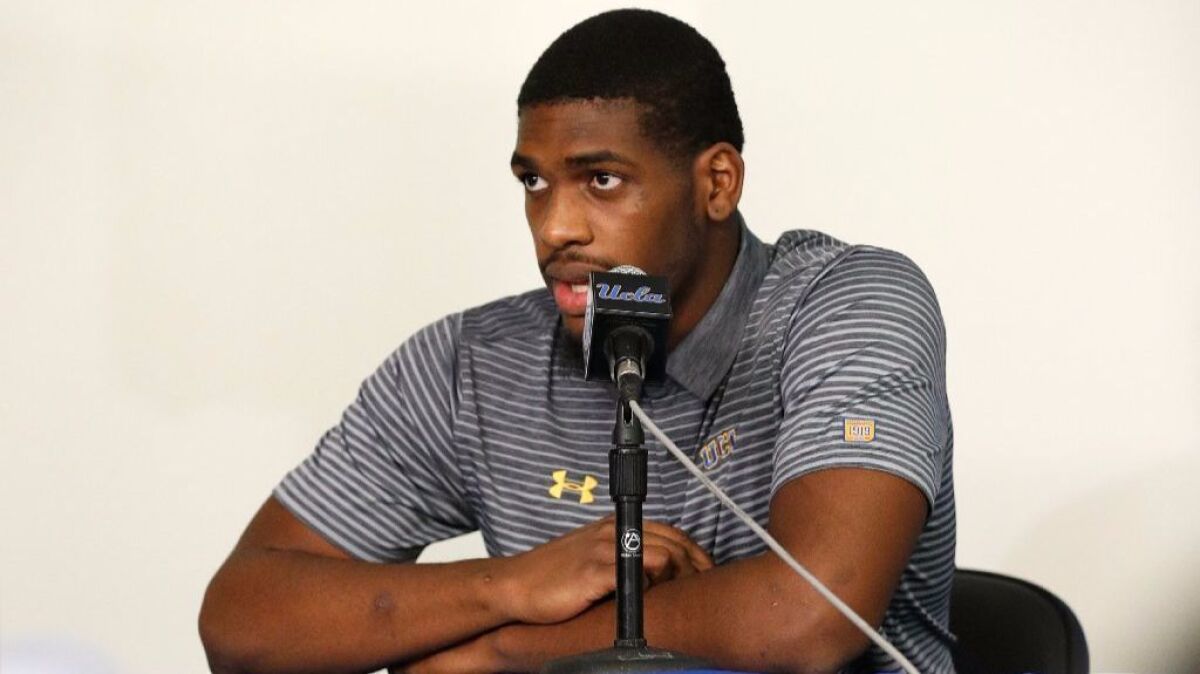 The Ball game is over at UCLA. There also could soon be an end to the suspense over the fate of the team's remaining suspended freshmen.
UCLA coach Steve Alford said Thursday that a decision on the length of the suspensions for Cody Riley and Jalen Hill could come as soon as the end of this week.
"Hopefully we can just get this last piece behind us and then we can know exactly what's happening," Alford said. "We're going to know where Cody and Jalen are in terms of what happens with this year's team, what their availability is going to be, if any, whether it's practice, whatever it may be, just getting them back engaged, because they've been separated from the team for quite some time."
Riley and Hill were suspended indefinitely last month along with fellow freshman LiAngelo Ball after the trio acknowledged stealing items from three stores inside an upscale mall in Hangzhou, China, during the team's trip to play Georgia Tech in its season opener. Ball withdrew from school last week to sign with a professional team in Lithuania, ending the uncertainty over his status.
Alford said that after the school's office of student conduct finished its review of the matter, UCLA chancellor Gene Block and a host others including himself and athletic director Dan Guerrero would have input on the fate of the suspended players.
Teammates who have now played nine games shorthanded seem equally eager for a resolution. Fatigue contributed to a meltdown in the final minutes Saturday during UCLA's 78-69 overtime loss to Michigan.
"It would definitely be nice to know when they're going to be back," said forward GG Goloman, whose average of 23.8 minutes per game this season has been higher than expected because of the absence of Hill and Riley, both forwards.
"It definitely changed a lot of our team. Our depth is pretty much gone, especially for the bigs it's only three or four of us [left], so it definitely puts a little more pressure on us, but it's just adversity, so you've got to get through that."
Ball and younger brother LaMelo, who had verbally pledged to play for the Bruins, have signed with Prienu Vytautas in Lithuania, officially ending the Ball era at UCLA. Their older brother Lonzo starred for the Bruins last season before the Lakers made him the second overall pick in the NBA draft.
"Well, I really only had one," Alford said when asked how he would characterize the players' impact on UCLA. "Lonzo was obviously terrific."
Alford also described LiAngelo as "terrific," recalling the player's response after running late.
"He came in frantic, apologizing, and took his responsibility of it and so those are things you appreciate as a coach," Alford said. "I have no issues that way and obviously with Gelo and Melo, just wish them the very best of luck. I hope things really work out well with them and I hope just like Lonzo, I hope they have terrific pro careers."
Goloman, who played for the Hungarian national team this summer, said he was only vaguely familiar with the quality of the Baltic League where the Balls will play.
"Lithuania does not usually have a very good basketball culture, so they should be OK, I think," Goloman said. "I'm not sure what the team is like, though."
No makeup required?
Alford said there remained a possibility that UCLA's game against Montana that was canceled last week because of the nearby wildfires could be rescheduled. One drawback could involve the Bruins playing three games in a week during Pac-12 Conference play.
"I'm not sure that Montana or ourselves are wanting to do that during conference season," Alford said.
Follow Ben Bolch on Twitter @latbbolch
Get the latest on L.A.'s teams in the daily Sports Report newsletter.
You may occasionally receive promotional content from the Los Angeles Times.