GG Goloman and Alex Olesinski give Bruins more than hustle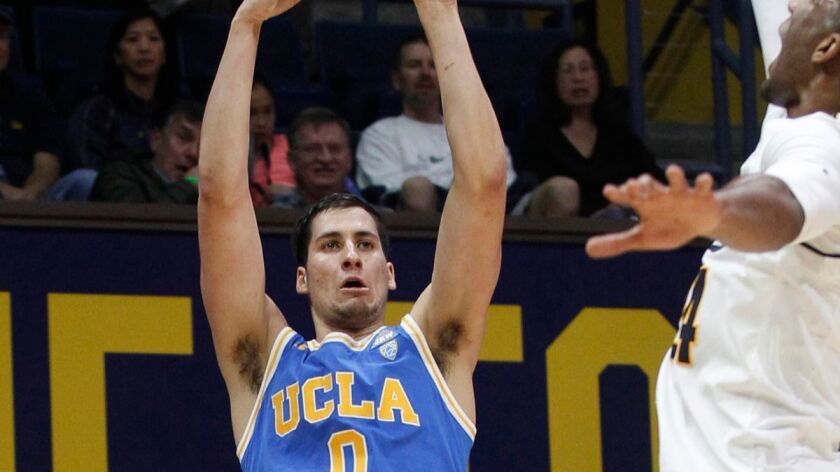 They were expected to provide some defense, rebounding and an occasional three-pointer.
GG Goloman and Alex Olesinski did a lot more than that last week during UCLA's trip to the Bay Area.
Goloman scored a career-high 14 points against Stanford and followed it with three blocked shots in a blowout victory over California. Olesinski set career highs with 14 points and three three-pointers against the Golden Bears, adding two blocks and a momentum-shifting four-point play.
"Both of them have done a very good job in the minutes they've gotten," Bruins coach Steve Alford said Tuesday.
Those minutes would likely have been reduced had Goloman and Olesinski had to compete for playing time with freshman forwards Jalen Hill and Cody Riley. But the season-long suspensions of Hill and Riley for shoplifting in China have provided an increased opportunity for Goloman and Olesinski.
They've made the most of it.
Goloman has started every game and is averaging career highs of 7.7 points, 4.7 rebounds and 23.7 minutes per game. Olesinski is the first and sometimes only big man off the bench, averaging 5.3 points and 4.3 rebounds in 19.6 minutes per game after redshirting last season because of a stress reaction in his left foot.
"He's a skilled passer, he's a very, very good position defender," Alford said of Olesinski. "He's just smart, works hard on the glass and with everybody else that we have, you kind of forget about him and he can knock down shots."
Olesinski had largely struggled from long range before Saturday, making only five of 22 three-pointers (22.7%) before a breakthrough against Cal in which he made three of four. He made one three-pointer while being fouled as part of a four-point play that helped stave off the Bears after they sliced UCLA's 22-point lead in half.
Goloman and Olesinski provide two more big men who can space the court in addition to center Thomas Welsh, whose 41.9% accuracy on three-pointers trails only guard Prince Ali's 45.5% among the Bruins.
Their job descriptions now entail a lot more than just doing the hustle.
"I just try to do whatever I can and I feel like everybody should be a hustle guy, whoever's out there," Goloman said. "That's something that anybody can do and it doesn't require much talent. You've just got to go out and play hard, so I'm just trying to do that every night."
Masked man?
Alford joked that Welsh could be forced to keep wearing a mask after making a career-high four three-pointers against Cal.
"The mask might be on for the remainder of the year," Alford said.
Welsh first donned the mask in practice after absorbing a hit to the face against Washington State on Dec. 29. He first used it in a game during the second half against Stanford last week after being smacked in the nose and receiving three stitches.
Welsh shot poorly against the Cardinal before making six of nine shots, including four of six three-pointers, against Cal.
"I don't think it affects Tom," Alford said of the mask. "Tom goes about his business. He's one of the more consistent guys in the country, and for his well-being I hope he gets to take it off. But he looked awfully good with it on the other night."
The translucent mask has other benefits besides aesthetics.
"I'll probably end up wearing it for a while," Welsh said, "just to give it [his nose] a little more time to recover in case I get hit again."
Follow Ben Bolch on Twitter @latbbolch
---
Get the latest on L.A.'s teams in the daily Sports Report newsletter.
You may occasionally receive promotional content from the Los Angeles Times.