UCLA's Steve Alford won't dwell on not getting the ball into Thomas Welsh's hands at the end of loss to Colorado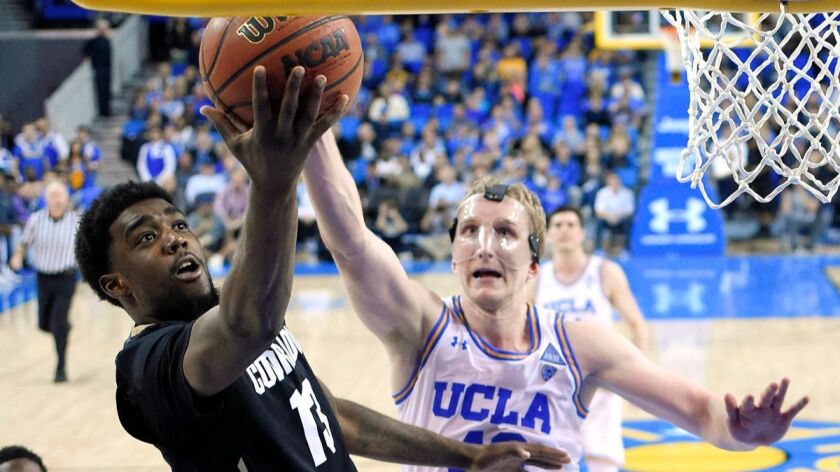 Regrets? UCLA basketball coach Steve Alford figured to have a few after the one player Colorado couldn't stop last Saturday didn't take a shot during the decisive stretch run of a loss at home.
Or maybe not.
Alford on Tuesday said he was unaware that center Thomas Welsh did not take a shot in the last 5 minutes 20 seconds of a 68-59 defeat, even after Welsh had scored 10 consecutive points and made nine of 10 shots to that point of the game.
"I don't have that stat in front of me," Alford said. " … Obviously, you would like to get him more when he's the one making shots, but I don't know what you want me to say."
The coach was then asked if he regretted not getting Welsh more shots.
"I don't get him shots," Alford said. "It's not me getting him shots. I'm on the sideline; they don't let me come out here [on the court], but that's somebody that we always want to play through more and we've said that, and Tom's been very efficient for us."
Alford explained that the Bruins had been playing more through forward Kris Wilkes and guard Aaron Holiday before he acknowledged "that was a game where nobody shot it well except for Tom, so it would have only made sense if Tom would have gotten more shots in the last five minutes."
Welsh made a jump shot, a jump hook and two three-pointers as part of a 10-0 surge, shaving what had been a 55-41 deficit to 55-51 with 5:20 left. To that point, his teammates had combined to make 11 of 39 shots (28.2%).
So who took the rest of UCLA's shots? Not Welsh.
Jaylen Hands took six, making two. Holiday took three, making one. Wilkes, Chris Smith and GG Goloman combined to miss all four of their shots. Collectively, the Bruins made three of 13 shots, allowing the Buffaloes to pull away.
Welsh's hot hand almost seemed like news to some of his teammates three days later.
"I didn't really realize that," Holiday said when informed of Welsh's stat line. "I guess that's on me. But yeah, it was an emphasis to give him the ball because he made like every shot he took, basically."
Welsh, who finished with 20 points, said Colorado did not change the way it defended him toward the end of the game. He took responsibility for zeroing out, saying he should have demanded the ball more.
"That's on me in that situation when I'm shooting the ball well, and we're trying to make a little comeback," Welsh said. "I kept on making shots so I wanted to try to be more aggressive, just call for the ball and in fact my teammates tried to get me looks."
Alford said the game was lost primarily because of a start in which UCLA fell behind by as many as 17 points in the first half. With the exception of Welsh, the Bruins didn't shoot well enough to catch up.
Alford called it his team's "worst offensive night" of the season after UCLA shot 37.1% and made just 20% of its three-pointers.
"The ball did not move like it normally moves," Alford said. "I thought we took a lot of quick shots, and because you take quick shots, guys like Tom don't get the touches they gotta get. You gotta make the defense work; they trapped Aaron off a lot of screens and Tom's going to get a lot of focus, so if you're constantly shooting off a [quick] pass, your two guys that need the shots aren't getting touches."
Alford said he believed in subbing players after mistakes during teachable moments but noted that his short-handed team was further depleted against Colorado. Reserve forward Ike Okwarabizie was unavailable because of a concussion suffered during practice and reserve guard Alec Wulff was sick.
"There wasn't a lot of subbing that could have been done in the Colorado game," Alford said. "We had eight guys; that's what we had."
The Bruins (13-5 overall and 4-2 in the Pac-12) were already missing forwards Cody Riley and Jalen Hill because of their season-long suspensions for shoplifting and guard LiAngelo Ball, who left the team to play professionally in Lithuania.
"We thought that would be a heavy motivator at the beginning of the season," Alford said of his bench, "[though] it's not much of a motivator right now because we just don't have the bodies."
Alford said Wulff had returned to practice but Okwarabizie was doubtful to play on the two-game trip that starts Thursday against Oregon State.
Follow Ben Bolch on Twitter @latbbolch
---
Get the latest on L.A.'s teams in the daily Sports Report newsletter.
You may occasionally receive promotional content from the Los Angeles Times.