UCLA heads into 'toughest part of schedule'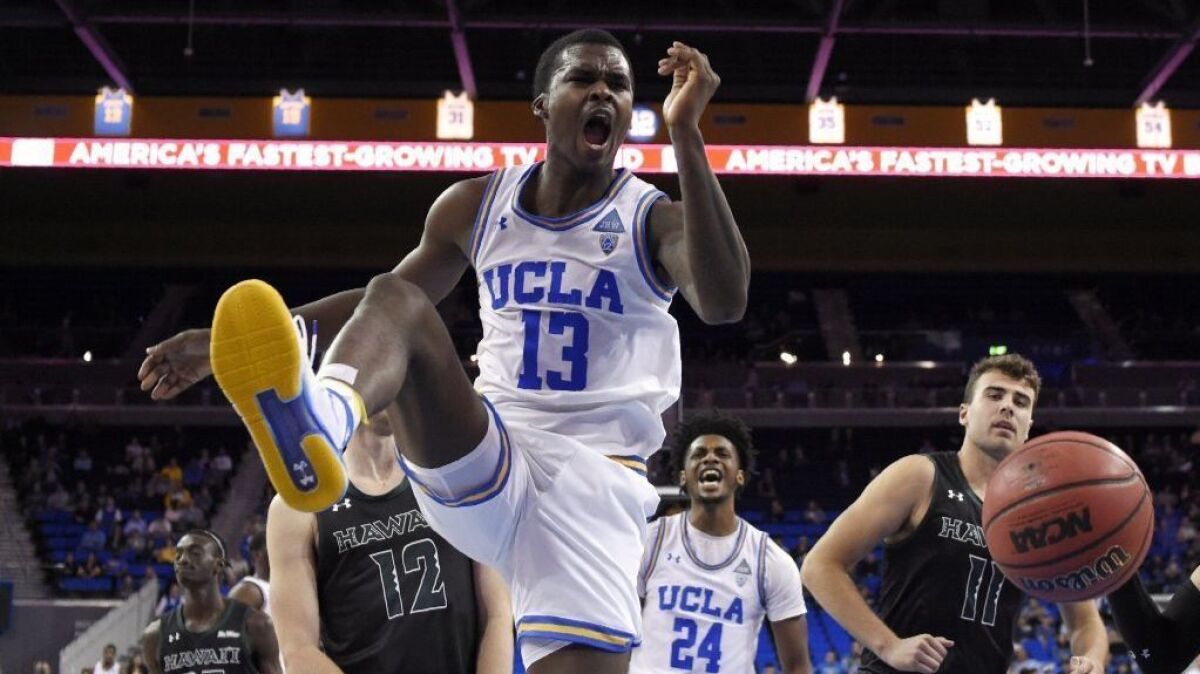 Having played national powers North Carolina and Michigan State, UCLA is moving on to the toughest part of its schedule.
At least that's the verdict of the controversial new metric being used by the NCAA tournament selection committee.
According to the NCAA Evaluation Tool, widely known as the NET, the Bruins (5-2) will open a punishing five-game stretch Sunday night when they face Loyola Marymount (8-0) at Pauley Pavilion.
The Lions, off to the best start in school history, are ranked No. 25 in the NET ranking, which has replaced the RPI as the primary measure of a team's strength in the view of the selection committee that will pick and seed teams for the NCAA tournament. Next up on UCLA's schedule will be games against No. 29 Notre Dame (6-1), No. 9 Belmont (6-0), No. 40 Cincinnati (6-1) and No. 15 Ohio State (6-1).
Loyola Marymount and Belmont, which hail from lesser conferences, are strangers to being nationally ranked. But Belmont is ranked higher than North Carolina (No. 20) and Michigan State (No. 22) in the NET despite not receiving a single vote in the Associated Press ranking. The Tar Heels and Spartans are ranked Nos. 11 and 9, respectively, by the AP.
The NET ranking, released for the first time this week, has sparked outrage among some observers.
"These are the worst rankings I've ever seen in any sport, ever," statistics savant Nate Silver tweeted. "NCAA needs to go completely back to the drawing board."
Said college basketball analyst Jay Bilas, in an ESPN interview earlier this week: "It just creates needless controversy, where smart people who know the game are going, 'That doesn't make any sense,' and it winds up devaluing some of our best assets, those being the best teams, and it also devalues, frankly, the tournament and the selection process."
UCLA coach Steve Alford said earlier this week he wasn't aware of the NET ranking but noted that "there's got to be a bigger pool of games" to enhance the reliability of metrics that rank teams.
The NET ranking relies on a variety of factors including game results, strength of schedule, game location, scoring margin, net offensive and defensive efficiency and the quality of wins and losses. Game results are given equal weight regardless of whether they occur early or late in the season. Scoring margins are capped at 10 points to discourage piling up points in blowouts.
UCLA is No. 89 in the latest NET ranking, sandwiched between Wofford and Georgia State. That means the Bruins have a lot of ground to make up in the next few weeks considering there won't be many opportunities for quality wins once Pac-12 Conference play starts.
Arizona (No. 18) and Arizona State (No. 24) are the only Pac-12 teams ranked in the top 60 in the NET ranking, and the Bruins play the Wildcats and the Sun Devils only once each because of their conference's unbalanced schedule.
In Alford's view, UCLA entered a crucial chunk of its schedule Wednesday when it defeated Hawaii.
"We knew this stretch was going to be a key stretch for us, and it had to start with [Hawaii]," Alford said after the Bruins' 80-61 triumph over the Rainbow Warriors. "So we passed the first test; now, we've got a big test on Sunday."
UCLA BRUINS vs. LOYOLA MARYMOUNT LIONS
When: Sunday, 7 p.m. PST.
Where: Pauley Pavilion.
On the air: TV: Pac-12 Network; Radio: 1150.
Update: Loyola Marymount has already beaten Georgetown and Nevada Las Vegas, in case its unbeaten start wasn't enough of an attention-grabber. The Lions have largely won with defense, ranking eighth nationally by holding opponents to 56.5 points per game. Loyola Marymount has gone 3-15 in its series against UCLA but defeated the Bruins when the teams last met in November 2011.
Follow Ben Bolch on Twitter @latbbolch
Get the latest on L.A.'s teams in the daily Sports Report newsletter.
You may occasionally receive promotional content from the Los Angeles Times.