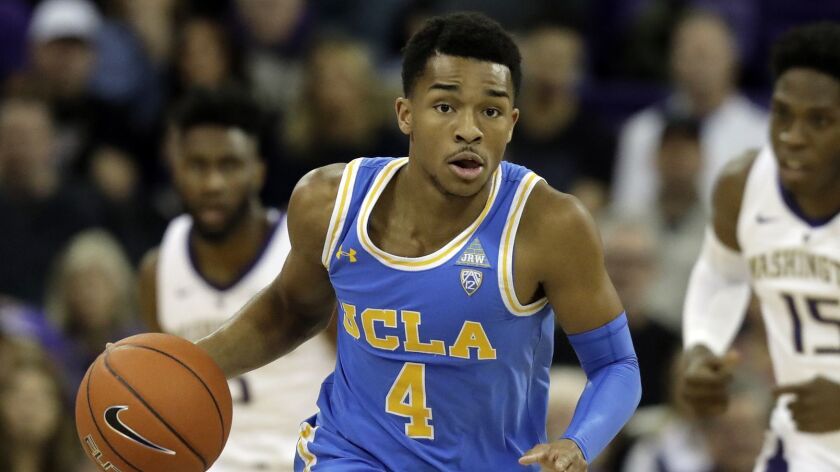 UCLA has only one more Wednesday game left on its schedule, and the Bruins would like to keep it that way.
Another Wednesday game would mean the team's unlikely road to the NCAA tournament had become even more improbable. It would mean the Bruins had failed to secure one of the top four seedings in the Pac-12 Conference tournament.
That all became a bit more likely based on what happened earlier this week at Pauley Pavilion.
The Bruins' 84-73 loss to Colorado left them in a four-way tie for sixth place in the Pac-12 standings. If the season ended Friday, UCLA would be among the eight teams playing on Wednesday, March 13, in the first round of the Pac-12 tournament at T-Mobile Arena in Las Vegas.
The teams with the top four seedings automatically advance to Thursday's quarterfinal round to await the winners of the first-round games. An extra game would force UCLA to win four games in as many days to secure an automatic bid to the NCAA tournament, the Bruins' only possible route into the field of 68.
UCLA (12-11, 5-5 Pac-12) hasn't won four consecutive games since it opened the season 4-0, but those games were spread over two weeks and came against mid-major teams.
The Bruins have played in the first round of the Pac-12 tournament under its current format only once, absorbing a 24-point walloping against USC in 2016. Colorado is the only conference team that has advanced from the first round to win the tournament title, in 2012.
UCLA interim coach Murry Bartow said with a chuckle last week that maybe he should start paying attention to his team's quest to secure a top-four seeding when asked about it by a reporter.
Fortunately for the Bruins, a logjam in the Pac-12 standings has left UCLA only one game out of second place. USC, Arizona State, Oregon State and Utah are tied for second with a 6-4 conference record, one game ahead of UCLA, Arizona, Oregon and Stanford.
UCLA hopes to start an upward climb Saturday afternoon when it faces Utah (12-10, 6-4) at Pauley Pavilion. The teams meet again March 9 in Salt Lake City.
The Bruins largely control their own destiny when it comes to the date of their opener in the Pac-12 tournament because they also have games left against USC, Oregon State, Oregon and Stanford.
A stretch in which they have dropped two consecutive games and five of seven hasn't left them feeling like the balance of the season is a lost cause.
"I have faith that we will do well this season," freshman center Moses Brown said after the setback against Colorado. "And a loss like this shouldn't really keep us down or have us discouraged in any type of way. We've just got to go out there and swing it next time we play."
Zoning out?
UCLA has switched from predominantly man-to-man defense under coach Steve Alford to exclusively zone defense under Bartow, with mixed results.
The Bruins have held three of their last four opponents under 70 points, but their zone has continually given up open three-pointers from the corners. Colorado's Shane Gatling gunned his way to 28 points while making seven of nine three-pointers Wednesday, many without a defender in the vicinity.
Bartow, who was hired before this season to handle UCLA's defense before replacing the dismissed Alford last month, said staying in a zone gave his team the best chance to win.
"I know our team, I just know where we're good and where our weaknesses are, and we're a lot better in either a 2-3 or a 3-2 right now than we are in man," Bartow said. "Now, if we try to invest some time in man [in practice], then certainly I'll give that some thought."
SATURDAY
VS. UTAH
When: 2 p.m.
Where: Pauley Pavilion.
On the air: TV: Fox; Radio: 570.
Update: Brown was selected as one of 10 finalists for the Kareem Abdul-Jabbar Award that goes to the nation's top college center. He'll have to contend with Utah counterpart Jayce Johnson, who is coming off a 13-point, 13-rebound effort Wednesday during the Utes' 77-70 victory over USC.
Sign up for our daily sports newsletter »
Follow Ben Bolch on Twitter @latbbolch
---