UCLA's Prince Ali doubtful for games this week; season could be over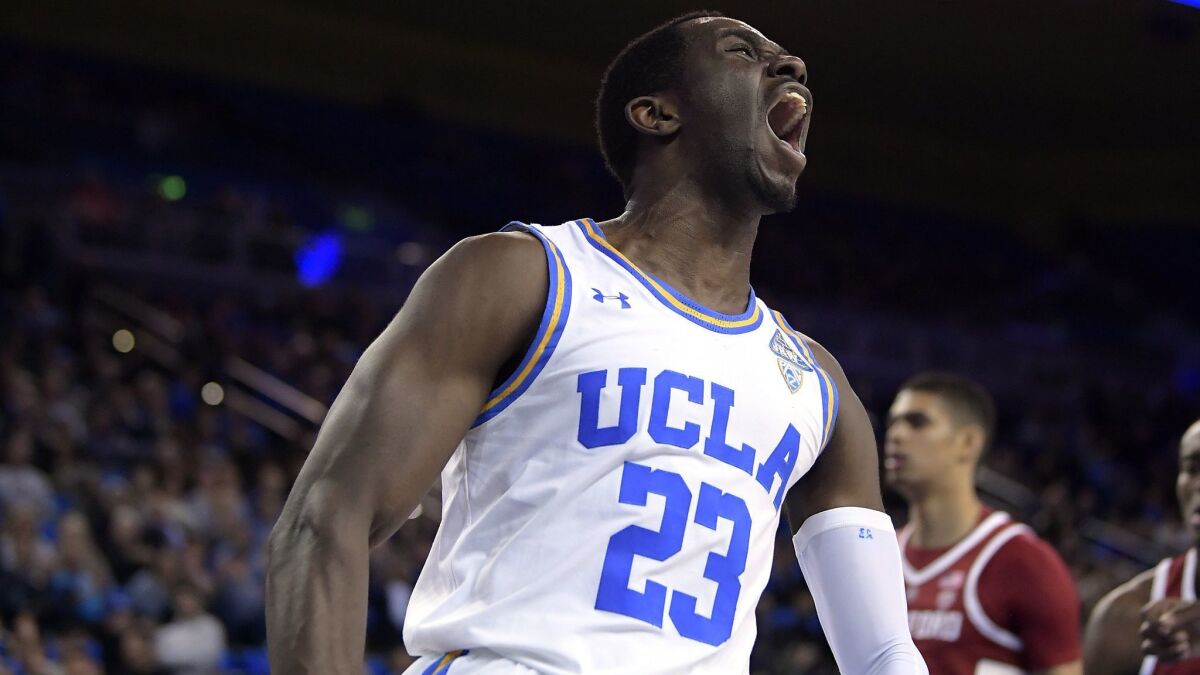 Prince Ali's season might be over.
UCLA interim coach Murry Bartow said Tuesday that it was "very, very doubtful" the junior shooting guard would play against Colorado or Utah this week because of plantar fasciitis in his left foot.
With the Bruins guaranteed to play only one more game beyond this week, in the Pac-12 Conference tournament, it's possible that Ali may have played his last game of the season.
"We're still hopeful and I'd love to get him back," Bartow said of Ali, who has missed the last three games. "Prince was an important part of our team and he's an important guy, but right now just not able to play."
Ali, who is averaging 9.6 points and 2.7 rebounds per game, did not practice Tuesday but will travel with the team on its two-game trip. Bartow said he would stick with the starting lineup he's used in Ali's absence even if he was able to return.
Ali was enduring his worst slump of the season before he was hurt, averaging 3.3 points and while shooting only 29.4% over his last four games. His struggles were part of the reason the Bruins went 1-3 over that stretch.
He kept his spot in the starting lineup amid his dip in production but averaged only 16.5 minutes per game over his last four games. Reserve guards David Singleton and Jules Bernard saw their minutes increase accordingly, and Singleton took Ali's spot in the starting lineup over the last three games.
UCLA, 16-13 overall and 9-7 in the Pac-12 Conference, has gone unbeaten over that stretch, but Bartow pointed to the many contributions Ali has made as one of the team's leaders. Ali forced a turnover in the backcourt and made a three-pointer with five seconds left in regulation to help the Bruins force overtime during a comeback victory over Oregon in January.
"We obviously don't win that game if he's not there," Bartow said, "so I think he could help us if he does come back."
Cleanup time
It's now mostly safe to watch whenever the Bruins have the ball.
They've cut way down on the dribbling off their legs, drives resulting in charging fouls and passes that end up in the other team's hands.
Sign up for our daily sports newsletter »
"Guys have made less kind of silly mistakes," Bartow said, "and a lot of those turnovers were I think unforced turnovers and just kind of silly, careless turnovers."
UCLA has averaged only 10 turnovers over its last four games and no longer holds the distinction of most turnover-prone team in the Pac-12. That label now belongs to Stanford, whose 15.2 turnovers per game are a few ticks ahead of UCLA's 14.4.
Point guard Jaylen Hands, who earned Pac-12 player-of-the-week honors after logging 21 points, 10 assists and zero turnovers against USC, said the Bruins are valuing possessions more and maturing as the season nears its end.
"Everything isn't going as fast as it normally goes for all of us," Hands said, "and we're trying to make better decisions."
They're also talking less about turnovers, which has resulted in a corresponding decline in blunders.
"We were harping a lot on it about three, four weeks ago," Bartow said, "and we kind of stopped harping on it and it's just gotten better."
Follow Ben Bolch on Twitter @latbbolch
---
Get the latest on L.A.'s teams in the daily Sports Report newsletter.
You may occasionally receive promotional content from the Los Angeles Times.