UCLA was a lock for NCAA tournament, if only for entertainment value
Ed O'Bannon is lifted into the air by teammate Ike Nwankwo after the Bruins defeated Arkansas in the NCAA championship game in Seattle.
(Ferazzi, Gina / Los Angeles Times)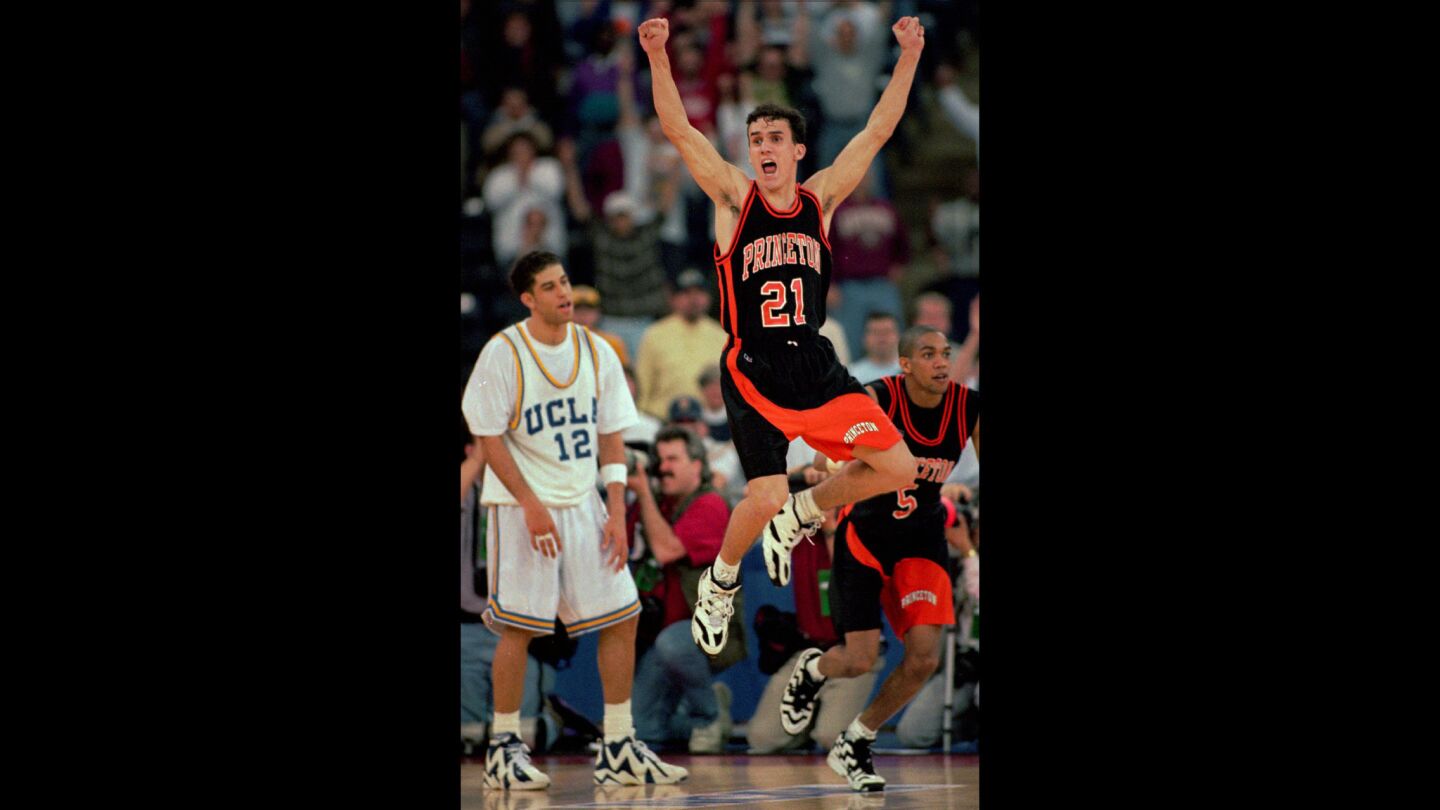 Princeton guard Mitch Henderson jumps in celebration of the Tigers' victory over UCLA as Bruins guard Toby Bailey (12) looks on in the first round of the 1996 NCAA tournament in Indianapolis.
(Tom Russo / Associated Press)
Darren Collison and Luc Richard Mbah a Moute celebrate after beating Gonzaga Bulldogs, 73-71, in the Sweet 16 of the 2006 NCAA tournament in Oakland.
(Alexander Gallardo / Los Angeles Times)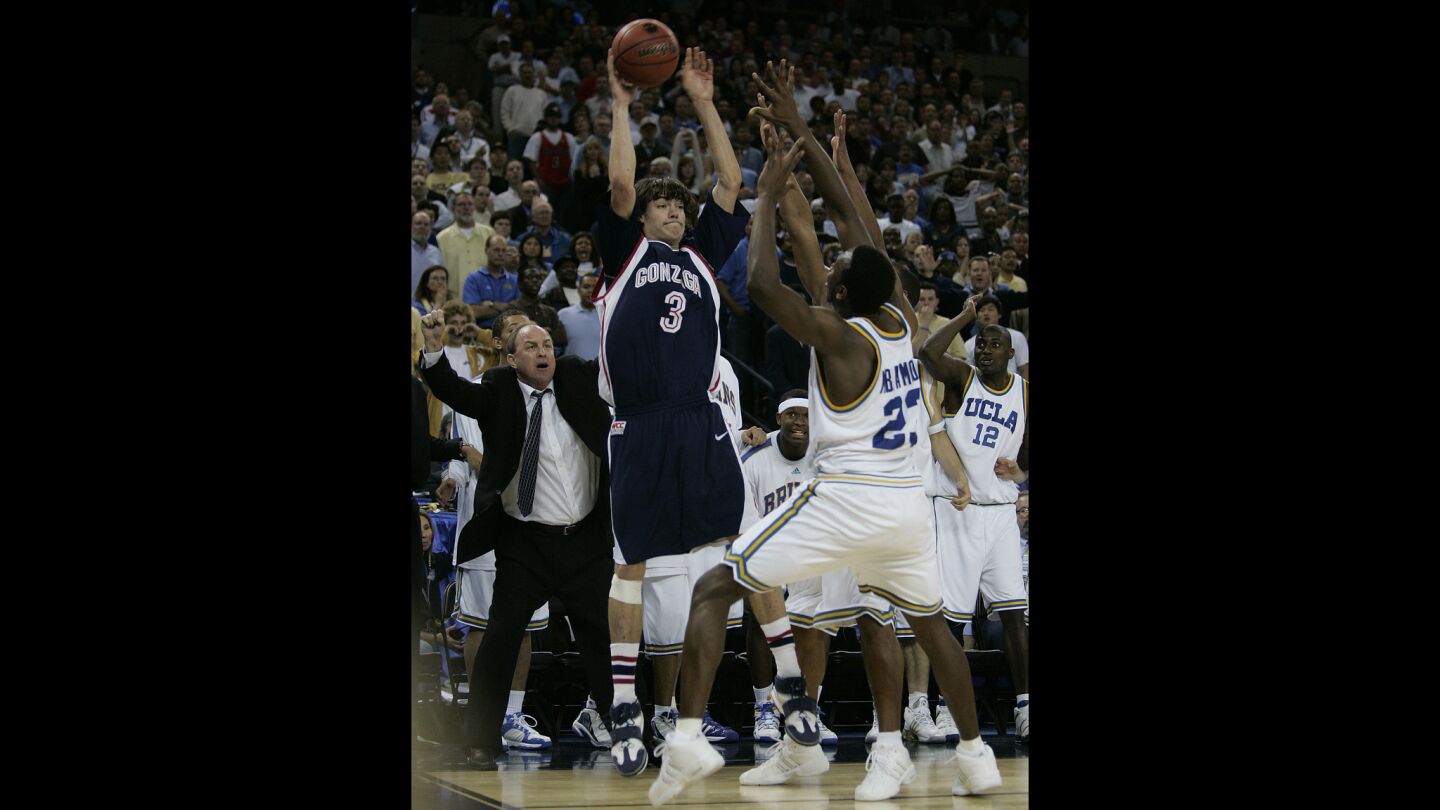 UCLA's defensive pressure has Gonzaga's Adam Morrison cornered in the final seconds of UCLA's 73-71 victory in Oakland in 2006.
(Robert Gauthier / Los Angeles Times)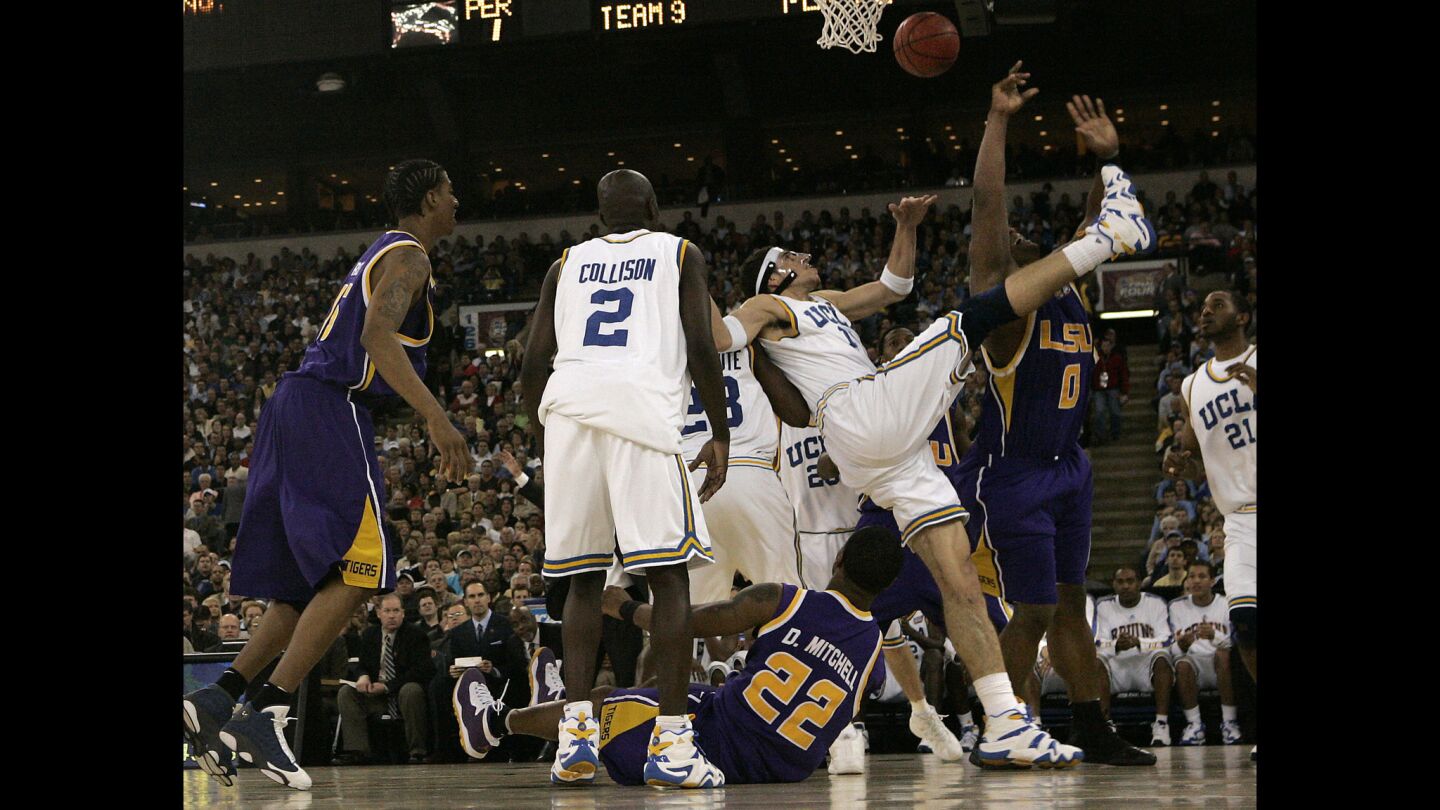 UCLA center Lorenzo Mata wrestles for position under the basket with LSU forward Glen Davis in the first half of the Bruin' 59-45 romp in the 2006 NCAA national semifinals.
(Robert Gauthier / Los Angeles Times)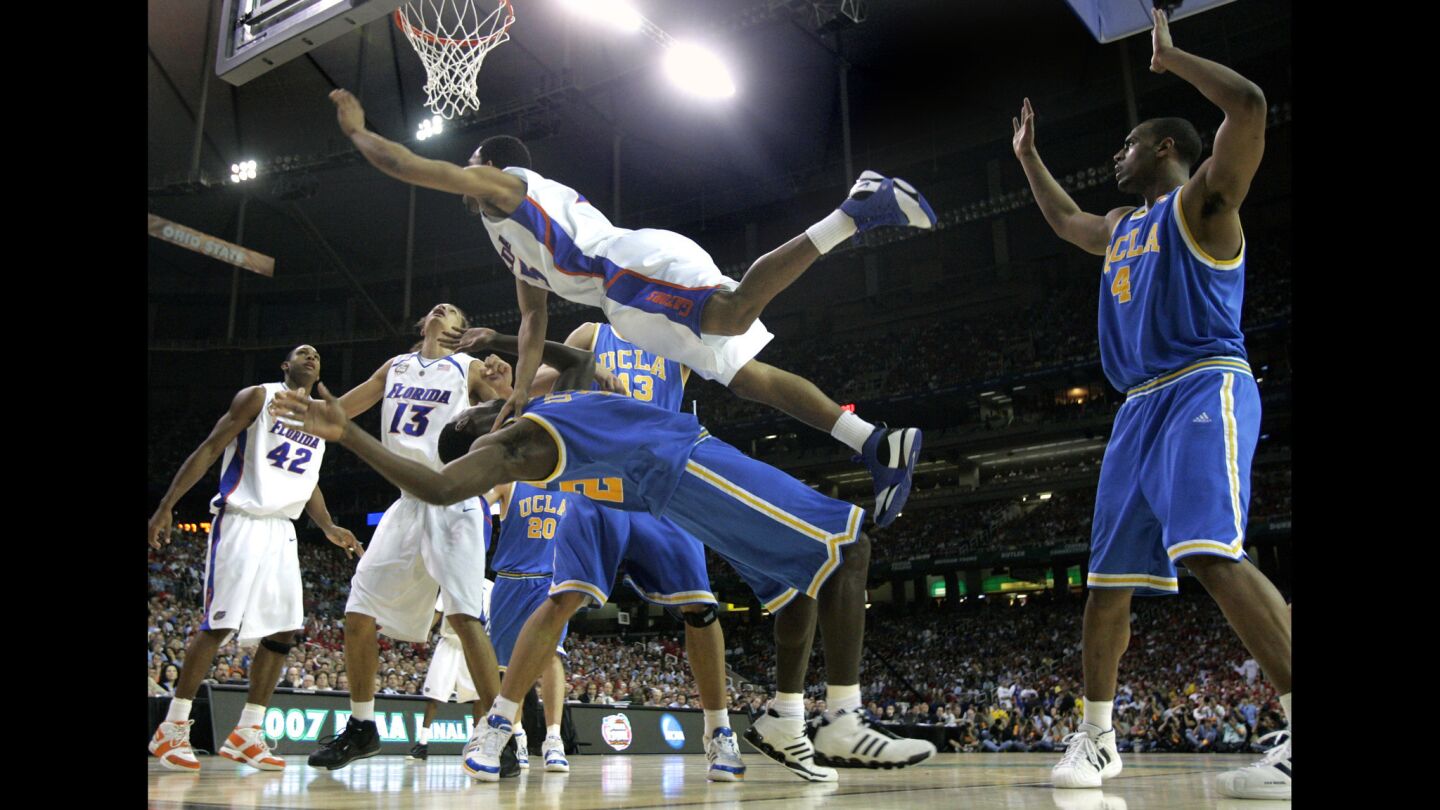 UCLA's Alfred Aboya is knocked over by Florida's Walter Hodge, who was called for charging, but the Gators still ran over the Bruins, 76-66, in the NCAA semifinals in 2007.
(Wally Skalij / Los Angeles Times)
Memphis forward Joey Dorsey pulls down an offensive rebound amid three UCLA defenders in the Tigers' 78-63 win over the Bruins in the 2008 NCAA semifinals in San Antonio.
(Robert Gauthier / Los Angeles Times)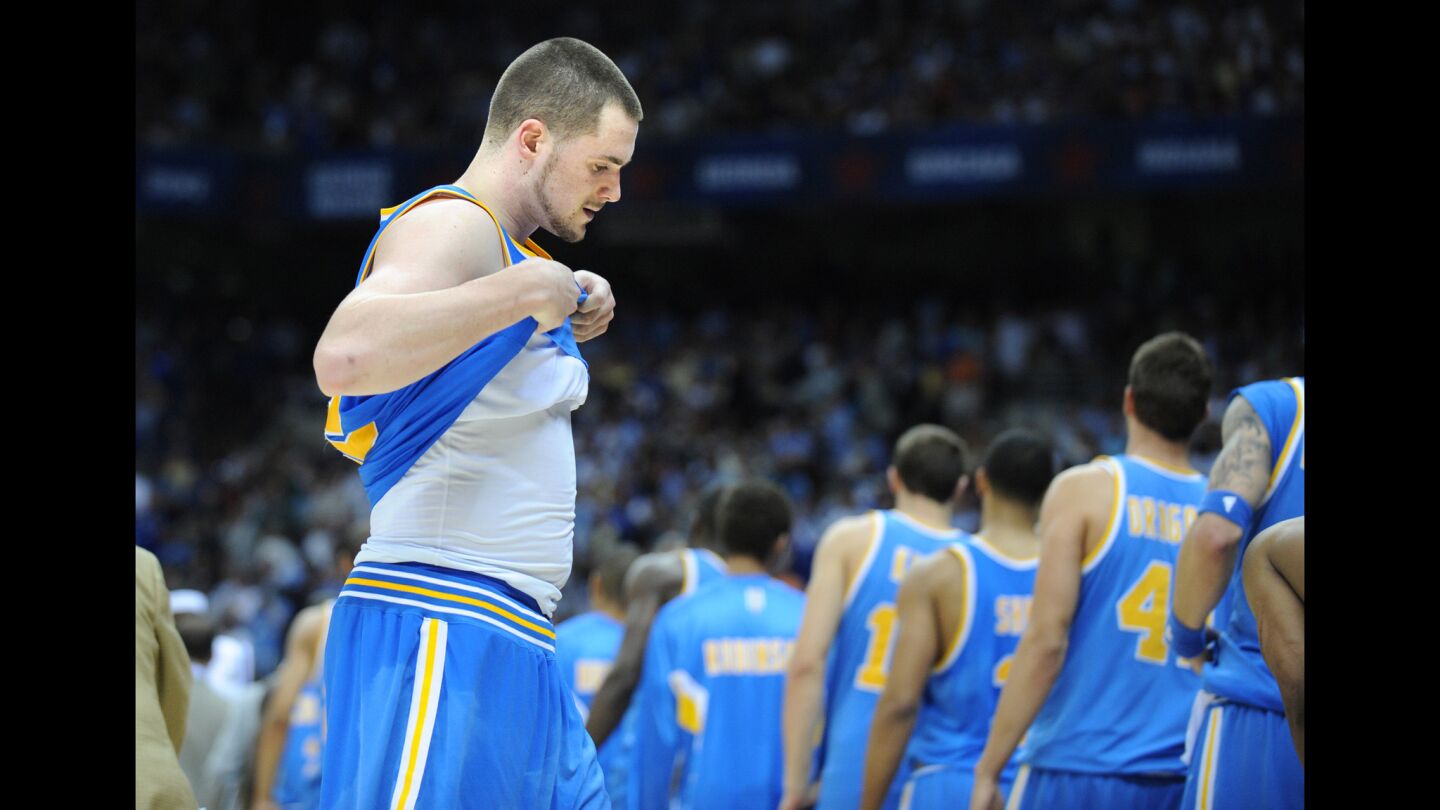 UCLA's Kevin Love walks off the court after the Bruins lost to Memphis in the 2008 Final Four in San Antonio.
(Wally Skalij / Los Angeles Times)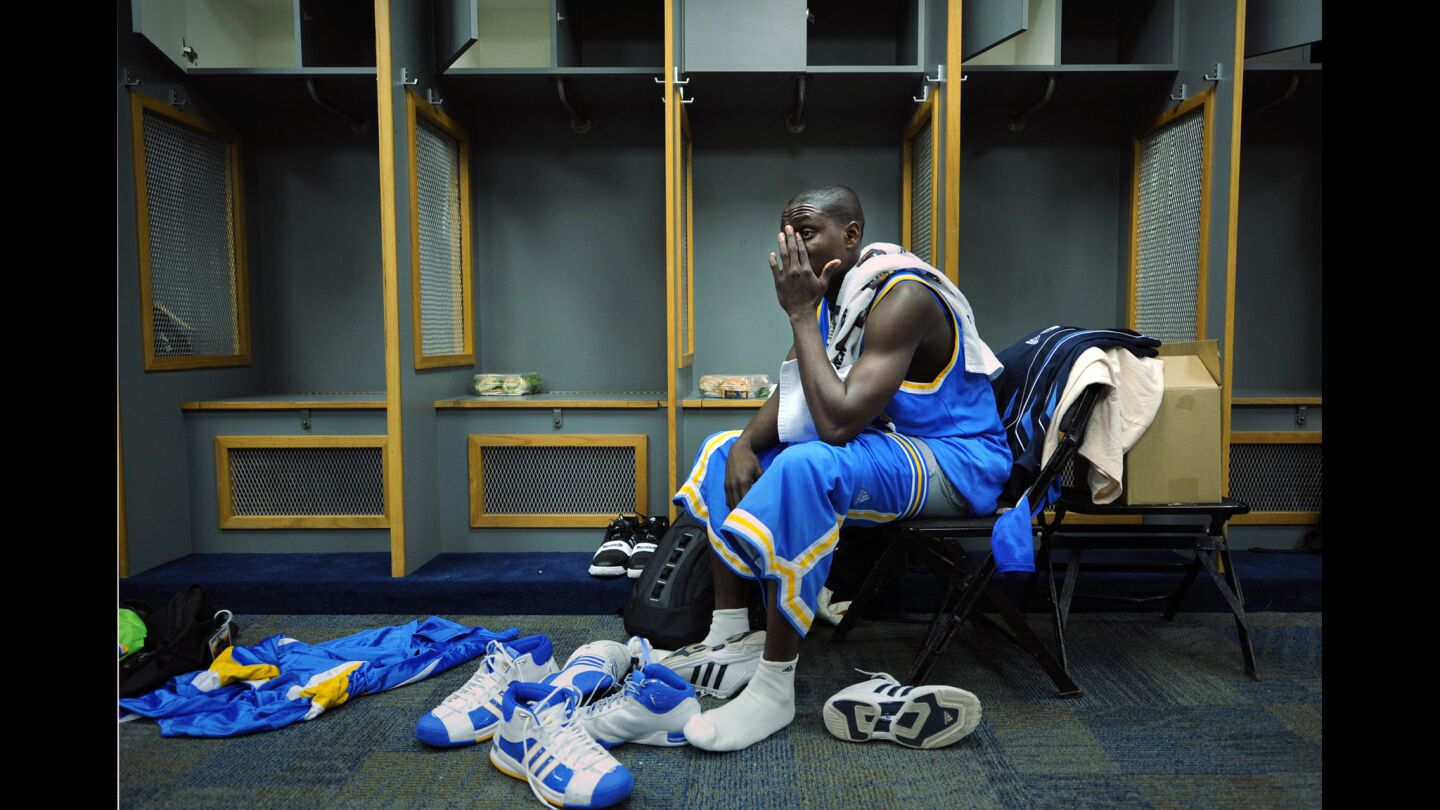 UCLA's Darren Collison sits alone in front of his locker after the Bruins lost to Memphis in a semifinal of the 2008 NCAA tournament in San Antonio.
(Wally Skalij / Los Angeles Times)
UCLA's Nikola Dragovic, center, battles for a loose ball with Villanova's Dwayne Anderson, left, and Reggie Redding in the second round of the 2009 NCAA tournament in Philadelphia. UCLA lost, 89-69.
(Wally Skalij / Los Angeles Times)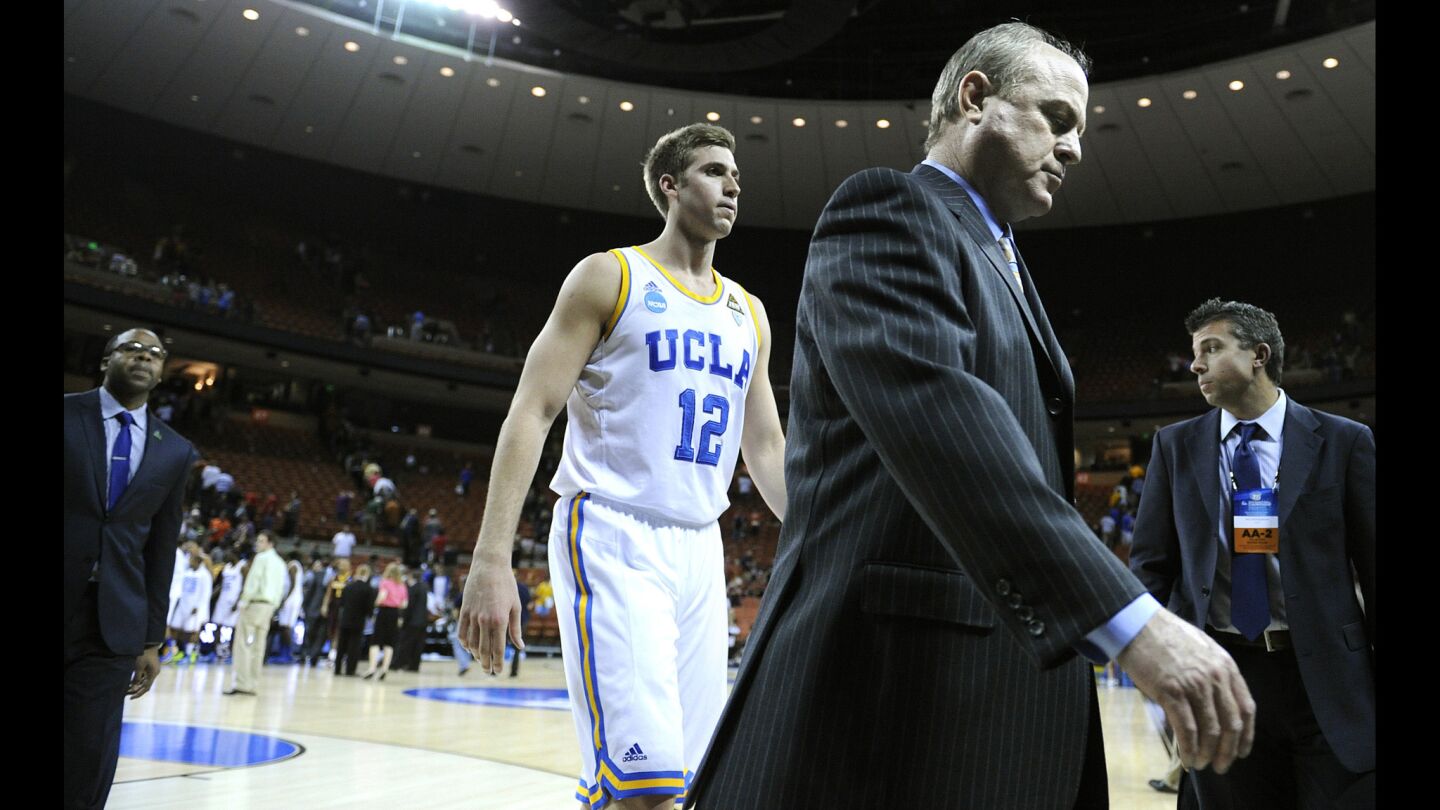 Coach Ben Howland and David Wear walk off the court after UCLA's 83-63 loss to Minnesota in the second round of the 2013 NCAA tournament in Austin, Texas. Howland did not return as the Bruins' coach the next season.
(Wally Skalij / Los Angeles Times)
UCLA's Bryce Alford dives for a loose ball against Florida in the 2014 NCAA tournament in Memphis. UCLA lost, 79-68.
(Wally Skalij / Los Angeles Times)
Amid all the forehead slaps and fainting spells surrounding UCLA's invitation to this year's NCAA basketball tournament, everyone seems to be forgetting something.
As long it wins 20 games and keeps that little pyramid sewn to its jerseys, UCLA will always receive a tournament bid based not on RPI or BPI, but an equally important analytic known as SOE — Strength of Entertainment.
Since UCLA won its last championship 20 years ago, few can match the Bruins for consistent tournament entertainment, both unreal and unsightly. The title drought has been awash with a flood of memorable moments. It hasn't been all Edney and roses, the wizardry has sometimes been dark, but for Detroit Mercy's sakes, the Bruins have cemented their reputation as Hollywood's team.
Remember the often-replayed tourney moment when Gonzaga's mighty Adam Morrison was weeping at midcourt? The bully was UCLA.
Remember the celebrated backdoor layup by Princeton that slew a giant? That giant was UCLA.
The Bruins once scored 105 points, a number that would be unimaginable today, and beat an East Coast powerhouse by 35. The Bruins also once lost to a handful of kids from a small inner-city college who were literally shivering in their locker room afterward because none owned a decent winter coat.
What other school can say it entered a Final Four with a team led by Kevin Love, Russell Westbrook and Darren Collison? And still lost in the semifinals? By 15 points?
Few will forget former coach Ben Howland staring out at a shouting, despairing Love late in the first half of that 2008 loss to Memphis. Howland spread his arms wide and shouted back, "What do you want me to do, Kevin?"
It may have been 20 long years since the Bruins' last title, but those years have been filled with drama, and it's hard to blame the NCAA for wanting some more of that special UCLA madness. Here are a few of the highs and lows:
Zig-zagged
Jordan Farmar stole the ball and started an era.
With only seconds remaining in a 2006 regional semifinal in Oakland, UCLA trailed favored Gonzaga by a point when Farmar stripped Gonzaga's J.P. Batista of the ball and tossed it to Luc Richard Mbah a Moute, who laid it in for the Bruins' first lead of the game.
Mbah a Moute then forced a loose ball and jumped on it, allowing the Bruins to retain possession and steal a victory after once trailing by 17 points. This is the game cited by Howland as his favorite during his 10 seasons because it inspired the beginning of three consecutive Final Four appearances. Cue the Morrison tears.
Fast exit
Gabe Lewullis sank a layup and ended an era.
With 3.9 seconds remaining in defending national champion UCLA's 1996 first-round game in Indianapolis against Princeton, the Tigers' Lewullis slipped behind the Bruins defense to score a game-winner on the backdoor play heard 'round the basketball world. The final score remains one of the more amazing results in NCAA tournament history: Princeton 43, UCLA 41.
"A Princeton education is a valuable thing, and Thursday night, the Bruins got one," Times columnist Mike Downey wrote.
The heavily favored Bruins didn't score a point in the game's final 6 minutes 13 seconds, and Jim Harrick was fired early the following season for his involvement in recruiting issues that UCLA administrators deemed "unethical."
Tigers tamed
The Bruins held Louisiana State to 45 points in a 2006 national semifinal beat-down in Indianapolis that brought the Bruins family together for the first time in a decade.
Kareem Abdul-Jabbar stood and cheered from the stands. Ed O'Bannon led the UCLA section in an eight-clap. The Tigers' Glen Davis was so upset that with 2:09 remaining he fouled out on purpose. Hopes were high before a national title bout against Florida.
"Seriously, UCLA can beat Florida. UCLA should beat Florida," this columnist wrote.
Seriously?
Gators bait
Since its last national title, UCLA can blame Florida for more than a quarter of its 15 tournament losses, being outscored by 301-256 during those four defeats, having exactly one good chance to win exactly one of those games.
In a 2011 second-round game in Tampa, Fla., the Bruins trailed by one point with 1:14 left when Malcolm Lee attempted to wrestle an inbounds pass from the Gators' Erving Walker. Lee lost the fight, and Walker sprinted free for an open three-pointer to clinch a 73-65 Gators victory.
Because the core of that Bruins team was expected to return, Howland said afterward he thought UCLA could be building toward another Final Four run the next season. But Lee and Tyler Honeycutt bolted to the NBA, Reeves Nelson was thrown off the team, and the Bruins under Howland never won another tournament game.
Maryland mauled
Much-maligned Earl Watson grew up and silenced his critics.
In UCLA's 105-70 victory over Maryland in a 2000 second-round game, Watson had 17 points, 16 assists, no turnovers, and missed just one shot. This might have been the most purely fun Bruins tourney game in the last 20 years, as it featured six alley-oops and even a dunk from UCLA water polo player Brandon Brooks.
Asked about the game's turning point, Watson deadpanned, "The tipoff."
That quote was almost as impressive as the words overheard from beleaguered coach Steve Lavin late in the game, when he told one of the officials, "Two weeks ago they were going to fire me, and now we're up 22!"
Mercy, mercy
The Bruins' first-round loss to tiny Detroit Mercy in 1999 epitomized the craziness of the Lavin era. He predicted he would be ''flipping burgers" after the defeat, yet he kept his job and the Bruins reached the regional round in each of the next three seasons.
Just before the undersized and outmanned Detroit contingent disappeared into the night, its beaming coach, Perry Watson, continued the burger reference, saying, "I may not have McDonald's All-Americans, but we do eat at McDonald's."
One man's band
Three words best describe the last 20 years of UCLA tournament basketball: mustard-yellow headband.
In the first round of the 2000 tourney against Ball State, Jason Kapono ditched his traditional white headband and showed up wearing a hideous mustard-yellow headband that had been hastily spray-painted by a roommate's mother.
"I wanted to come here in style, a new look and stuff," Kapono said.
Yet, 13 minutes into the game, UCLA was struggling and he was scoreless, as the headband was falling down over his eyes.
"I didn't know that when it would get spray-painted, that would cause it to loosen up, to sag," he said. "I started out with a headband and ended up with an earpiece."
He ditched the mustard headband and pulled on a white one. He scored his first points with the Bruins trailing by four early in the second half. He kept scoring, and scoring, and the Bruins roared back to win, 65-57, with Kapono leading them with 17 points.
It was magical. It was a mess. It's the Bruins in March.
It's happening again this week. They might not deserve it. Can't wait to see it.
Follow Bill Plaschke on Twitter @billplaschke

---
Get the latest on L.A.'s teams in the daily Sports Report newsletter.
You may occasionally receive promotional content from the Los Angeles Times.