UCLA suspends Jalen Hill and Cody Riley for the rest of the season
Reporting from New Orleans —
More than six weeks after an international shoplifting incident left their careers in limbo, UCLA freshmen Jalen Hill and Cody Riley on Friday learned the unambiguous terms of their suspensions.
Hill and Riley will be required to sit out the entire season as punishment for stealing from three stores inside an upscale mall in China. Fellow freshman LiAngelo Ball, who was also involved in the episode that brought considerable embarrassment to UCLA, withdrew from school this month to sign with a professional team in Lithuania.
The school said its decision on the penalty came in conjunction with the office of student conduct but offered no further details.
Hill and Riley will not be allowed to travel with the team but can participate in practices and meetings starting Tuesday. The forwards will miss their 12th game Saturday when UCLA (8-3) plays No. 7 Kentucky (9-1) at the Smoothie King Center as part of the CBS Sports Classic.
"Cody and Jalen are a part of our basketball and university families, and we will continue to support them as they serve their suspensions," UCLA coach Steve Alford said in a statement. "Since returning from China, they have done everything asked of them and continued to work hard in the classroom and in their own personal workouts.
"I've told our players all along that actions have consequences, and the season-long suspension shows how seriously we take their misconduct. Though they will not suit up for games or travel with the team, I look forward to their return after the Christmas holiday. I am confident that they will make significant contributions to the university moving forward."
Hill, Riley and Ball were suspended indefinitely after shoplifting from the mall in Hangzhou, China, while the Bruins were preparing to play their season opener against Georgia Tech in Shanghai. The three players were briefly detained by police before posting bail and returning to the United States a few days after their teammates.
President Donald Trump said he intervened on the players' behalf with Chinese counterpart Xi Jinping, helping to secure their speedy return, though it remained unclear how big of a role Trump's involvement played in their release.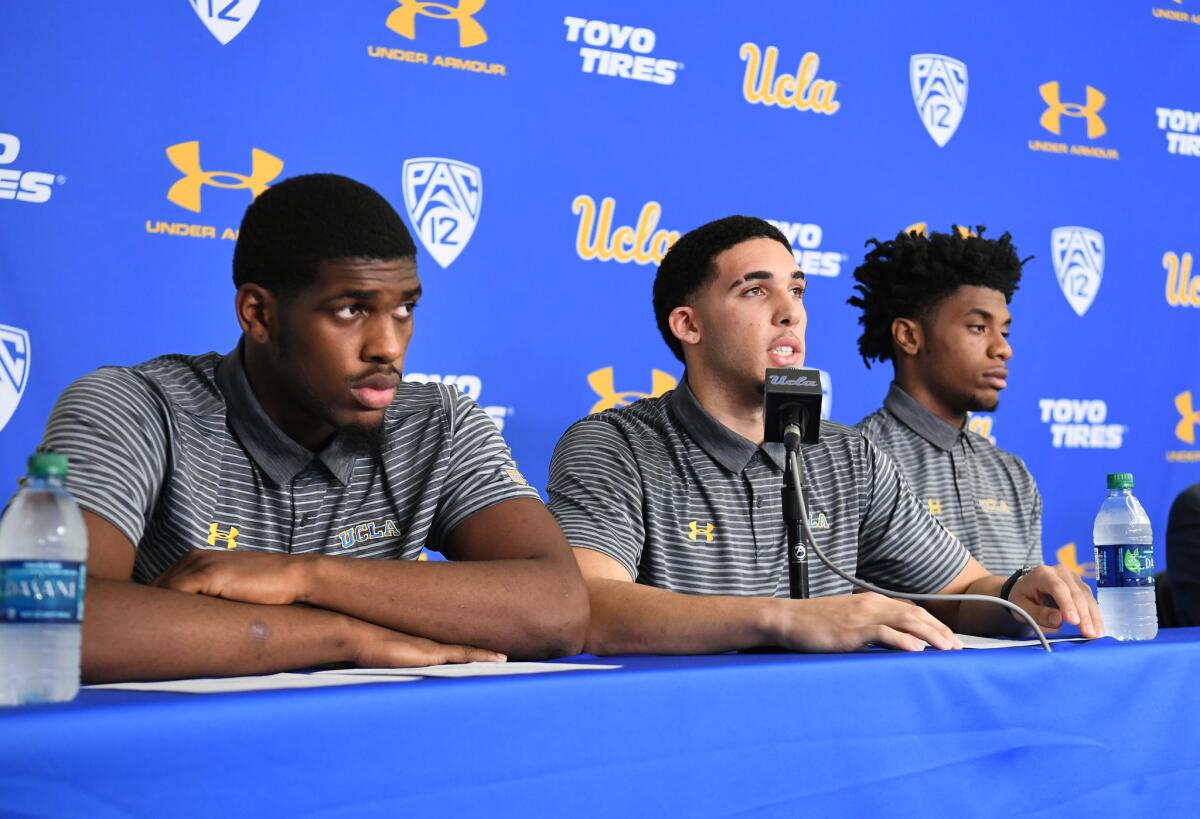 The players admitted having shoplifted while reading prepared apologies upon their return to campus. UCLA athletic director Dan Guerrero said that day that Alford had addressed his players multiple times about the expectations and responsibilities that went along with representing the school while traveling abroad.
"While we acknowledge the difficulties that both Cody and Jalen have faced since returning to campus, we also know that their actions in China were contrary to the values of UCLA and harmful to both the university and our basketball program," Guerrero said in a statement. "As members of the Bruin family, it is our responsibility to help them grow from this situation. We will continue to support them as students, as athletes and as young men, and we hope that they will use this as a learning experience."
Hill and Riley were not expected to star for the Bruins this season, but they would have provided an enhanced presence around the basket as well as depth that allowed the team to apply more defensive pressure. UCLA has largely used an eight-man rotation in their absence.
In his only appearance with the team, Riley logged eight points, five rebounds, three assists and two steals in 18 minutes off the bench during an exhibition game against Cal State Los Angeles. Hill did not play in that game because of knee soreness.
Riley and Hill probably would have had a negligible impact on UCLA's biggest problem areas: ball movement and shooting. As his team prepared to face Kentucky, Alford said he would show his players footage of instances when they moved the ball well versus times when they refused to pass, hoping the images could more fully convey what he had already told them.
"Sometimes when you just hear it from a coach, it just doesn't sink in as much," Alford said. "But when you can actually see it, the old adage, 'Film doesn't lie,' doesn't lie. They get to see it."
Alford described his team's play as "selfish" in the final five minutes of an 85-82 victory over South Dakota on Tuesday. After building a 78-54 lead, the Bruins committed four turnovers and missed all seven field goals while nearly squandering the big advantage.
They won largely because they managed to make seven of 10 free throws over those final minutes.
Whatever solutions arise must come from the players who have carried the Bruins all season. Help is not on the way.
::
UP NEXT
VS. KENTUCKY
When: 1 p.m. PST, Saturday.
Where: Smoothie King Center, New Orleans.
On the air: TV: Channel 2; Radio: 570.
Update: UCLA center Thomas Welsh might be able to offer the best scouting report on the Wildcats because his brother Henry, a sophomore at Harvard, faced Kentucky earlier this month during a 79-70 setback for the Crimson. The Wildcats (9-1) start five freshmen but have upstaged all comers with the exception of a 65-61 loss to Kansas last month. "They're good," Welsh said. "They're a really young team, very athletic, very skilled players as they are every year, so they're going to be a tough matchup for us, but we're going to bring it and give it everything we got." Kevin Knox, a 6-9 forward, leads the Wildcats in scoring, averaging 15.8 points.
---
UPDATES:
5:25 p.m.: This article has been updated with more details about the players' suspensions and the upcoming game against Kentucky.
This article was originally published at 3:25 p.m.
Get the latest on L.A.'s teams in the daily Sports Report newsletter.
You may occasionally receive promotional content from the Los Angeles Times.