Column: Bruins get much-needed boost from walk-on receiver Christian Pabico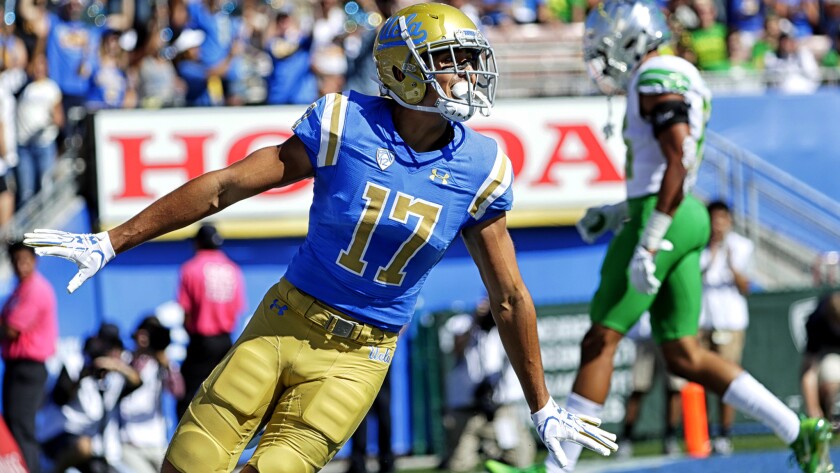 On a day that UCLA needed a spark, an exemplary effort, a smile, walk-on wide receiver Christian Pabico delivered on all counts.
His value to the Bruins went beyond the obvious, that his first career touchdown reception became their second score in a 31-14 victory over Oregon on Saturday at the Rose Bowl, or that his 49-yard reception on a third-down play in the third quarter sustained the drive that was capped by Bolu Olorunfunmi's vault off a defender and into the end zone.
What magnified the impact of Pabico's four-catch, 99-yard, one-touchdown effort in UCLA's best all-around effort this season is that his teammates and coaches knew how hard he has worked to be here. They appreciate that he toiled on the scout team in 2015 and played in only one game last season — a rout of Nevada Las Vegas — and respected that he learned all the offensive plays in the playbook, not just his own.
The Long Beach Poly High graduate didn't even get a scholarship this year when one was available, because it was given instead to punter Stefan Flintoft. But through it all, Pabico — a four-time member of the athletic director's academic honor roll — never quit. Because he persevered and because he stepped up on Saturday when receiving yards-per-game leader Jordan Lasley was held out for disciplinary reasons — he became an inspiration to a team that was coming off an embarrassing loss at Arizona last week.
"He has made some good catches for us this year," coach Jim Mora said. "It was just that today, our backs up against the wall, we really needed him to come through, and he did."
Merely mentioning Pabico's name brought a grin to the face of offensive coordinator Jedd Fisch. "I made the comment on the headset," Fisch said, "that when you saw Christian catch that touchdown and you saw the energy and the smile and the passion, I said, 'That's why you coach college football. That's why you do it,' so you can see those type reactions from those kids that balance academics and give everything they can on the football field."
Pabico needed a bit of inspiration himself last week.
Benefitting from changes in the coaching staff that included appointing Jimmie Dougherty as the Bruins' wide receivers coach, Pabico played in the opener against Texas A&M and was targeted but had no catches. He had three catches against Hawaii and one each at Memphis and at Stanford but none against Colorado and none at Arizona. Dougherty reassured him he still had a place in the Bruins' plans. That was enough for Pabico.
"Coach Dougherty actually called me into his office this past week and said, 'You've just got to hit the reset button and go hard,' " Pabico said. "So I did that, and thankfully I had the day I did today."
Pabico's touchdown came on a third-and-five at Oregon's 31-yard line. "To be honest, the play that we had called was a red zone play so I wasn't even expecting that play call, because we were on like the 30-yard line I think," Pabico said. "And when I caught the ball, the [defender] had missed, thankfully, and when I looked up field I just saw green grass and I just took off running and got there untouched."
Fisch described the call as a pause-release slant. "He was supposed to have a two-count pause and then after the pause is when he comes underneath to fill the vacated area we expected to occur," Fisch said. "It was a tight window, though. It was a heck of a throw and a heck of a catch."
On the play that preceded Olorunfunmi's spectacular touchdown, quarterback Josh Rosen connected with Pabico for a 49-yard play on third and 10.
"The funny thing is we actually ran that play in practice and it kind of played out exactly like that," Pabico said. "Devon [Modster, the backup quarterback] actually threw me the ball but it was kind of that same deal, where I had to box out the defender and go up and catch the ball. Really, you practice the way you play."
Rosen praised Pabico's execution. "I underthrew it a little bit and he did a really good job of slowing down and boxing out the [defensive back] and just making a good play," Rosen said. "I'm looking forward to seeing more of that."
So is Pabico. Quitting was never an option for him. He made sure it wasn't an option for UCLA on Saturday. "It was definitely tough," he said of his path, "but I never had that in my mind, to give up."
Follow Helene Elliott on Twitter @helenenothelen
---
UPDATES:
11:29 a.m.: This article was updated with a correction to the name of the UCLA punter, Stefan Flintoft.
---
Get the latest on L.A.'s teams in the daily Sports Report newsletter.
You may occasionally receive promotional content from the Los Angeles Times.