UCLA football: Devin Fuller looking to break loose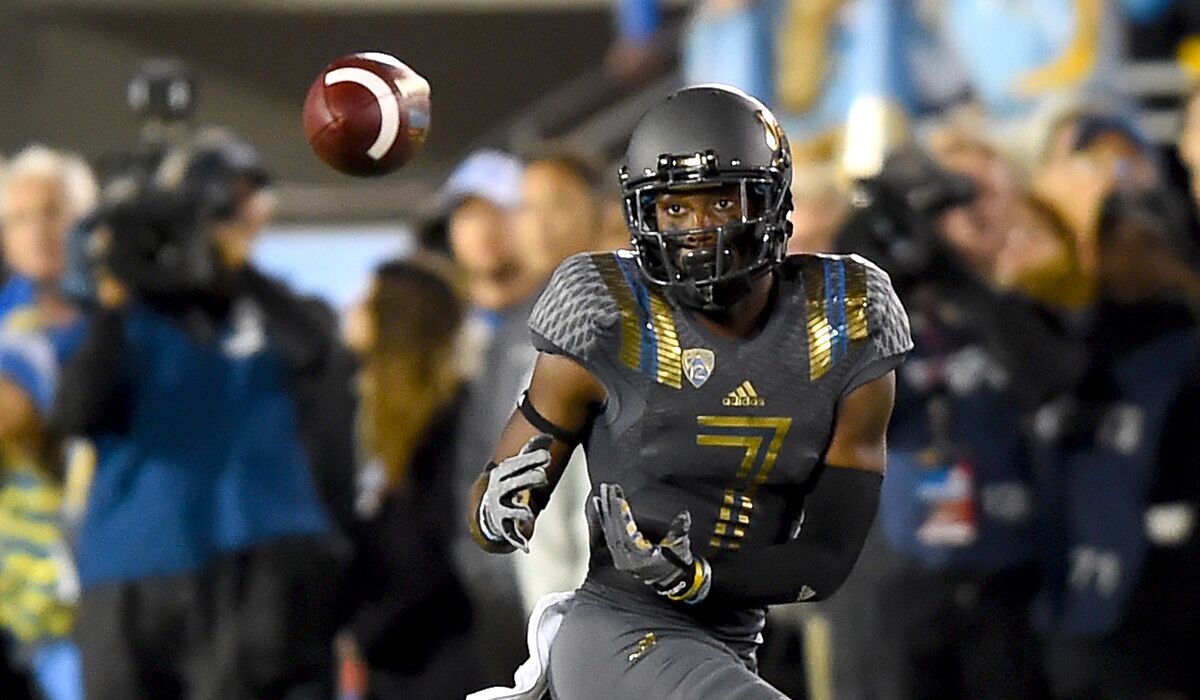 The 7.7 yards Devin Fuller is averaging per catch looks like a misprint.
Fuller's speed makes him a big-play threat every time he touches the ball, and he has a 93-yard touchdown reception against Utah to his credit. But otherwise, the Bruins have had trouble getting him loose up field.
UCLA offensive coordinator Noel Mazzone takes responsibility.
"He is definitely a weapon that I've got to do a better job getting the ball in his hands," Mazzone said.
Mazzone has a particular number in his head for Fuller. "He needs to touch the ball seven times a game," he said.
Fuller, a junior, has been a prime threat for UCLA since switching from quarterback to receiver as a freshman. But opponents have dropped as many as eight defenders into coverage in recent games, making it hard to find open space. Fuller had one catch for two yards against Arizona.
"Sometimes, when it doesn't come my way, it's just part of the game,' Fuller said. "I can't be mad. I'm trying to get open and other people are doing their job."
Said Mazzone: "The last couple games, this three-man rush stuff, it's hard. I think this week, we got a chance to take some shots."
Fuller has been close, with a couple deep passes flicking off his fingertips. He has also nearly broken loose on the crossing patterns Mazzone loves to call for him.
Fuller is second on the team with 39 receptions, but for only 299 yards.
"I'm always trying," Fuller said. "It would be beautiful to break free."
This should help
Washington cornerback Marcus Peters has been dismissed from the team, a big loss for the Huskies.
"He's an NFL defensive back," UCLA Coach Jim Mora said.
Peters had a series of run-ins with coaches this season and had already been held out of one game. He is the ninth player first-year Washington Coach Chris Petersen has suspended or dismissed from the team.
Three freshmen are expected to start in the secondary against UCLA, including both cornerbacks.
Roadies
UCLA has won seven consecutive games away from the Rose Bowl — five road games, two at neutral sites — heading into Saturday's game at Washington. It's the most since the Bruins won 10 consecutive games away from their home field in 1998 and 1999.
"We're resilient guys," safety Anthony Jefferson said. "We never give in. We like to be put in bad situations, whether we're down in a game or put on the road against teams with crazy fans. We love it."
Mora said he has seen a bond develop.
"When we go on the road, there is a cohesion, a sense of 'us against them' that helps us play well," Mora said.
Quarterback Brett Hundley said there is a little extra incentive in those situations.
"When you get down in those hostile environments, you just have this urge to get out of there with a win," Hundley said.
Stark truth
The decision to play freshman running back Nate Starks rather than redshirt him can be looked at two ways:
•Was it worth losing a year of eligibility for 22 carries?
•Or, how much better might he be in 2015 having been given some game experience?
Starks opts for the experience. He has 102 yards rushing and has scored two touchdowns this season. More important, he is gaining knowledge.
"It's giving me the gist of college football," Starks said. "There are great players at this level and they are going to push you to your limits. Getting the experience will help me down the line. It is preparing me to be an every-down back for the future."
Starks, 6 feet, 190 pounds, has been impressive in occasionally running over defenders.
"What I've noticed is he has big collision balance," Mazzone said. "There are times a collision happens and he comes out of that pile running instead of getting knocked over."
Twitter.@cfosterlatimes
Get the latest on L.A.'s teams in the daily Sports Report newsletter.
You may occasionally receive promotional content from the Los Angeles Times.