UCLA's Ellis McCarthy is more effective on defense after weight loss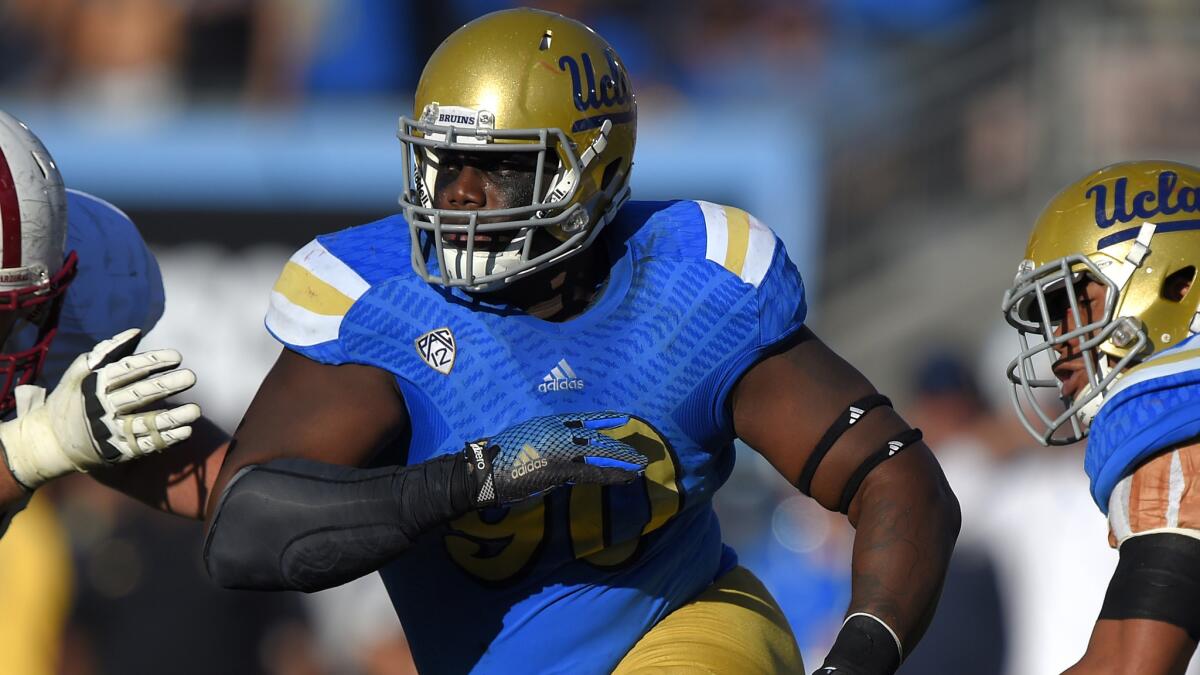 UCLA defensive lineman Ellis McCarthy said he has lost 10 pounds. It looks like more. He certainly has been playing as if it is more.
McCarthy was listed at 330 pounds when the season began. His redesigned shape, a combination of diet and redistribution of weight, is showing up on the field.
McCarthy, who comes off the bench at defensive end and nose tackle, has 19 tackles, including three sacks, in 12 games this season. He had 12 tackles and 2.5 sacks in the last six games.
USC felt the brunt of McCarthy's improvement. He had four tackles and one sack in the 38-20 victory.
"Getting the weight off was the biggest thing," said McCarthy, a junior. "It got my knees feeling better and improved my speed and quickness. It has paid off, but I still need to make progress."
The 6-foot-5 McCarthy has had sore knees since he came to UCLA from Monrovia High. He has had arthroscopic knee surgery on both, which slowed his development.
McCarthy was considered a prize recruit, but faced knee surgery just before training camp in 2012. At one point that first season, UCLA coaches flirted with moving McCarthy to the offensive line.
Now healthier and lighter, McCarthy is showing his defensive talents more and more.
"From last year, and the year before that, I see huge difference when I watch game films," McCarthy said. "I'm running to the ball more."
McCarthy has also improved his technique, defensive line coach Angus McClure said.
"He is, without a doubt, better with his hands," McClure said. "His hand strikes on opponents are much more accurate. He is a bigger guy. He has to come off the ground and get into somebody's chest."
McCarthy's health allows him to do that more effectively.
"I think he just feels better health-wise," McClure said.
Waters rises
Maybe Kansas State quarterback Jake Waters wasn't supposed to be the guy, but he certainly grew into him.
A year ago, the Wildcats had to replace Collin Klein, who was responsible for 69% of their offense in 2012. The competition between Waters, a transfer from Iowa Western Community College, and Daniel Sams carried into the 2013 season. Waters, the better passer, pulled ahead during the last half of the season.
Sams moved to wide receiver, then transferred to McNeese State.
Waters finished last season throwing for 2,469 yards and 18 touchdowns in 2013, while rushing for 316 yards and six touchdowns. Those numbers improved as the full-time quarterback this season. Waters has 3,163 yards passing and 471 yards rushing. He has thrown for 20 touchdowns and run for eight.
"I think he's got strength in all areas," Coach Bill Snyder said. "One thing he has done is learn how to manage the [offense] well. He has a good understanding what to be in and what not to be in. He has gotten better and better at it over 20-plus games."
Snyder attributed that to extra work.
"He's not afraid to spend the extra time it takes in order to grasp our offense and opponent defenses," Snyder said.
Bookworm?
UCLA defensive back coach Demetrice Martin has an idea why freshman Jaleel Wadood has been able to make the transition to college football smoothly.
"His study habits," Martin said. "Everything came so natural to him at [Bellflower] St. John Bosco. He came here and learned how to watch film and learned how to study. The game has started to slow down for him."
UCLA schedule
The Bruins will have a short practice Saturday afternoon and fly to San Antonio on Sunday. They will resume practice on Monday at the University of the Incarnate Word.
Practices are closed to the public.
Twitter: @cfosterlatimes
Get the latest on L.A.'s teams in the daily Sports Report newsletter.
You may occasionally receive promotional content from the Los Angeles Times.