UCLA's Gyo Shojima is believed to be first Japanese-born player of full Japanese heritage to play in a major college football game
Gyo Shojima doesn't consider what he's doing anything special. He's just playing football, a game the UCLA center has loved since his freshman year at Redondo High.
Then again, second-string offensive linemen don't usually field calls from Sports Illustrated or linger for a lengthy interview with reporters a few days after playing toward the end of what became a lopsided victory.
Shojima's back story is what makes him unique. Although other players of Japanese descent have played college football, Shojima is believed to be the first player born in Japan of full Japanese heritage to participate in a Football Bowl Subdivision game after appearing late in the Bruins' 42-21 victory over Nevada Las Vegas last Saturday at the Rose Bowl.
Maryland offensive lineman Maurice Shelton was also born in Japan, but he is of Japanese American descent.
UCLA Coach Jim Mora referenced the history-making moment after the game when he met with the media, but Shojima didn't seem to think it was all that newsworthy. His family wasn't even at the game.
"I was honored," said Shojima, a 6-foot-2, 290-pound redshirt junior, "but I never thought about it beforehand so it wasn't that big of a deal for me."
Shojima was born in Tokyo and moved to the United States when he was 9 because his father, Tatsuhiro, wanted to start a consulting business overseas. He was aware that his father had been a defensive lineman at a university in Japan but was drawn to swimming while growing up and attained a black belt in Shorinji Kempo, a Japanese martial art centered on self-defense.
His sports trajectory changed once he arrived at Redondo.
"When I went to high school," Shojima said, "I thought, why not go into a sport that everybody loves and since my father played in university in Japan, why don't I play it myself too?"
Shojima didn't receive any college scholarship offers, so he went back to Japan for an additional year of high school and later attended Santa Monica College before receiving a spot as a preferred walk-on with the Bruins. Just making the team was enough of a thrill for him.
"Living in L.A., we either become a fan of UCLA or the other team," Shojima said, referring to USC. "So I became a UCLA fan. That was my dream school."
Former Bruins quarterback Jerry Neuheisel, who plays for the Obic Seagulls in Japan, told the Japan Times that Shojima had taught him how to count in Japanese and hoped to convince his former teammate to return to his homeland to play professionally.
For now, Shojima is content being the accidental trailblazer.
"I've never really looked at myself as nothing more than just a football player," Shojima said, "so I didn't really care about the race or the nationality."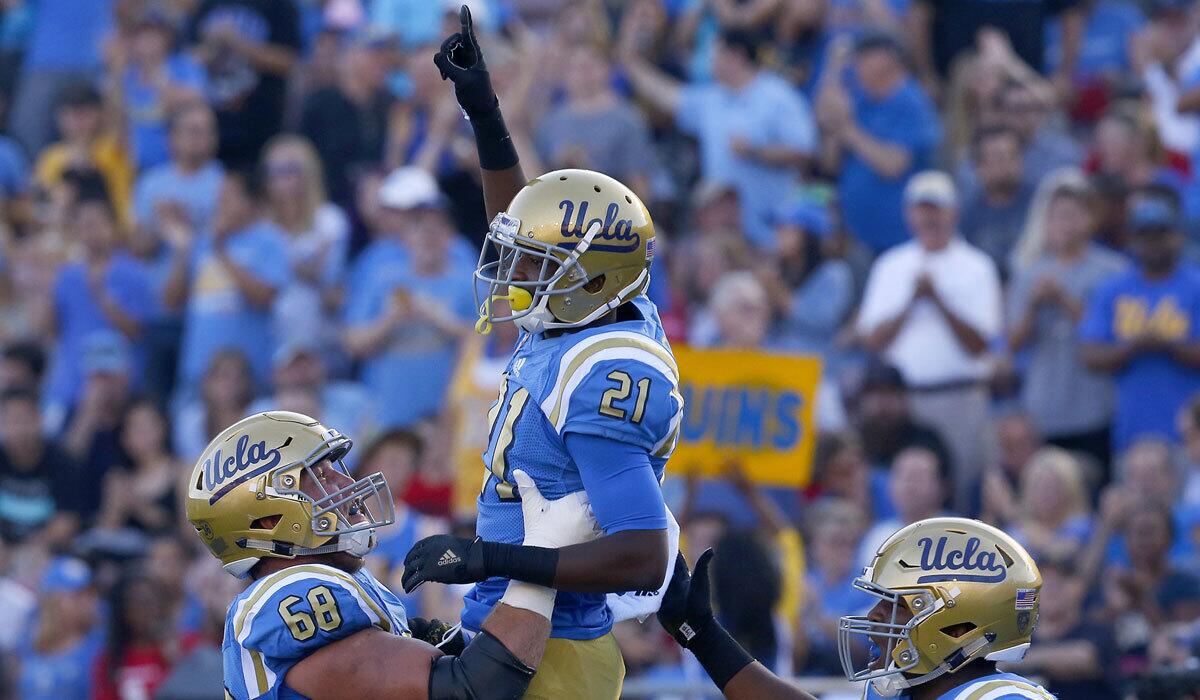 Catching back on
Mossi Johnson's first touchdown catch at the Rose Bowl was twice as nice. It came after two knee surgeries earlier in the UCLA receiver's career.
The first procedure was performed after Johnson concluded his career at Crenshaw High and the second came after another injury last season against Arizona State limited his sophomore season to five games.
"It was fun being back," said Johnson, who tweeted a photo of his 29-yard catch over the middle against UNLV that also included a referee signaling touchdown directly behind him. "I've been gone for a minute."
Johnson said he was still rehabilitating his knee to ensure there would be no need for further surgery. His teammates seemed giddy about the return of a player widely described as having an interesting, offbeat personality to go with the perseverance.
"It's awesome, especially with his second injury," Bruins quarterback Josh Rosen said. "He had a bit of a rough patch mentally and stayed on the positive side of everything. He's one of the most giddy, happy players on the team, and it's really good to see him back to his full self."
ben.bolch@latimes.com
Twitter: @latbbolch
Get the latest on L.A.'s teams in the daily Sports Report newsletter.
You may occasionally receive promotional content from the Los Angeles Times.