UCLA's Jim Mora sticks up for his quarterback and his school's standards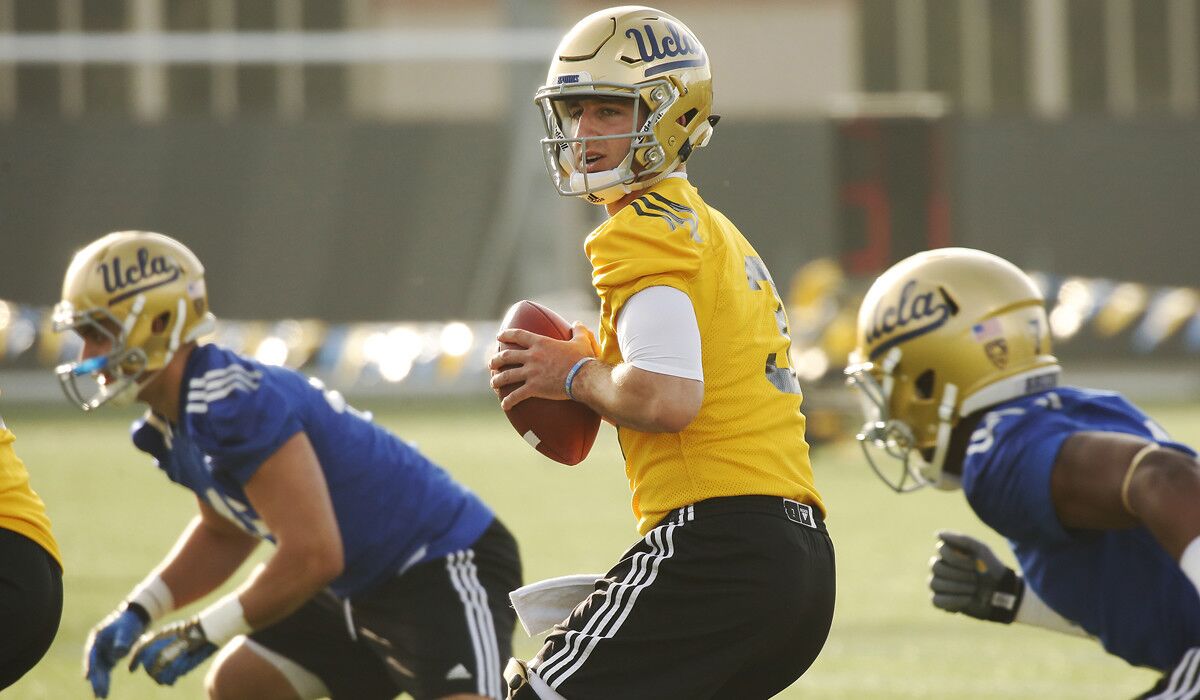 Football and school may be incompatible, as UCLA quarterback Josh Rosen recently contended, but his university ranks among the finest in the country at maximizing the dual life of a major college athlete.
Forbes this week graded UCLA as No. 2 on its list of the top 25 schools that excel academically and in sports (trailing only Stanford), and Bruins coach Jim Mora on Thursday asserted that his players could have the best of both worlds.
"I believe that the only thing that holds us back from what we want to achieve is ourselves," Mora said after his team reached the midpoint of its fall training camp. "I don't believe in the victim mentality and I don't believe in entitlement. And I'm not saying that Josh has a victim's mentality or entitlement because he absolutely doesn't.
"If people were able to spend time around him that these players and this staff do, they would realize that usually when Josh makes a statement like he did, it's because he is sticking up for others who maybe have not had the opportunities in life he has had.
"You can commend him for that. You can criticize his words or the way that they were framed, but I think it's really hard to criticize the motivation, which is to help his teammates and help those around the country that maybe didn't grow up in the same circumstances as Josh."
Rosen told Bleacher Report in an interview released earlier this week that he considered it lunacy to play college football while also slogging through schoolwork.
"Look, football and school don't go together," Rosen told the website. "They just don't. Trying to do both is like trying to do two full-time jobs. There are guys who have no business being in school, but they're here because this is the path to the NFL. There's no other way.
"Then there's the other side that says raise the SAT eligibility requirements. OK, raise the SAT requirement at Alabama and see what kind of team they have. You lose athletes and then the product on the field suffers."
Rosen went on to say that he had trouble juggling his football practice schedule with his intended coursework as an economics major and when there was a conflict, football prevailed. He also put an onus on colleges to do more to help players "instead of just finding ways to keep them eligible."
Mora said UCLA made the academic interests of its players a priority.
"We spend millions of dollars making sure that are student-athletes are not just graduating, but they're getting an education," Mora said before mentioning the school's hiring of former Bruins and NFL linebacker Roman Phifer last summer as its director of player development to oversee athlete needs.
Mora said Phifer's role included helping players connect with alumni with like-minded interests "so they can start to build a network and build a support system that will help these guys when they get done playing football, whether that's after one practice or 15 years. We want to make sure they always have the chance to fill their emotional and motivational buckets, so I think as a school, as a department and as a program, we are going to great lengths to make sure that our players are always on the right track to success."
Mora said Rosen's comments provided a lesson: Those who offer an opinion have to be willing to deal with the fallout.
"You may create perceptions that people don't agree with and there may be consequences," Mora said. "So if you're going to make statements, you have to understand there are going to be consequences. I'm really proud of the fact that at UCLA, we have a really tremendous balance of academic and athletics."
Quick hits
Christian Pabico, a walk-on receiver from Long Beach Poly High, continues to make a compelling case to snag UCLA's one available scholarship. He's been a favorite target of Rosen in recent days, repeatedly hauling in long passes. "He, right now, is playing his way into the rotation," Mora said. … Mora said running backs Brandon Stephens and Nate Starks continued to fight through injuries and guard Najee Toran was dealing with tightness in his back.
Twitter: @latbbolch
Get the latest on L.A.'s teams in the daily Sports Report newsletter.
You may occasionally receive promotional content from the Los Angeles Times.