UCLA AD Dan Guerrero assesses the state of the Bruins' athletic program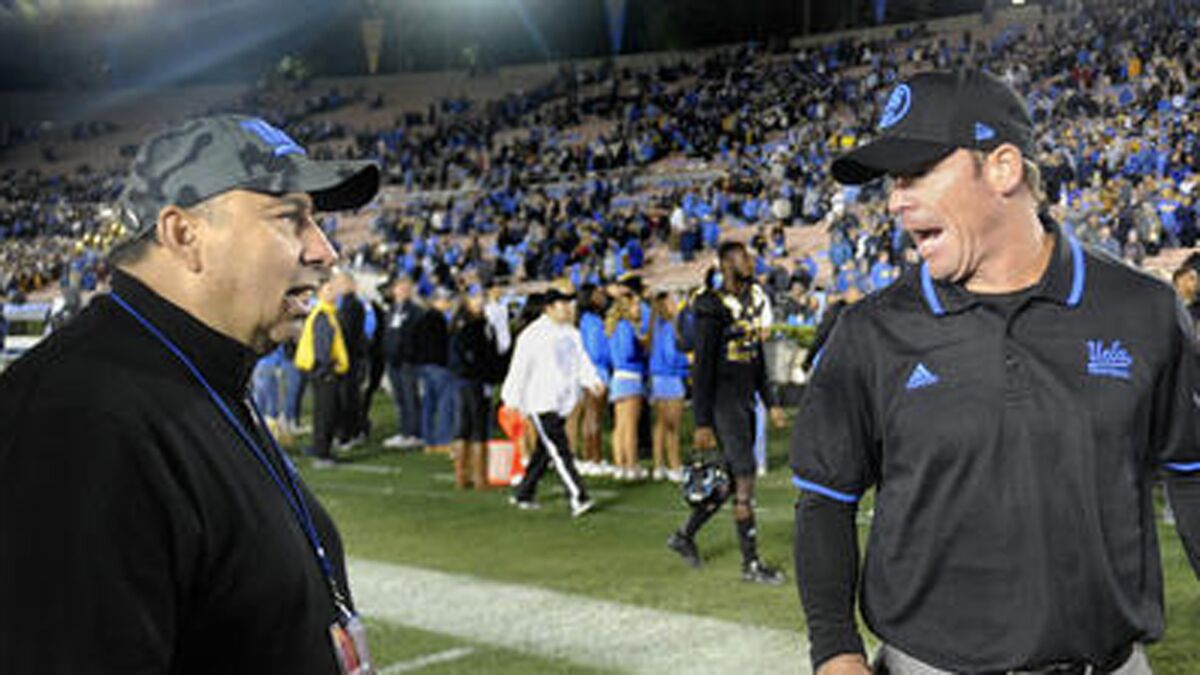 If UCLA truly were just a basketball school, it would be a joyous time for Athletic Director Dan Guerrero.
The Bruins have won their first eight games, matching their best start in three years, and will take a No. 11 national ranking into a showdown against top-ranked Kentucky on Saturday. The team is loaded with talent and appears poised to contend for the Pac-12 Conference title and make a deep NCAA tournament run, all after a rare losing season just a year ago.
It is the kind of turnaround Guerrero can only hope the football team, UCLA's other marquee program, can engineer after a season that fell short of every expectation with a 4-8 finish.
"From a football standpoint, God, it hurt," Guerrero said Thursday as he sat on a leather sofa in his corner office inside the Morgan Center. "There's no question about that."
The football team's struggles were just one topic Guerrero addressed during a 25-minute interview with The Times to assess the state of the school's athletic program. First things first: Coach Jim Mora isn't going anywhere even though his team has been backsliding since November 2015, winning only five of its last 16 games.
"We went from 13 months ago being a top-10 football program with a coach that had more wins in his first four years than any other coach in the history of this program to all of a sudden, quote, 'not being able to coach,' " Guerrero said, referring to fan criticism. "That's not the case. Jim Mora is an outstanding coach."
Guerrero mentioned the season-ending shoulder injury suffered by quarterback Josh Rosen in October and the rocky transition to a new pro-style offense as factors that led to the team's disappointing showing.
"You can't push the button and go straight to the penthouse, unfortunately," Guerrero said, "and you've got to give time for a coach to be able to make that work."
Guerrero said he supported Mora's dismissal of offensive coordinator Kennedy Polamalu and intimated that he was involved in coaching staff evaluations along with Mora.
"We talk about things all the time," Guerrero said.
Guerrero declined to set a win-loss goal for 2017 but said he believed the culture and foundation were in place for the Bruins to "bounce back." Asked what that meant in more concrete terms, Guerrero said that "we'll improve upon the year we had and we'll continue to compete for a Pac-12 championship, which is our goal."
Guerrero said Mora was already beginning to reap the rewards of improved facilities and increased coaching salaries. The Wasserman Football Center, expected to come with an all-inclusive tab of $75 million, is set to open this summer, just part of the $400 million to $500 million in facility upgrades the Bruins have made since Guerrero was hired in 2002.
"I'm not going to say that's the most in the country," Guerrero said, "but there aren't very many schools that can say that."
Included in that figure were the $136-million renovation of Pauley Pavilion and the $180-million-plus refurbishment of the Rose Bowl. The Mo Ostin Basketball Center, which will cost about $35 million once fully furnished, is expected to open in the fall.
Next on the agenda is the construction of a stand-alone academics center, with formal fundraising efforts scheduled to begin early next year.
Fundraising continues to be a challenge at a school that Guerrero estimated ranked between 25th and 30th in the country in terms of its athletic budget. That budget has risen from $39 million when Guerrero arrived to around $100 million, he said, even with no state funding and direct university contributions from student fees dipping from $3.1 million to $2.5 million over the same span.
UCLA's success has largely outpaced its resources, with 12 top-seven finishes in Guerrero's 14 full academic years in the Learfield Sports Directors' Cup given to the nation's top athletic programs. The Bruins have also won 27 NCAA championships under Guerrero's tenure, most in the nation for any athletic director during that time.
Of course, Guerrero is often largely judged by the success of his football and men's basketball teams.
"I often say we're in the feel-good business," Guerrero said. "When those teams win, everyone in the Bruin family feels really good. And when they don't win, there's disappointment."
Twitter: @latbbolch
---
Get the latest on L.A.'s teams in the daily Sports Report newsletter.
You may occasionally receive promotional content from the Los Angeles Times.