UCLA sack specialist Takkarist McKinley fulfills vow to his dying grandmother — and then some
Takkarist McKinley's grandmother was dying and he knew it. He teared up as he entered the hospital room, sidling up to her bed as soon as she called him over.
Myrtle Collins' body was failing her. She had given herself entirely to the teenage boy she had raised as her own son, mining the streets for recyclable cans to help pay their rent, five and 10 cents at a time.
About the only time the woman and the boy managed to forget the grim Northern California neighborhood that had claimed so many of McKinley's friends with gangs and drugs were a few hours every Monday, Thursday and Saturday. That's when they would sit together in her bedroom, watching the choreographed madness of World Wresting Entertainment and Collins' favorite performer, the dreadlocked Booker T.
"She would be into it more than me," McKinley recalled. "She would be, 'Oh, this ref, they're cheating!' and all this. It was just crazy, man."
Mindful that his grandmother wanted him to stay in school and play football, McKinley made a promise as he stood by her hospital bed: He would make it to Division I, the highest level in college.
Collins soon closed her eyes and quietly slipped away.
Her spirit lives on five years later in the UCLA defensive end who fulfilled his pledge and then some, shaking off injuries to become one of the nation's leaders in sacks and a potential top-10 pick in the NFL draft.
McKinley did it in a way that honored his grandmother, never ceding to the academic challenges, aching body or hulking offensive linemen who tried to stop him. Whenever he needed a nudge, all he had to do was glance at the wings he had tattooed on his biceps and triceps as a tribute to his grandmother.
Just last week he got some new artwork on his forearm. There were feathers, a dove and VII-XIV-MMXI, the date of Collins' July 2011 passing in Roman numerals. Next to the numbers was the inscription, Your wings were ready but my heart was not.
::
McKinley had every reason to fail. His father was never a presence in his life and his mother abandoned him when he was 5, reappearing briefly when he was 17 only to vanish again. That left Collins, an aunt and a cousin to nurture McKinley through childhood and adolescence.
His parents' desertion left him to help care for his ailing grandmother, fixing meals and helping her move around their home in Richmond, Calif., whenever his aunt worked at her second-hand store. His devotion resulted in him missing events at school and with his youth sports teams.
"He kind of gave it up to help me take care of her," said Peggy Wiggins, the aunt who eventually became his legal guardian along with her eldest son, Sylvester Wiggins. "I promised him that God was going to bless him for sticking in there with me to help take care of her."
Home life was never easy. McKinley often slept on a couch or the floor because of all the other relatives jammed into the residence.
"We have a big family," Sylvester Wiggins said, "so he was always sharing everything."
Football offered a glimmer of hope. McKinley's talent was so immense that it looked like he would easily fulfill his vow to his grandmother when he accepted a scholarship from the University of California. But he didn't qualify academically and landed at a community college, his route veering from the fast track toward fast food.
"I was talking about quitting football and I started applying to McDonald's and Taco Bell," McKinley said. "I was kind of just over it because I was like, man, I failed her."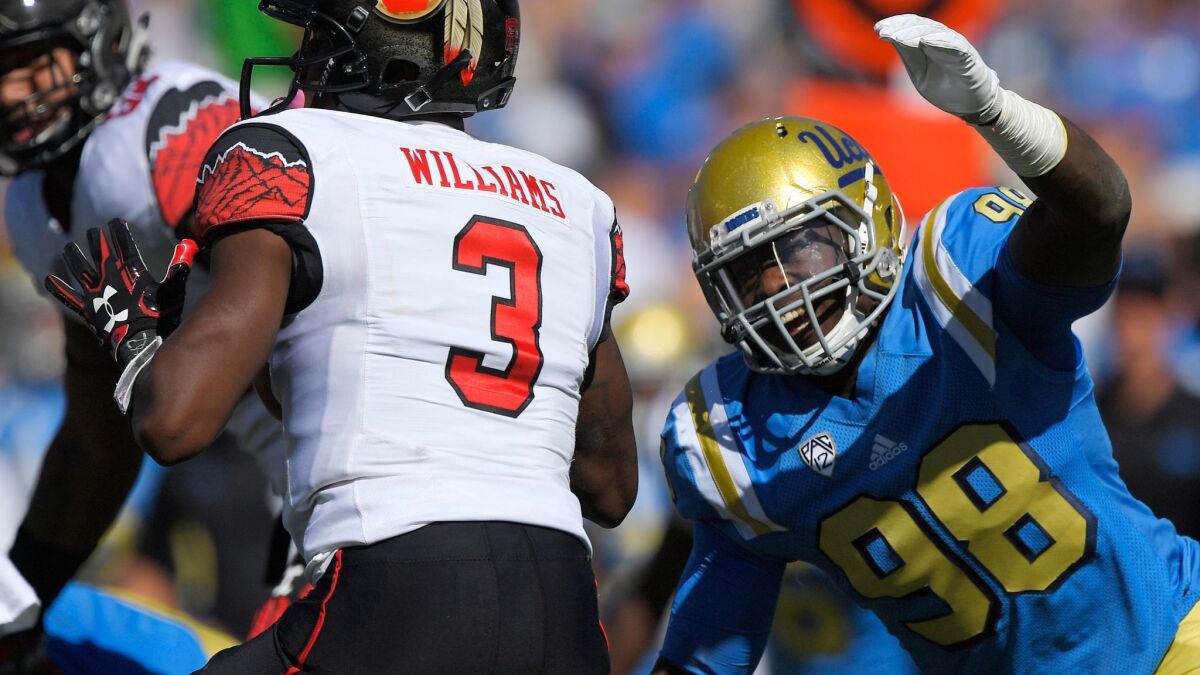 McKinley quit the team at Contra Costa College a few times, but Sylvester Wiggins told him that he would either have to get a job or play football, that sitting around playing video games all day was not an option.
McKinley eventually came back to the pledge to his grandmother. He decided he couldn't give up, rejoining the team while working to gain eligibility at a major university. His mandate was spelled out in his new Twitter handle: @D1boundTAKK.
It happened sooner than imagined, thanks to some detective work by UCLA defensive line coach Angus McClure, who had recruited McKinley before he signed with Cal.
McClure discovered though an examination of McKinley's transcripts that he had never been credited for two high school classes he took over the summer at a junior high school. But for the NCAA to verify the legitimacy of those classes, McClure had to procure letters from McKinley's high school superintendent, principal and registrar explaining their summer school system. He also had to obtain the actual grade books from McKinley's two classes.
McClure contacted a high school football coach he knew in the area who was also Facebook friends with the teachers from those classes. They submitted the required documents and, two months later and three games into UCLA's 2014 season, the NCAA cleared McKinley to play for the Bruins.
His promise was fulfilled.
::
McKinley's first two seasons with the Bruins were solid if unspectacular. He registered a combined seven sacks while spending part of his time along the interior of the defensive line.
It didn't exactly seem like a prelude to the vow McKinley made before this season, when he pledged to lead the nation in sacks while playing exclusively at defensive end.
"I feel like most people didn't believe me," McKinley said, "like, 'who is this guy?'"
Scores of college football fans found out during UCLA's nationally televised season opener against Texas A&M, when McKinley helped hold the Aggies scoreless in the first quarter. He was forced to depart when he aggravated a groin injury, but he memorably reappeared after the Bruins rallied with two touchdowns in the fourth quarter.
He hobbled onto the field, assisted on a tackle and hobbled back off.
"That one play," McKinley said, "that's all I had."
Practically the entire right side of his body betrayed him in the weeks that followed, including his shoulder, groin, knee and the muscles in his side. He powered through it whenever he could, ripping the ball away from Utah quarterback Troy Williams on the way to three sacks and five tackles for losses against the Utes.
UCLA defensive coordinator Tom Bradley said McKinley has become more studious about pass protection schemes and how teams are trying to block him, allowing him to maximize his physical gifts. The 6-foot-2, 265-pound senior leads the Bruins (3-5 overall, 1-4 Pac-12 Conference) with seven sacks and 14 tackles for losses heading into a game at No. 15 Colorado (6-2, 4-1) on Thursday evening. And that's after playing sparingly in the first three games because of injuries.
If McKinley's not playing, it's only because he's incapacitated.
"We've all seen him limp off the field and a couple of plays later limp back on," UCLA Coach Jim Mora said. "If it was any other player other than Takk, you might say that it's for dramatic effect, but that's absolutely not part of Takk's repertoire.
"There's no dramatic effect in there. It's just that he's says, 'I can't go, I can't go,' then he gets to the sideline, then he says, 'I gotta go.' He sucks it up, then he gets back in there."
McKinley appears to be on the verge of joining a couple of other recent Bruins NFL first-round draft picks, Anthony Barr and Datone Jones, a development that would appreciably change his lifestyle.
Or maybe not. McKinley still sleeps on the floor in a nod to the journey that led him here and the woman who helped make him who he is.
"My grandma, she was somebody I could talk to, somebody I could express myself to, somebody who understood me. She was my everything," McKinley said. "I know she's up there watching me, proud of me."
Get the latest on L.A.'s teams in the daily Sports Report newsletter.
You may occasionally receive promotional content from the Los Angeles Times.