Profiling Murry Bartow, UCLA's interim basketball coach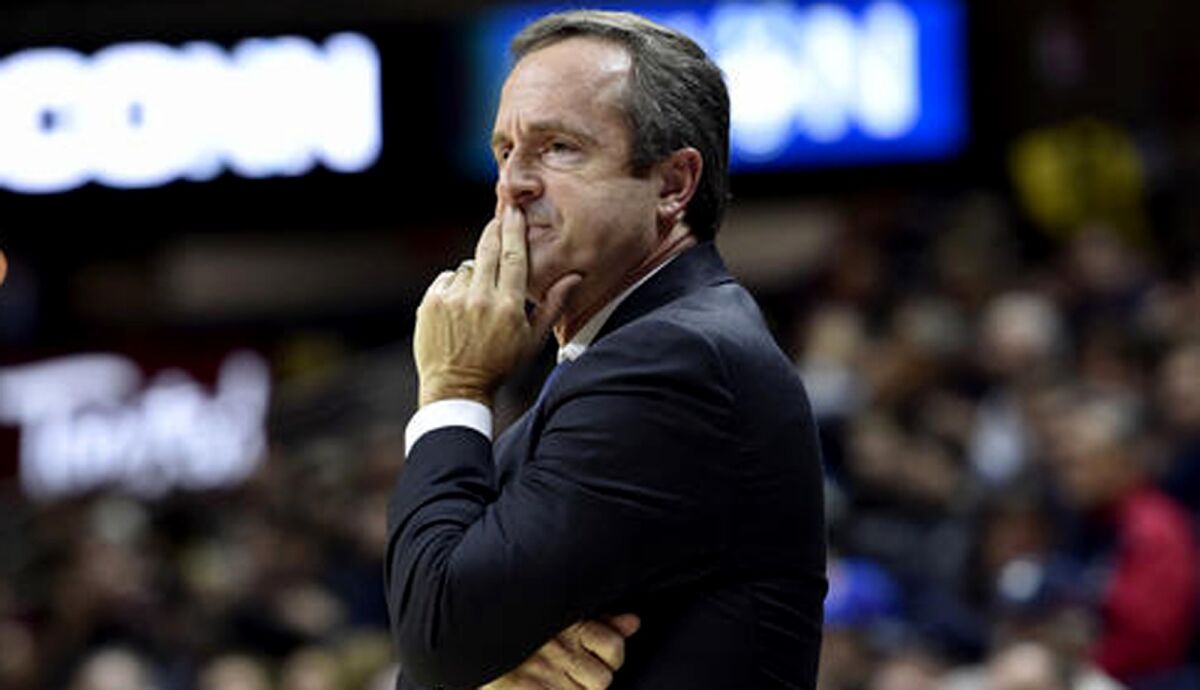 One of Murry Bartow's biggest basketball influences was his mild-mannered, professorial father.
The other was Bobby Knight.
The artful blending of the wildly varying styles has sustained Bartow during a coaching career that took an unexpected turn Monday when he was named UCLA's interim basketball coach after the firing of Steve Alford.
Known as a tireless worker, Bartow, 57, will coach the Bruins (7-6) for the rest of the season while the search for a permanent coach gets underway.
It's a homecoming of sorts, Bartow taking over the program once run by his late father. Gene Bartow went 52-9 over two seasons as coach John Wooden's successor, reaching the Final Four during the 1975-76 season and the second round of the NCAA tournament the following season.
The Bartows lived in Northridge at the time, with Murry serving a stint as the sports editor of his junior high newspaper, The Testimonial.
Gene Bartow went on to become quite a story, leaving UCLA to shepherd a nascent athletic department at Alabama Birmingham for 18 years as coach and athletic director before being inducted into the National Collegiate Basketball Hall of Fame. Murry played for his father before embarking on a coaching career that has spanned more than three decades.
Murry has gone 328-264 during 19 seasons as the head coach at Alabama Birmingham, East Tennessee State and South Florida. His teams have made the NCAA tournament four times but never advanced past the first round.
Bartow was a graduate assistant for two seasons under Knight at Indiana, where the Hoosiers won the national championship in 1987 largely thanks to a shooting guard named Steve Alford. Bartow was known to scribble his thoughts in red notebooks that he brought with him to Westwood after Alford hired him last spring as his lead defensive assistant coach. The Bruins rank No. 79 nationally in adjusted defensive efficiency, an improvement from No. 103 last season.
Bartow will now run all aspects of a team that has lost four consecutive games going into its Pac-12 Conference opener against Stanford on Thursday night at Pauley Pavilion. Bartow is not expected to meet with the media until Wednesday.
This is not the first time Bartow has taken over a program in upheaval.
He was named interim coach at South Florida in January 2017 after a team with no seniors and only seven available scholarship players on some nights had started 6-7 under coach Orlando Antigua. The Bulls went 1-16 overall and 1-15 in the American Athletic Conference under Bartow, though two other losses might have stung more.
The team inadvertently left napping players Troy Holston and Geno Thorpe at a Houston airport terminal while boarding a connecting flight, leading to national ridicule. Bartow called it "an unfortunate circumstance, for which I apologize."
That wasn't sufficient for Holston's mother, who criticized the way the team was being run.
"It's very disappointing, and it's a reflection of how terrible a program the men's basketball program is," Monique Holston-Greene told the Tampa Bay Times.
Bartow has said he's known he wanted to go into coaching since he was 12 or 13 years old. He said in 2017 that he learned how to be demanding but supportive from his father and derived much of his detail-oriented nature from Knight.
UCLA players said before the season that Bartow had upped the team's defensive intensity several notches.
"When I'm not in a stance, he gets at me," guard Prince Ali said in October. "He'll get in your face. … [He'll say], 'You're not doing this very well, son.'"
Follow Ben Bolch on Twitter @latbbolch
Get the latest on L.A.'s teams in the daily Sports Report newsletter.
You may occasionally receive promotional content from the Los Angeles Times.