It took five innings for the offense to come alive, but with Rachel Garcia in the circle there was no sign of panic from the UCLA softball team.
Garcia struck out eight of the first 10 batters she faced Friday night and almost threw her first no-hitter of the season as the Bruins took their first step toward a 12th NCAA national championship with a 3-0 victory over Sacramento State in a Division I Los Angeles Regional opener at Easton Stadium.
Showing why she was named Pac-12 Player of the Year, Garcia did not allow a baserunner until Sydney Rasmussen drew a walk to lead off the fifth inning.
The redshirt sophomore finished with 14 strikeouts, including one on a 3-2 pitch to Hornets catcher Jessica Scott with runners on first and second in the fifth.
"It feels great to win for my team, especially being on our home field ," Garcia said. "It started in the bullpen, I had everything working. Everyone was telling me 'Just be you.' The hit didn't faze me."
Garcia threw her only collegiate no-hitter in the regional round against Lehigh last year.
The Bruins' offense finally awoke in the fifth when Taylor Pack walked, Kinsley Washington hit an infield single and Pack scored on a single by senior Kylee Perez.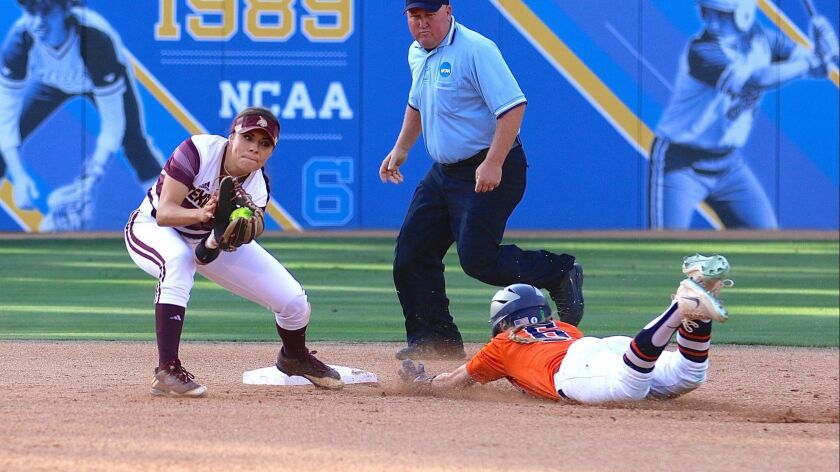 "I had runners at first and second, so I was thinking just pull the ball to move the runners," Kylee Perez said of her winning hit. "She was throwing me outside and weirdly I can hit outside pitches pretty well."
Freshman sister Briana Perez followed with a two-RBI single and that was all the scoring the top-seeded Bruins (51-4) needed. They finished with six hits.
Rasmussen broke up the no-hitter with a one-out double in the top of the seventh and promptly stole third, but Mo Speith struck out and Sydney Strong fouled out to third to end the game. One hit is all the fourth-seeded Hornets could muster.
UCLA plays Cal State Fullerton at 2 p.m. on Saturday.
In the early game, Trish Parks pitched a five-hitter with five strikeouts and Brooke Clemetson had a game-tying single and scored the winning run in the fifth inning of Fullerton's 2-1 win over Texas State.
"This is how our year's been going," Clemetson said. "We knew we were facing a great pitcher but if she gave us a pitch to hit we had to take advantage. On the RBI my goal was to put the ball in play and make something happen."
Julia Valenzuela doubled to the center-field wall to begin the top of the fifth, moved to third on a groundout by pinch-hitter Mikaela Francis and scored the tying run on a single to left by Clemetson.
Clemetson scored the go-ahead run from third when catcher Haleigh Davis collided with pitcher Randi Rupp on Ari Williams' popup in front of the plate.
The third-seeded Titans (34-23), making their third straight Los Angeles Regional appearance, improved to 20-1 when leading through five innings.
Hailey MacKay's sharp grounder glanced off the glove of shortstop Shianne Brannan and into the glove of second baseman Sam Kennedy, who stepped on the bag for a forceout to end the game.
Davis singled to score Bailee Carter and give Texas State a 1-0 lead in the second. The second-seeded Bobcats (42-15) play Sacramento State (31-19) in an elimination game Saturday at 4:30.
The winner plays the loser of the UCLA-Cal State Fullerton game at 7.
Tempe Regional
Long Beach State lost to Mississippi 9-1 in its opener and will face New Mexico in an elimination game at 4:30 Saturday. Arizona State beat New Mexico 2-0.
---