Brett Hundley begins spring as a strong leading man for UCLA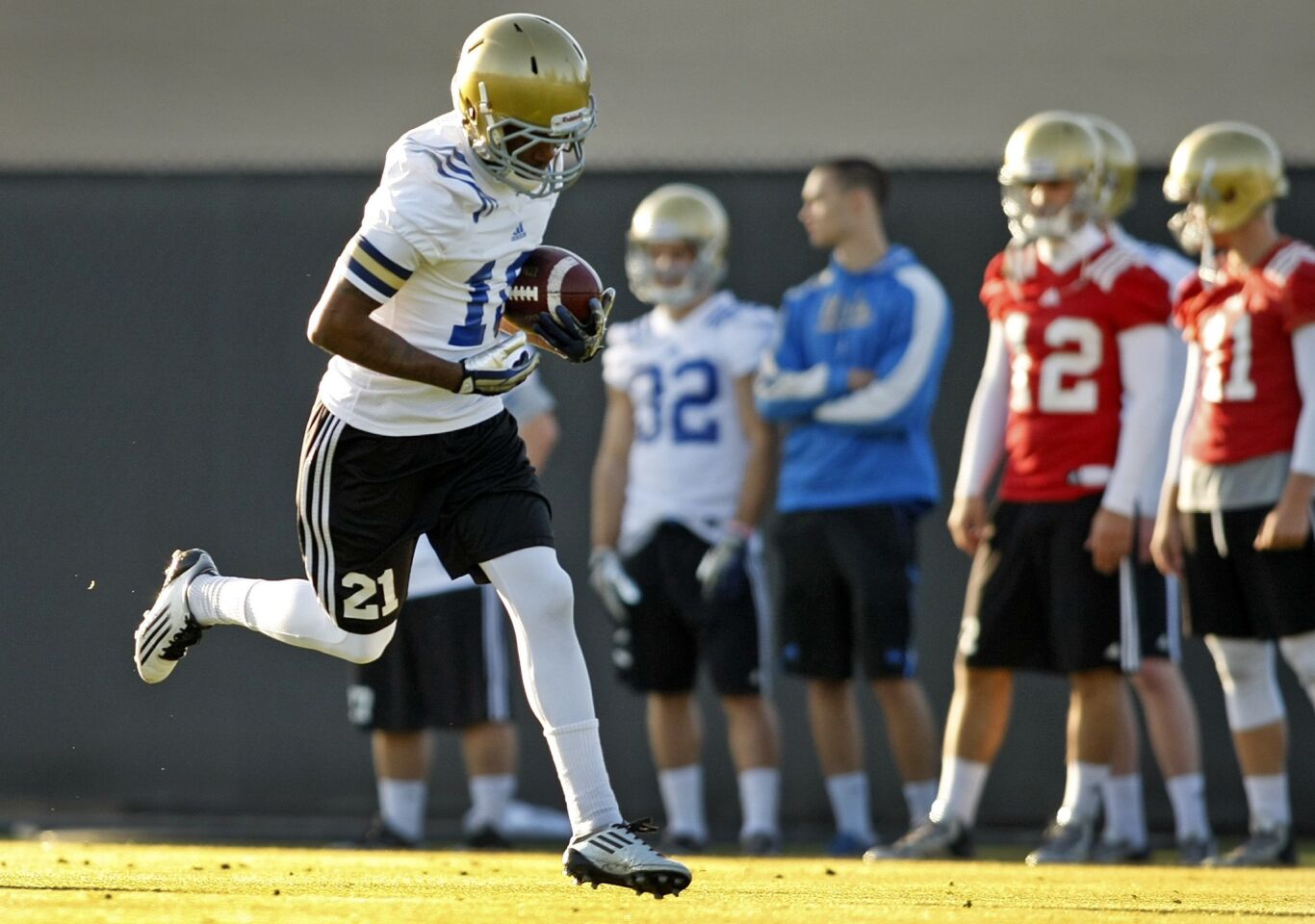 UCLA receiver Kenneth Walker catches a pass on April during the Bruins' first spring practice.
(Al Seib / Los Angeles Times)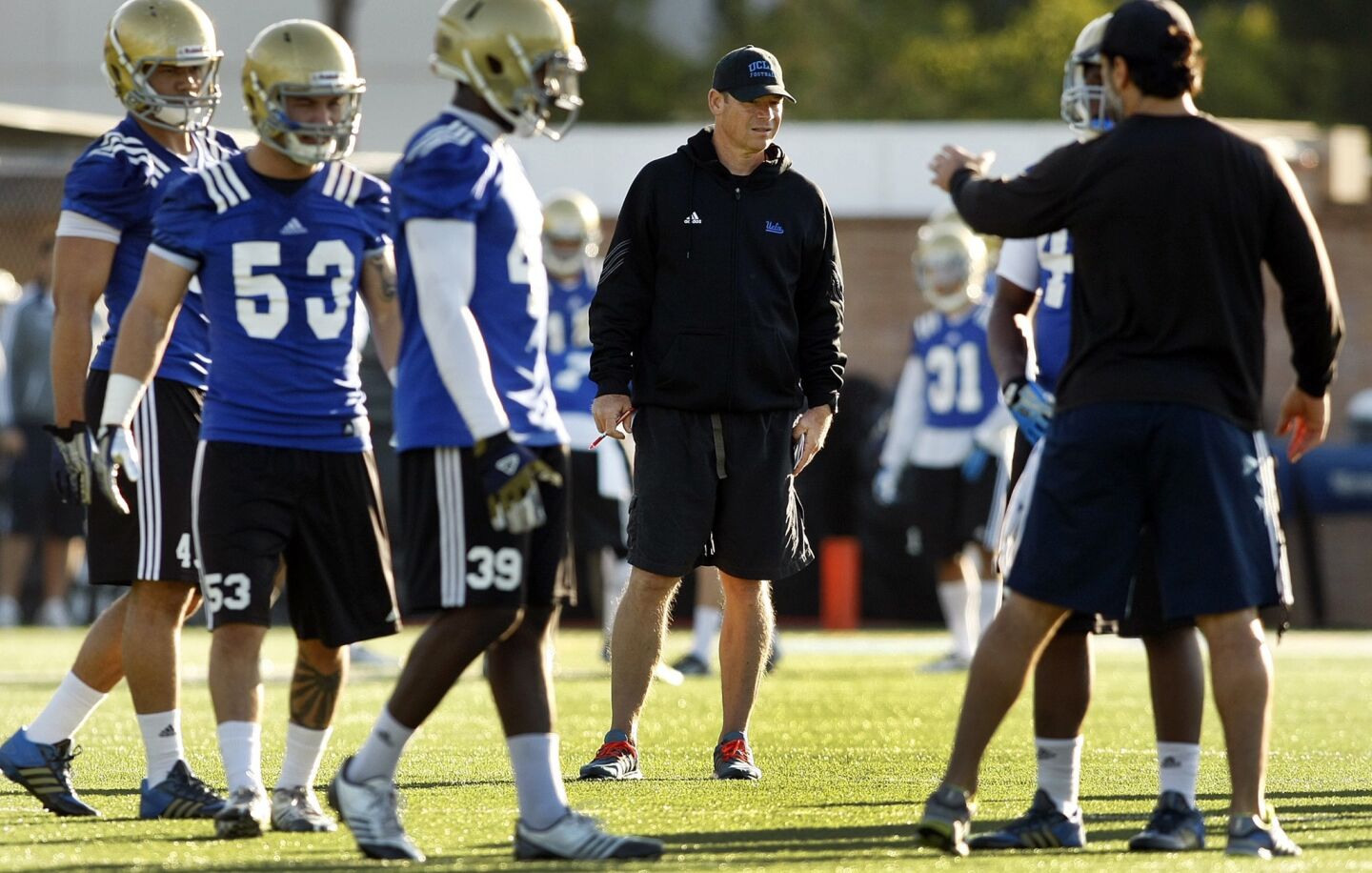 UCLA Coach Jim Mora, center, watches his Bruins practice Tuesday morning during the team's first spring practice.
(Al Seib / Los Angeles Times)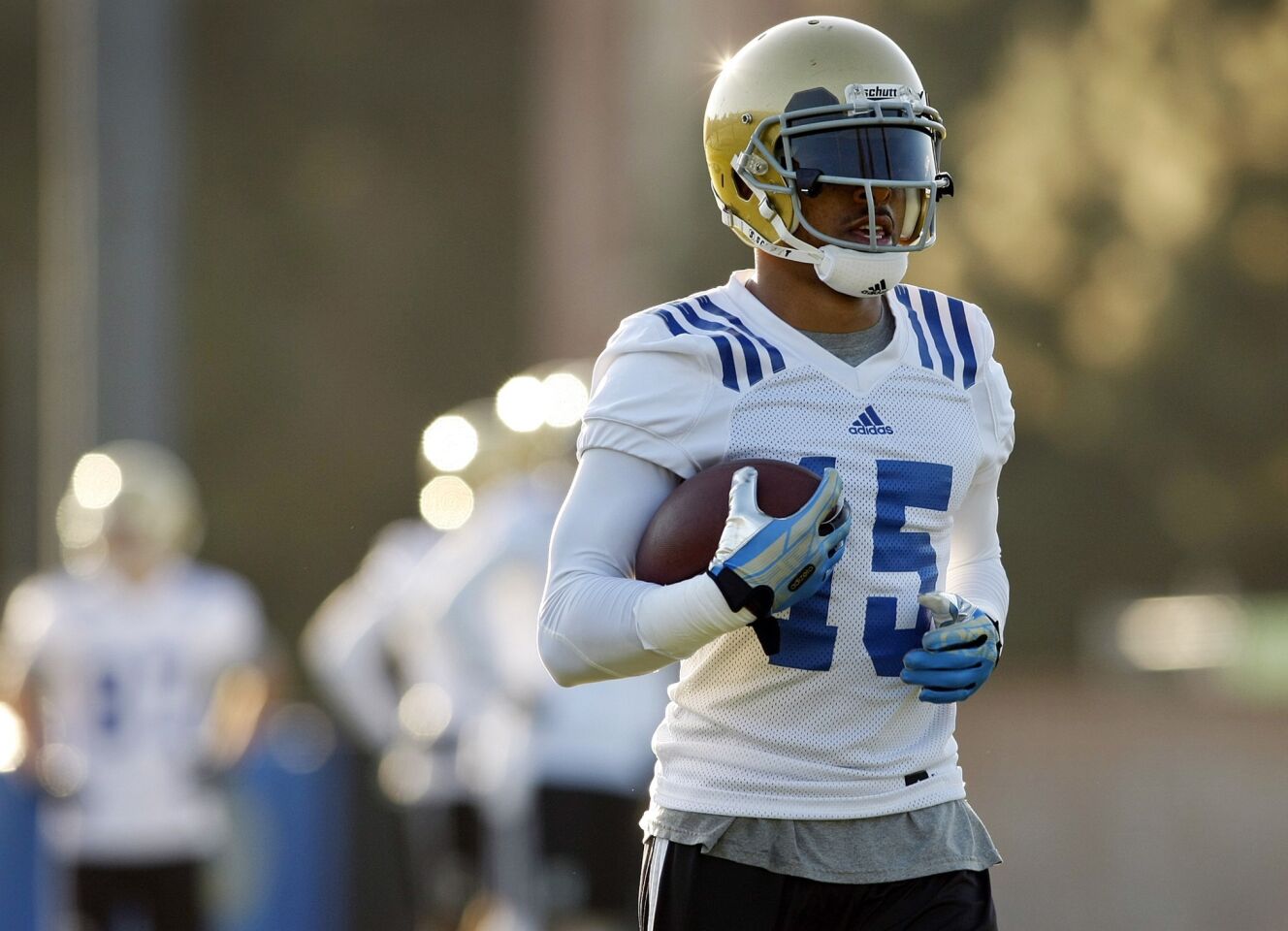 UCLA wide receiver Devin Lucien catches passes Tuesday morning during the Bruins' first spring practice.
(Al Seib / Los Angeles Times)
The expectations for UCLA football have not been this lofty, or attainable, in ages.
The season maps out in a way in which goals are achievable, whether it's a spot in the four-team national championship playoff or a Saturday in December when quarterback Brett Hundley is photographed clutching the Heisman Trophy.
The Bruins open the season in Virginia, giving East Coast folks a look at the team and the star at the controls of its offense. There is a marquee game against Texas at the Dallas Cowboys' stadium. The team's three most important Pac-12 Conference games — against Oregon, Stanford and USC — are at the Rose Bowl.
PHOTOS: UCLA's First Spring Practice
It all looks good on paper months before the season starts. But that's not when championships and Heismans are won.
"Sometimes the attention can have a downside," Hundley said. "You get caught up in the hype. You won't see me on social media too much. It's going to be about grinding through the season. Once we're done, then we can have some fun."
Hundley walked onto Spaulding Field for the start of practice with the focus of a team leader. UCLA had a 10-3 record and won the Hyundai Sun Bowl last season. Old news, Hundley said.
"He's more mature, if that was even possible," center Jake Brendel said.
Hundley, who will be a junior in the fall, went through the practice as if he were running it. He finished the day stretching with defensive backs in a warm-down — an all-for-one, "Kumbaya" moment.
"He looks like a guy who knows what's going on," offensive coordinator Noel Mazzone said.
The Bruins need him to be that guy.
"I feel like we're back to what UCLA football is supposed to be," Brendel said. "We're turning this team into something that can be a national title contender."
For that to be realized, Hundley probably needs to play his way onto the Heisman short list. He prepared by seeking the advice of professionals.
Hundley spent time with San Diego Chargers quarterback Philip Rivers and Denver Broncos backup Brock Osweiler, who both played for Mazzone. Also offering tips were former NFL stars Donovan McNabb and Jeff Garcia, as well as Tim Tebow, who won a Heisman Trophy at Florida in 2007.
"I learned the mind-set behind being a quarterback," Hundley said. "It's not just about having a nice arm. It's about how you control the offense and control the players, on the field and off field."
To do that, Hundley said Osweiler told him, "it's not about changing yourself, it's about being yourself honestly."
Hundley absorbed the game elsewhere as well. He spent time in the film room with other position groups. He met with offensive line coach Adrian Klemm to learn more about protection and defensive coordinator Jeff Ulbrich to learn more about defense.
The results were on display Tuesday.
"He was different out there today," Coach Jim Mora said. "He was in command more than he has ever been."
The intense Heisman glare has devoured more than one candidate, something Hundley acknowledges.
"You can be on top and, a split-second later, everyone is trashing you," Hundley said. "You have to stick to what got you there and who you are as a man."
Mora agreed. "As long as he doesn't put himself above team, which he won't, we'll be OK," the coach said.
Of course, the Bruins are striving for something better than OK.
The last time UCLA reached the Rose Bowl game was in 1999. They have never played in a national title game.
"When you first come in you're trying to get to the point where people can have expectations for you," receiver Jordan Payton said. "Now that they have expectations, you've got to handle it differently, like a mature group of guys."
Twitter: @cfosterlatimes
---
Get the latest on L.A.'s teams in the daily Sports Report newsletter.
You may occasionally receive promotional content from the Los Angeles Times.