Chip Kelly's first spring football practice at UCLA is 'high energy, fast tempo'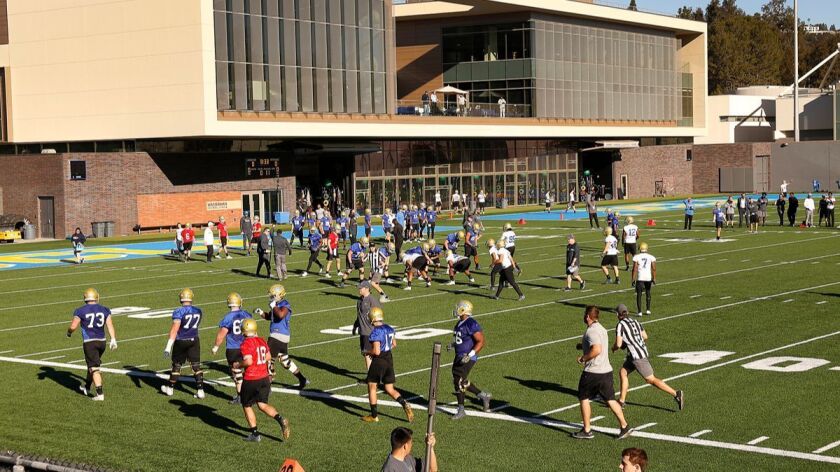 Spirited yells filled the chilly morning air as UCLA football players sprinted into orderly rows on the practice field to stretch, their legs and arms moving in unison with military-style precision.
Over the next two hours, there would be no rest for the cheery.
Coach Chip Kelly's first spring practice guiding the Bruins featured plays that were run quickly, often with only a handful of seconds between snaps. Multiple sets of players worked separately on the same field. There was more repetition than inside an autoworkers plant.
"High energy, fast tempo," safety Adarius Pickett said Tuesday when asked what it felt like as the Bruins took what they hope are the first steps back to prominence after going a combined 10-15 the last two seasons. "We haven't been accustomed to that kind of practice style. … They said it was going to be fast, but it's one thing between you hearing it and you actually doing it."
In one drill, five quarterbacks lined up about a foot apart before taking snaps and firing passes to different receivers. In another drill, two sets of centers, quarterbacks and running backs lined up opposite one another as the quarterback practiced zone-read plays, either handing the ball off to the running back or keeping it himself and darting up the field.
Kelly intently watched the action, occasionally twirling a whistle on a string around his hand. He intervened when something displeased him, ordering one player out of a play only moments before the snap.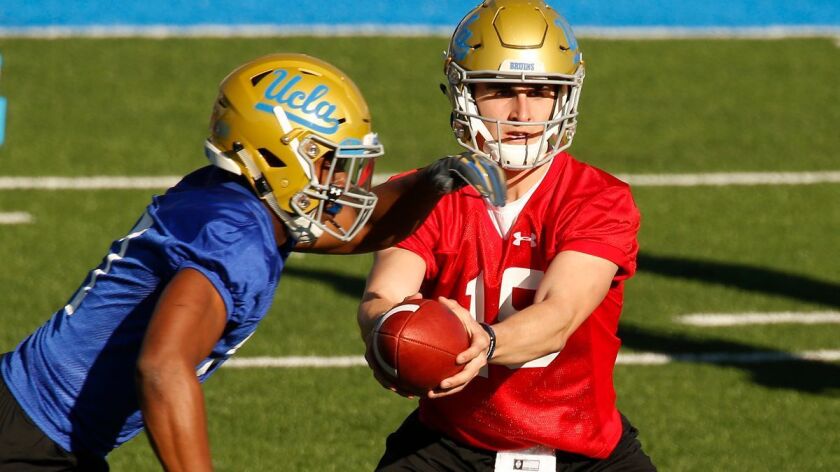 Kelly did not share his first impressions of his team with reporters because he addressed the media before practice.
"I have no idea what this team is all about, so that's what the whole spring will be about, just trying to figure it out," Kelly said. "I couldn't tell you a strength or a weakness or whatever just because we haven't had a chance to be with them."
Freshman receiver Kyle Philips was the only member of Kelly's first recruiting class to participate Monday, though Kelly said there could be two or three more arrivals later in the spring. Philips contributed one of the highlights of the day when he made a juggling catch in front of a smattering of fans watching from the edge of an adjacent parking lot.
Position switches were already under way as Boss Tagaloa moved from defensive tackle to center while retaining his No. 75 jersey, necessitating that Andre James take No. 77.
"He's actually got [No. 75] tattooed on him," James said of Tagaloa, "so I was like, 'Ah, I guess if you have it tattooed on you, I'll give it to you.' "
Wearing No. 77 also allowed James, who has moved from right tackle to left tackle, to honor his father who is battling cancer and receiving bone marrow transplants; Marcus James was born in 1977.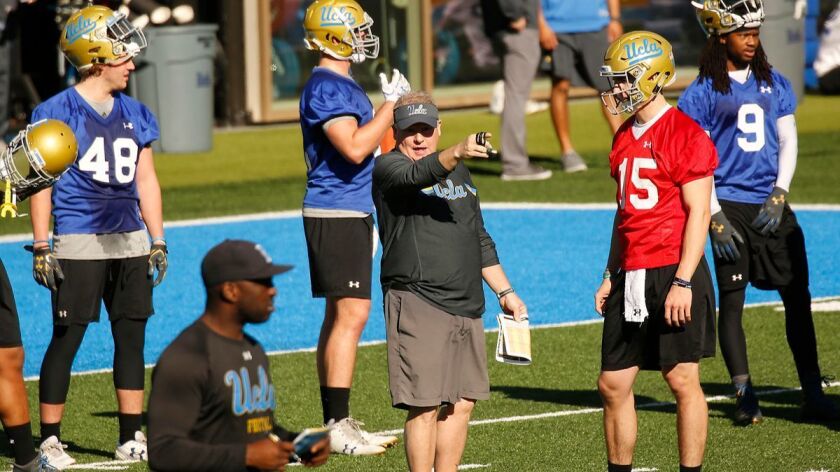 Kelly said there was open competition for playing time that would not be contingent upon past performance, a hallmark of his teams at Oregon and in the NFL with the Philadelphia Eagles and San Francisco 49ers.
"It's an open deal for everybody," Kelly said. "Today's the first day for everybody."
Players praised Kelly's sports science program, which includes hydration monitoring, GPS trackers to measure fatigue and an additional meal players are provided every afternoon.
"He's real big on feeding us," Pickett said. "We get weekend meals to take home now so players don't get hungry on the weekends."
James said he already felt a difference in the quality of his sleep and stamina. That wasn't the only change he noted nearly six months before the Bruins' season opener against Cincinnati on Sept. 1 at the Rose Bowl.
"The energy and the feeling is totally different here," James said. "You can tell we're excited to keep going."
What has triggered that excitement?
"I feel like we're just tired of losing," James said. "We're trying to get back on track and I feel like this coaching staff is what we need right now to get back on track."
Follow Ben Bolch on Twitter @latbbolch
---
Get the latest on L.A.'s teams in the daily Sports Report newsletter.
You may occasionally receive promotional content from the Los Angeles Times.