For now, the stage belongs to Devon Modster and Matt Lynch as they make their case to be UCLA's starting quarterback
It's hard to gauge your standing in the quarterback competition when you're slinging passes on the field and your primary challenger is sitting in first-period algebra.
That's the situation confronting UCLA's Devon Modster and Matt Lynch, who are making their case in spring practice while the high school phenom who also wants to succeed Josh Rosen as the Bruins starter won't arrive on campus until June.
Dorian Thompson-Robinson is completing his senior year at Las Vegas Bishop Gorman High, but he isn't just sitting around; he's scheduled to compete for his school's track team in the 800-meter relay on Saturday.
Meanwhile, Modster and Lynch are trying to upstage one another.
They took some practice repetitions Thursday while standing only a few feet apart, firing passes to receivers at the same time. During one drill, they threw around contraptions designed to simulate offensive linemen. The devices featured wide black screens more than 6 feet tall attached to a metal framework on wheels that managers slowly rolled toward the quarterbacks as each play developed.
"Being here and learning the offense with the coaches is definitely an advantage," Modster, a redshirt sophomore, said afterward, "but at the end of the day, we're all gonna compete, and whoever has the starting job, we're just gonna back him up."
The competition should stiffen in a few weeks when Modster and Lynch are joined by graduate transfer K.J. Carta-Samuels, who spent the last three seasons as Jake Browning's backup at Washington.
Carta-Samuels is expected to arrive at UCLA after completing his undergraduate degree. He played in eight games last season in blowout situations, completing eight of 10 passes for 82 yards.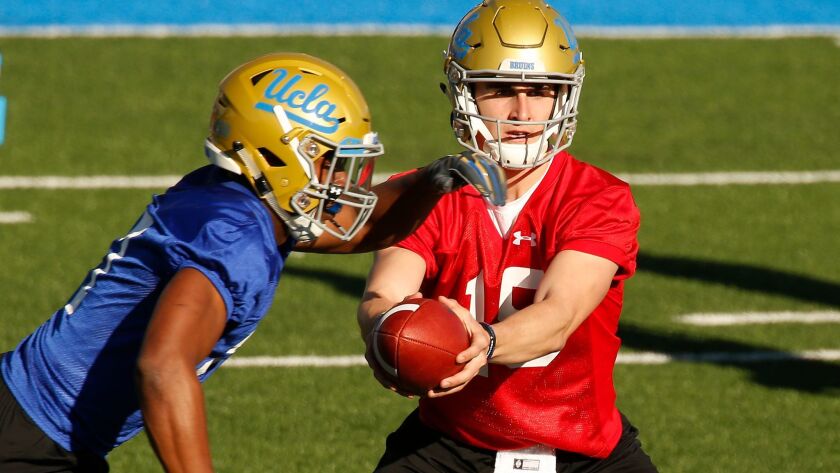 Modster replaced Rosen in four games last season after Rosen suffered a series of concussions. Modster led the Bruins on the game-winning drive against California and finished the season completing 64.6% of his passes for 671 yards and four touchdowns with no interceptions.
Lynch barely played, completing two of three passes for 11 yards and a touchdown in his one appearance. He also had a 13-yard run.
Lynch, a redshirt sophomore, said he spent the offseason perfecting a more compact throwing motion that he practiced while standing in front of a mirror. He got a chance to unveil his new look during informal workouts that also involved Modster and receivers Theo Howard, Demetric Felton, Damian Alloway and Christian Pabico.
Lynch also continues to be tutored by Rosen, his former roommate who only recently moved out of the apartment they had shared.
"We keep in touch almost every day," Lynch said. "He's reaching back and forth, looking out for me."
The group dynamics are expected to change once more upon Thompson-Robinson's arrival. UCLA coach Chip Kelly described the incoming freshman as a "real dynamic young player" on national signing day last month, noting his ability to beat teams with his legs as well as his arm.
Thompson-Robinson finished his final high school season having completed 68.8% of his passes for 3,275 yards and 37 touchdowns with just three interceptions for Bishop Gorman on the way to a state title. He also ran for 426 yards and seven touchdowns and even caught a touchdown pass in the state championship game.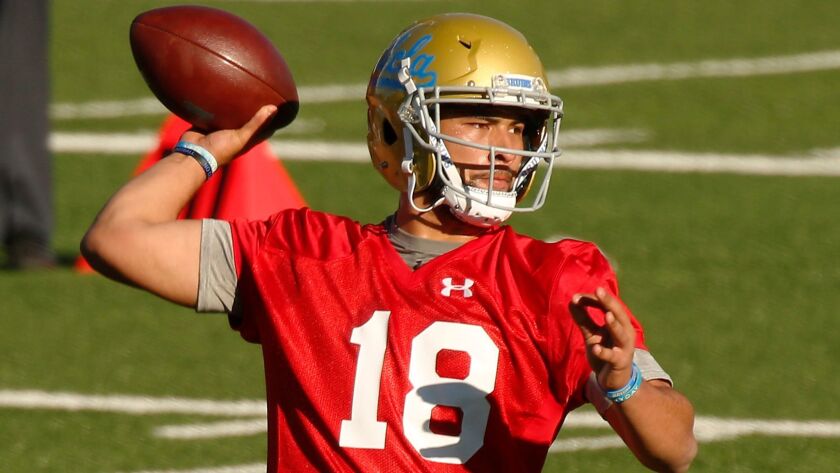 Thompson-Robinson, a converted receiver who has been a starting quarterback for only one season, said in an October interview with The Times that he didn't want to spend his first year at UCLA as a backup if Rosen left for the NFL.
"I definitely want to go in there and just get on the field right away," he said.
Lynch and Modster are already there, trying to impress their new coach every day.
"Everything is an evaluation," Lynch said, "so you try to do anything possible to catch his eye."
Etc.
Center Boss Tagaloa struggled to complete several snaps as he continued his transition from defensive tackle. "I know it's a hard transition for him," Modster said, "[but] I think he's done a real good job." … The new coaching staff has spent much of its time teaching technique during the first two days of spring practice. As he stood on the back of a blocking sled, defensive line coach Vince Oghobaase told players thrashing the thick pads with their hands: "More violence, guys. I've got to feel it."
Follow Ben Bolch on Twitter @latbbolch
---
Get the latest on L.A.'s teams in the daily Sports Report newsletter.
You may occasionally receive promotional content from the Los Angeles Times.