UCLA players are seeing the benefits of making moves on the field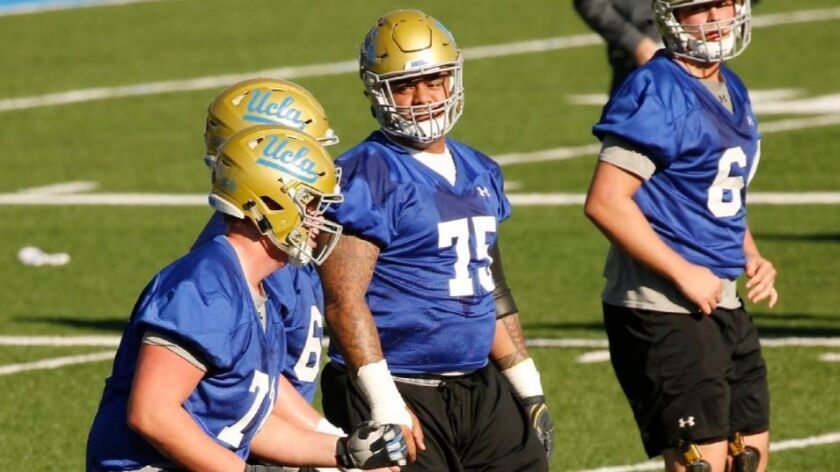 Boss Tagaloa was willing to bolster UCLA's depleted offensive line by moving to center after spending the last two years at defensive tackle.
He wasn't so agreeable when it came to giving up No. 75, the jersey number tattooed near his right elbow. So he started lobbying Andre James, the Bruins' left tackle and owner of the coveted number on offense.
"I went in and the first thing I said to him was like, 'Hey, bro, what year was your dad born?' " Tagaloa recalled Saturday. "Just trying to ease my way into the conversation because I knew that would get him right away."
Fortunately for Tagaloa, the last two digits of Marcus James' birth year, 1977, were available thanks to the departure of left tackle Kolton Miller. Andre James was also eager to honor his father at a time when he was undergoing a bone marrow transplant for cancer.
That's how one of the early position switches of spring practice came to be a win-win proposition for the Bruins.
The same could be said of Moses Robinson-Carr's move from tight end to defensive end, which increased the likelihood of the sophomore getting significant playing time while including a side benefit.
"I love being able to eat more," said the 6-foot-5 sophomore, who is pushing 280 pounds after gaining about 10 pounds since last season.
Coach Chip Kelly said Robinson-Carr's massive size and standing as the fifth or sixth tight end on the depth chart made him suited to the switch.
Tagaloa's move was prompted by a different set of numbers: the loss of three starters along the offensive line. Another starter, guard Michael Alves, has been limited in practices because of an unspecified injury.
The move led to a reunion of sorts with tight end Devin Asiasi, a former teammate of Tagaloa's at Concord De La Salle High when Tagaloa played tackle.
Tagaloa has struggled with his snaps in recent practices as part of an adjustment that he said has increased his responsibilities from having to "just put my hand in the ground and run. But now, I really gotta find out, locate the defense, the linebackers, the down front and everything."
As part of his new position, Tagaloa has packed on 11 pounds while shedding 3% body fat. He now stands at 6-2 and 323 pounds, a height-to-weight ratio that Tagaloa said should work as long as his body-fat composition remains low.
Tagaloa might have contributed to some weight gain by James when Tagaloa let him borrow his meal card as a thank-you gesture for the number switch, giving James access to a variety of fast-food options.
"I don't know what he got," Tagaloa said of his teammate's culinary selection, "but he got something."
Ache no more?
Frank Wintrich, UCLA's new director of football performance, could boast of a distinction at his most recent stop that was the strength and conditioning equivalent of going to the Rose Bowl in back-to-back seasons.
"I think they went two years where they didn't have anybody injured from a soft-tissue standpoint," Kelly said of Wintrich's work at Virginia, where he spent the 2016 and 2017 seasons.
That means no sprains, strains or bruises. But Kelly said Wintrich and his assistants excel in more than injury prevention.
"They teach a complete package," Kelly said. "It's not just strength, it's not just conditioning; it's improvement in speed, improvement in body composition."
Kelly said players spent their entire allotment of eight hours per week with coaches in the offseason getting bigger, faster and stronger as opposed to mastering the minutiae of a new offense and defense.
"It doesn't matter if they were in the classroom and they learned your scheme," Kelly said. "If they go out there on Day 1 and pull a hamstring, it doesn't help them."
Etc.
Kelly said running back Jalen Starks, linebacker DeChaun Holiday, offensive lineman Stephan Zabie and defensive backs Will Lockett, Denzel Fisher and Octavius Spencer had left the team. Offensive lineman Paco Perez has also been absent from spring practice. … Alves, tight end Caleb Wilson, defensive end Jaelan Phillips, linebacker Josh Woods, offensive lineman Jax Wacaser, linebacker Lokeni Toailoa and defensive backs Colin Samuel and Keyon Riley were all wearing yellow jerseys, meaning they were recovering from injuries and limited in their practice participation. … Defensive end Marcus Moore on the defense's new mantra: "Violence. That's the word right there. That explains our defense: violence."
Follow Ben Bolch on Twitter @latbbolch
---
Get the latest on L.A.'s teams in the daily Sports Report newsletter.
You may occasionally receive promotional content from the Los Angeles Times.