Apparent injury keeps UCLA's Chase Griffin from throwing on first day of spring practice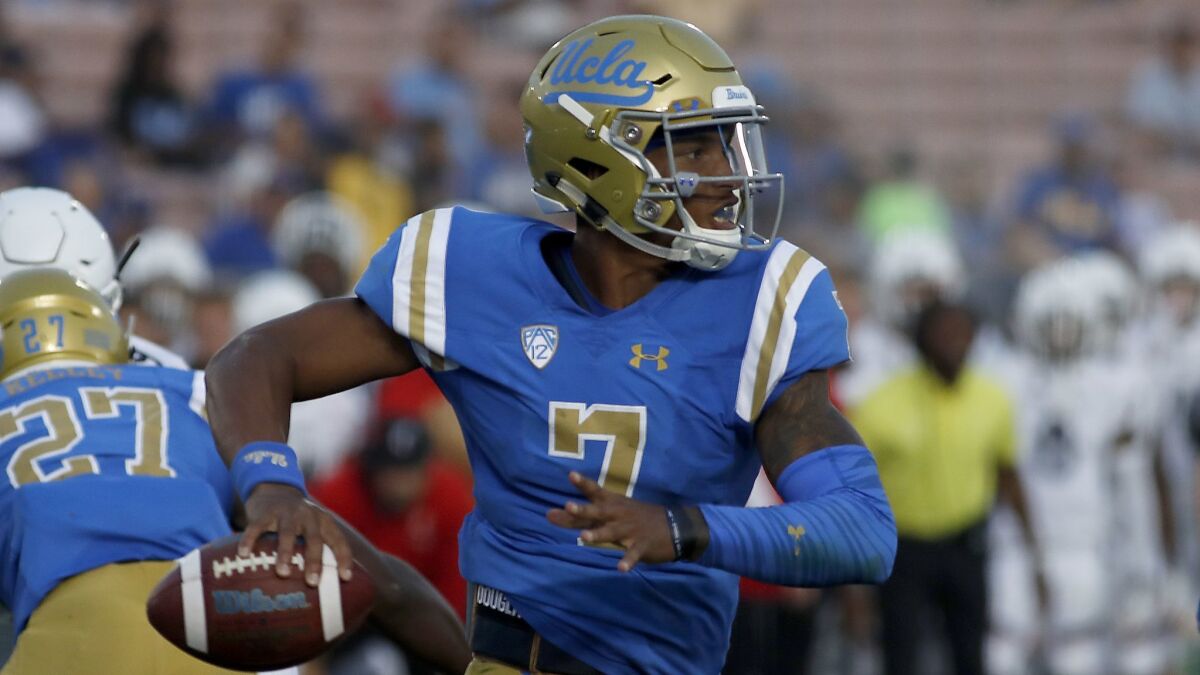 Chase Griffin stood beside his fellow quarterbacks as they dropped back to pass, pantomiming their every move except throwing the ball.
Matt Lynch lined up at tight end, having traded in his red quarterback's jersey for a blue one worn by the rest of the offensive players.
UCLA's quarterback ranks had thinned considerably as the Bruins opened spring practice Tuesday, with Griffin's apparent injury and Lynch's position switch leaving only three quarterbacks as full participants.
Sophomore Dorian Thompson-Robinson worked with the first team as expected, followed by redshirt sophomore Austin Burton and walk-on Josiah Norwood.
There was no clarity on Griffin's status because coach Chip Kelly did not speak with reporters and the quarterbacks are not scheduled to be made available until Saturday.
Griffin was enthusiastic about his limited participation, moving in animated fashion and often sprinting to the next drill ahead of his teammates. The freshman who enrolled early with intentions of competing for the starter's job will have to unseat an incumbent who appeared more self-assured and assertive with his teammates than he was last season.
"He's more outgoing with the guys, [and] the guys feel really comfortable" around him, said center Boss Tagaloa, whose locker is next to Thompson-Robinson's. "They know he knows what he's doing, so it's easier to trust someone when you know the person is leading knows his assignments, knows what to do, and you know what to expect from him."
The departure of graduate transfer Wilton Speight, who started the final three games of 2018, makes Thompson-Robinson the clear front-runner to assume that role on a full-time basis starting with the season opener Aug. 29 at Cincinnati.
Thompson-Robinson had been mostly quiet on social media during the off-season before tweeting a few inspirational quotes and photos of himself pulling a sled in workouts. He also has a new number after switching from No. 7 to No. 1.
"Dorian's definitely been working his butt off," cornerback Darnay Holmes said. "He's been throwing extra, doing extra and being the guy that we want to lead the team."
Getting chippy
Going 3-9 last season was a prelude to off-season workouts in which the Bruins continually reminded themselves of their failures.
"We weren't too happy about our record last year, so every time we hit that field we had to have that in the back of our minds," Holmes said. "So just make sure we weren't cheating ourselves or cheating our team."
Holmes said coaches put the leadership onus on players, prompting several to become more vocal. Workouts involved adding muscle while lowering body fat; Tagaloa said he dropped his body fat by 5% while gaining eight pounds of muscle.
Of course, the Bruins realized that didn't make them special.
"We did everything that every other team in the country did," Holmes said. "Just get with our strength coaches and got more powerful, more explosive and dynamic."
Early retirement
Senior defensive lineman Rick Wade has been forced to stop playing because of a neck injury that will require surgery, according a person close to the situation.
Wade is on track to graduate this quarter and has secured a job in commercial real estate. He finished his career with 74 tackles, including 11 for loss, and three sacks to go with a forced fumble.
Etc.
Sophomore Alec Anderson took first-team repetitions at left tackle, putting him squarely in the mix to take over for the departed Andre James. Incoming freshman Sean Rhyan could also compete for that spot once he arrives for fall camp. … Sophomore Stephan Blaylock moved into the first-team safety spot vacated by the departure of Adarius Pickett. … Griffin was among six newcomers who enrolled early in order to participate in spring practices. The others were running back Keegan Jones, wide receiver Jaylen Erwin, defensive lineman Datona Jackson, defensive back William Nimmo and punter Carson Olivas. … Linebacker Mique Juarez and defensive linemen Marcus Moore and Moses Robinson-Carr appeared to be absent from practice. Nimmo was wearing Juarez's No. 32. … Nimmo, linebacker Josh Woods, defensive back Kenny Churchwell and receiver Dymond Lee wore yellow jerseys to signify they were recovering from injuries and off limit from contact. Woods and Churchwell are recovering from torn knee ligaments suffered in fall camp, and Lee underwent off-season ankle surgery. Nimmo's injury was not immediately known.
Sign up for our daily sports newsletter »
Follow Ben Bolch on Twitter @latbbolch
---
Get the latest on L.A.'s teams in the daily Sports Report newsletter.
You may occasionally receive promotional content from the Los Angeles Times.