UCLA ready to face powerhouse UConn in the Sweet 16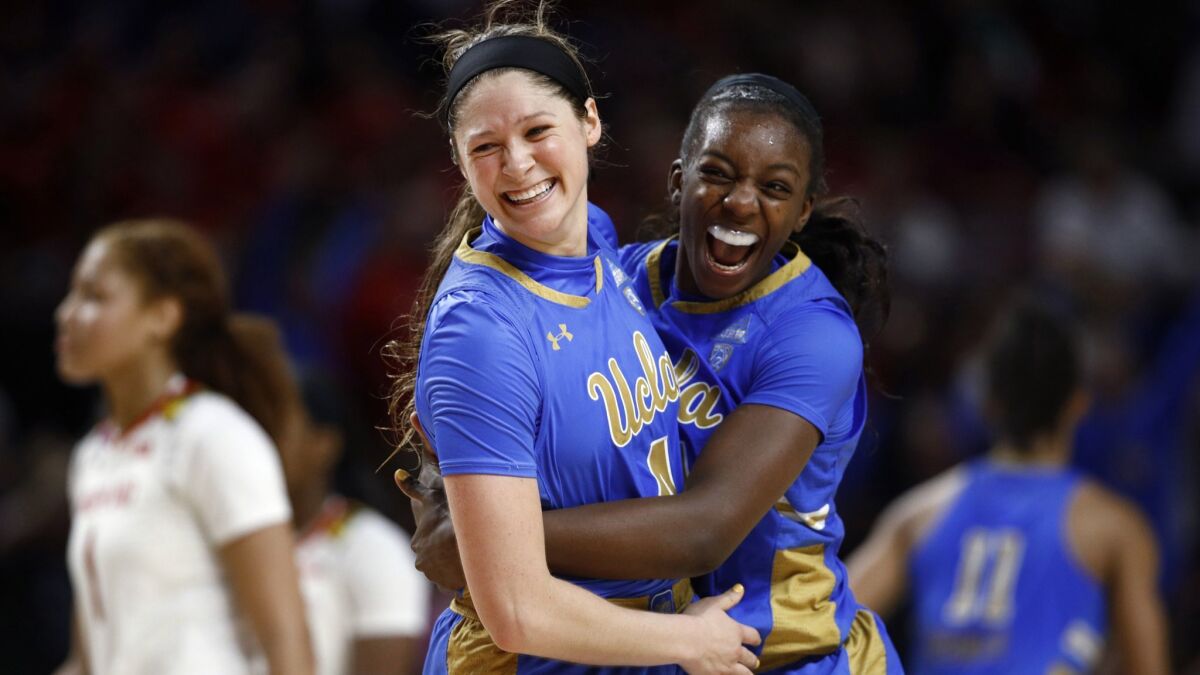 The UCLA women's basketball team lost to Oregon by 20 points in January, leaving the Bruins with a three-game losing streak. They were 2-3 in the Pac-12 and 9-8 overall.
Still, as coach Cori Close sat in front of reporters that day, she spoke optimistically of her team.
"I think we've proven to a lot of people that we're a top-half team in this conference," Close said. "And a top-half team in this conference gives you an opportunity to make a deep run in the NCAA tournament — bottom line."
Time has proved Close correct. Sixth-seeded UCLA defeated No. 3 Maryland 85-80 in the second round of the NCAA tournament on Monday to reach the Sweet 16 for the fourth straight year. The Bruins are one of five Pac-12 teams in the Sweet 16.
A day after beating Maryland, UCLA arrived in Albany, N.Y., where the team will spend the week preparing to face No. 2 Connecticut on Friday in a regional semifinal.
"I wonder where are all those people that thought UCLA wasn't gonna be as good this year went," Jordin Canada, a former UCLA point guard, wrote Monday in a tweet.
The Bruins lost their top two scorers from last season when Canada and Monique Billings graduated and joined the WNBA. This season started with an identity crisis, Close said, as the Bruins learned how to play to each other's strengths.
"Our word for the year is expectant," Close said Monday. "But sometimes I needed to look in their eyes to be expectant."
Sign up for our daily sports newsletter »
As the season stretched on, the Bruins grew more comfortable, and upsets against ranked teams like Oregon and Arizona State followed. Connecticut poses an even greater challenge. The Huskies (33-2) are making their 26th consecutive Sweet 16 appearance. But the Bruins (22-12) have overcome tough teams before.
"We had to look each other in the eye and say 'We've got this. We've been in situations like this,' " senior Kennedy Burke said of their comeback win Monday over the host Terrapins. "And it showed."
WOMEN'S SWEET 16
All times Pacific
FRIDAY'S GAMES
ALBANY REGIONAL
at Albany, N.Y.
2 Connecticut (33-2) vs. 6 UCLA (22-12), ESPN, 4 p.m.
1 Louisville (31-3) vs. 4 Oregon State (26-7), ESPN, 6 p.m.
PORTLAND REGIONAL
at Portland, Ore.
1 Mississippi State (32-2) vs. 5 Arizona State (22-10), ESPN2, 6 p.m.
2 Oregon (31-4) vs. 6 South Dakota State (28-6), ESPN2, 8 p.m.
SATURDAY'S GAMES
GREENSBORO REGIONAL
at Greensboro, N.C.
2 Iowa (28-6) vs. 3 North Carolina State (28-5), ESPN, 8:30 a.m.
1 Baylor (33-1) vs. 4 South Carolina (23-9), ESPN, 10:30 a.m.
CHICAGO REGIONAL
at Chicago
1 Notre Dame (32-3) vs. 4 Texas A&M (26-7), ESPN2, 1 p.m.
2 Stanford (30-4) vs. 11 Missouri State (25-9), ESPN2, 3 p.m.
---
Get the latest on L.A.'s teams in the daily Sports Report newsletter.
You may occasionally receive promotional content from the Los Angeles Times.