UCLA squanders 22-point lead, loses at the buzzer to Utah 93-92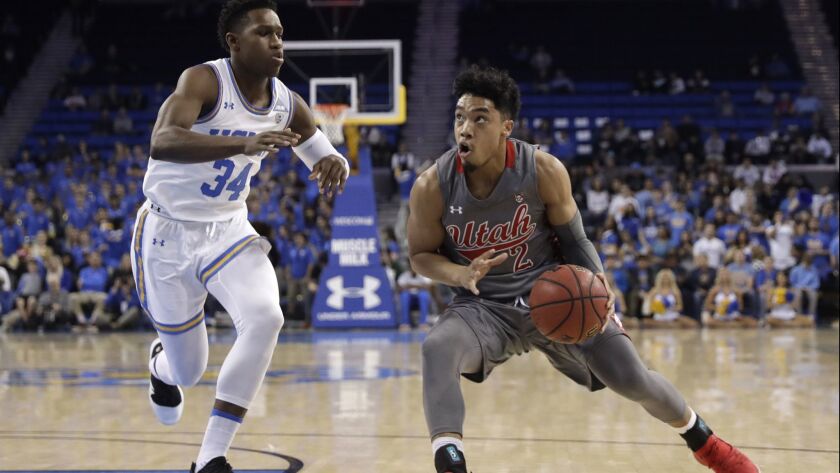 Murry Bartow stood expressionless with his arms folded across his chest, as if frozen in some sort of inescapable abyss. There was nothing else the UCLA interim coach could do after this cruelest of seasons delivered its most heartless blow.
His Bruins had played their best half of the season. They had built a 22-point lead over Utah with a little more than 12 minutes to play in the game. They had showed savvy on offense and sustained energetic bursts on defense for most of Saturday afternoon.
It was all wiped away with the flick of a wrist.
Parker Van Dyke's NBA-range three-pointer as the buzzer sounded capped a wild comeback at Pauley Pavilion, lifting the Utes to a 93-92 victory over the stunned and devastated Bruins.
As Utah players sprinted to mob Van Dyke in front of the UCLA bench, celebrating a rally from 13 points down in the final three minutes and six points down in the final 35 seconds, the Bruins milled about in disbelief. UCLA guard David Singleton placed his hands on his knees near midcourt, doubling over in anguish.
"We're obviously about as down as you can be right this second," Bartow said after an implosion involving turnovers, missed free throws and some questionable strategy resulted in the Bruins' third consecutive defeat.
"If you analyze that last four minutes, it almost can't happen."
Oh, but it did, leaving the Bruins with their most crushing defeat in a season full of them. This was somehow worse than home losses to Liberty and Belmont or a 29-point smackdown on the road against Cincinnati.
Only minutes earlier, UCLA (12-12, 5-6 Pac-12 Conference) had appeared safely on the way to one of its most satisfying victories of the season, even after some considerable regression from a pristine first half.
Bartow benched Moses Brown after the freshman center showed up late to the morning shootaround and the Bruins hardly seemed to miss their 7-footer while building a 17-point halftime lead.
Their ball movement was crisp, their defense was active and their shot-making was uncanny. UCLA made 21 of 30 shots (70%) in the first half even without Brown, who entered the game shooting a team-high 65.2%.
The Bruins withstood an early second-half surge by the Utes (13-10, 7-4), going ahead by 22 points with 12:10 left after freshman guard Jules Bernard bulled ahead for a layup without looking at wide-open teammate Jaylen Hands on the wing. Then it was as if the basketball gods decided to punish the Bruins for the selfish display.
UCLA looked like it was going to hold on after sophomore forward Kris Wilkes (17 points) made two free throws with 2:51 left to give his team a 13-point lead. The Bruins opened the door by missing five of their next six free throws but were ahead by six points with 35 seconds left after Hands made two in a row.
Utah scored the next four points, benefiting from a Wilkes inbounds pass that was intercepted, but UCLA's Prince Ali broke the press and found Cody Riley for a dunk that extended the Bruins' advantage to 89-85 with 16 seconds left.
Utah's Both Gach responded with a 30-footer that made it 89-88 with eight seconds left before the game took a curious turn: One of the worst free-throw shooting teams in the country turned the game into a battle of free throws.
After Singleton made two free throws with eight seconds left to give the Bruins a 91-88 lead, Bartow instructed his players to foul the Utes so they couldn't attempt a tying three-pointer. But Hands did so almost immediately, reaching in to grab Utah's Sedrick Barefield with 6.9 seconds left.
"I did it a little too early," said Hands, whose career-high 27 points became a footnote. "So that's on me."
Barefield made both free throws and the Utes fouled Singleton only a second later, sending him back to the line. That seemingly enhanced Utah's chances considering the Bruins have made 62.1% of their free throws, ranking No. 343 in the nation, and had just come off a bad stretch a few minutes earlier.
Singleton missed the first free throw but made the second, putting the Bruins ahead 92-90 with 5.9 seconds left. Bartow inserted Brown for the first time to get a big body into the game, hoping his length could make a difference defensively.
Barefield took the inbounds pass and raced to within a few feet of the three-point line. He whirled and flipped the ball to a trailing Van Dyke, who rose and got a shot off over the outstretched arms of Singleton and UCLA teammate Chris Smith.
It was a swish that left the Bruins feeling sunk.
"It was 10, then eight," Bartow said of his team's dwindling lead. "Before you could blink, they make a great, great shot to end the game."
Sign up for our daily sports newsletter »
UCLA next
Wednesday at California, 7 p.m., Haas Pavilion, Pac-12 Networks — The Golden Bears have lost 12 straight and are the only Pac-12 team without a victory in conference play. They lost 98-83 to the Bruins last month at Pauley Pavilion.
Follow Ben Bolch on Twitter @latbbolch
---
Get the latest on L.A.'s teams in the daily Sports Report newsletter.
You may occasionally receive promotional content from the Los Angeles Times.