UCLA is on wrong end of a thriller against Washington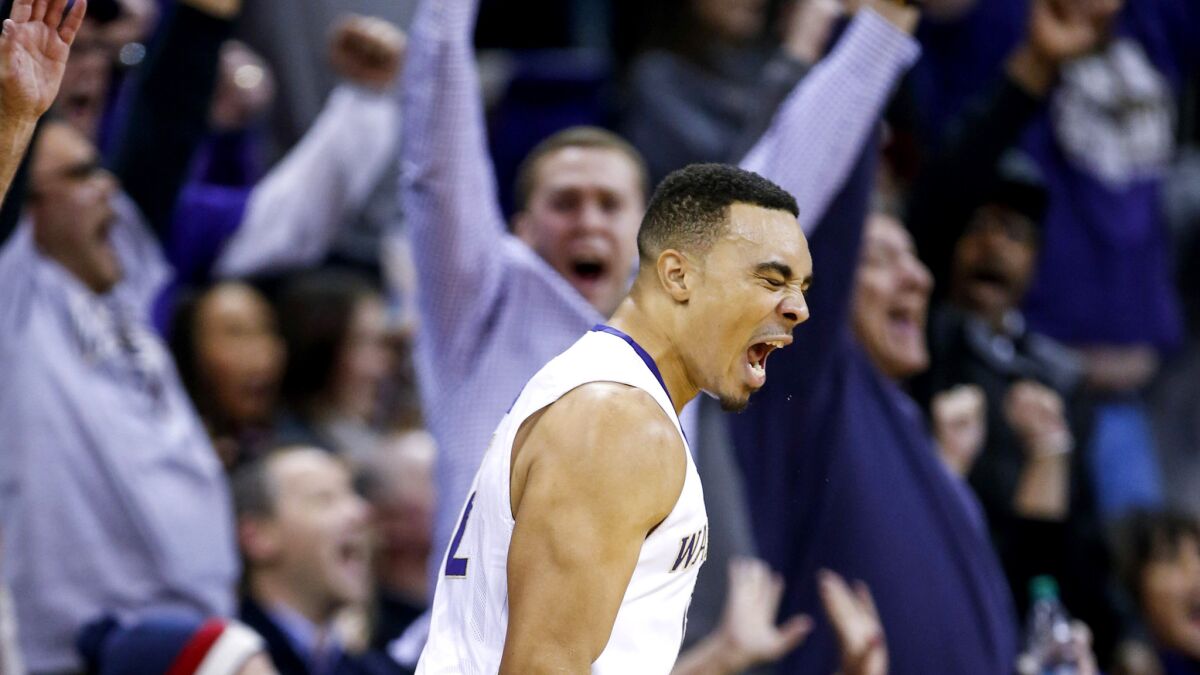 Reporting from Seattle —
UCLA Coach Steve Alford's voice, hoarse from two overtimes, 25 UCLA turnovers and 90 total free throws, carried out of the Bruins' locker room.
"You've got to figure it out!" Alford said.
For 10 days, UCLA had focused on sweeping its first Pac-12 Conference series, but the Bruins dropped the opener to Washington on Friday, 96-93. UCLA wasted three late three-pointers by Bryce Alford that sent the game into two overtimes.
"I know how hard they've worked," Steve Alford said. "Pressure's on us now."
With 22 seconds left in regulation, Bryce Alford had made one field goal on 13 attempts. UCLA (9-5, 0-1) hadn't made a three-pointer all game.
But, after Washington's Andrew Andrews made a three-pointer on the previous possession to put the Huskies up one, Alford took over.
He stepped back and drained a three-pointer. Washington led by one. After a pair of Andrews free throws, Alford jabbed to his right and hoisted a deep, contested three-pointer. It went in with seven seconds left, and the game went into overtime.
In the second overtime, after another pair of Andrews free throws put Washington up by three, the Huskies left Alford open from the same spot. He made it again.
The game went into a second overtime.
"That was one of my worst nights in my career going into the last minute of the game," Bryce Alford said.
Alford scored 30 points on five-of-21 shooting. Isaac Hamilton scored 15 points with six rebounds and five assists, and Thomas Welsh had 19 points and 15 rebounds.
Andrews had 35 points and six rebounds.
It had taken two overtime periods, but the game finally found a flow.
The teams combined for 64 fouls — 31 on UCLA. They shot 90 free throws, 50 by UCLA.
"I've never seen that many called, throughout high school, throughout college," Bryce Alford said.
It turned into a slog, as if the teams were playing on ice.
Players from both teams dribbled off their own feet. Players from both teams fell down with no contact. In the middle of the first half, neither team made a field goal for almost five minutes.
That half lasted an hour, mainly because there were 29 fouls called. At one point, Washington attempted 12 free throws in between made field goals. UCLA had a five-point lead at the break.
Steve Alford was forced to empty his bench in the first half. For the last two minutes of the half, UCLA's lineup included Alex Olesinski (average minutes played: 11) Noah Allen (seven) and Ikenna Okwarabizie (two).
Less than two minutes into the second half, Welsh picked up his fourth foul. Thirty-four seconds after that, Jonah Bolden earned his fourth. Aaron Holiday followed shortly with his fourth.
Five players fouled out. Six finished with four fouls. The first player to foul out, Washington's Marquese Chriss, did so with 9:58 left.
The game lasted nearly three hours, decided, at last, on a three-pointer by David Crisp that gave Washington a four-point lead with 40 seconds left. Then, leading by three, the Huskies didn't let Alford beat them. They fouled him before he could hoist another three-pointer.
---
Get the latest on L.A.'s teams in the daily Sports Report newsletter.
You may occasionally receive promotional content from the Los Angeles Times.