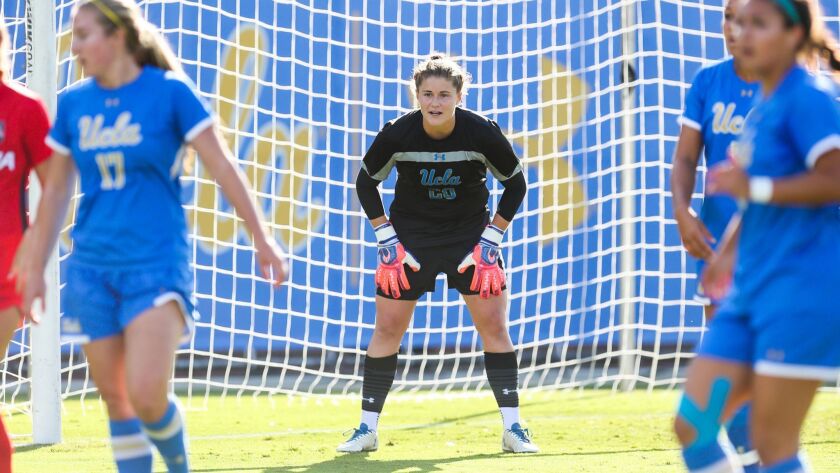 It was the ultimate set piece, and it was executed perfectly.
UCLA women's soccer coach Amanda Cromwell was delighted to be told Bruins goalkeeper Teagan Micah had been selected to play for Australia in the Women's World Cup, but Cromwell had misgivings when Australian federation officials said they'd hold off on delivering the good news to Micah.
"Because she's in school and we're on the quarter system, she needed to work things out with professors and she had to move out of her apartment for the summer. So I asked if they could tell her earlier, and they were very accommodating," Cromwell said. "I even said, 'Would you mind if I bring her into my office? We're having individual meetings. Would you mind if you called in so we can video it?'"
Micah dutifully went to see Cromwell for what she expected would be a routine chat. Instead, with a gleeful Cromwell watching, Micah was informed by phone that she had made the Matildas' roster. "I knew she would be so over the top with emotion and just very excited because of what it meant to her and how hard she's worked," Cromwell said.
Out of sight of Australian coaches, Micah feared she'd be forgotten at selection time. Her reaction to hearing she'd won a spot as a reserve on the team that will play in France was a touching mixture of disbelief and joy.
"I didn't ever expect to make the World Cup. It has been a dream of mine since I was little," said Micah, who grew up in Redcliffe in the Australian state of Queensland. "I had just completed my very first camp with the national team, so I knew other girls that were also contending for the spot had more national team experience than me. I knew that I just had to get in there and do my best, and try and be the best teammate possible.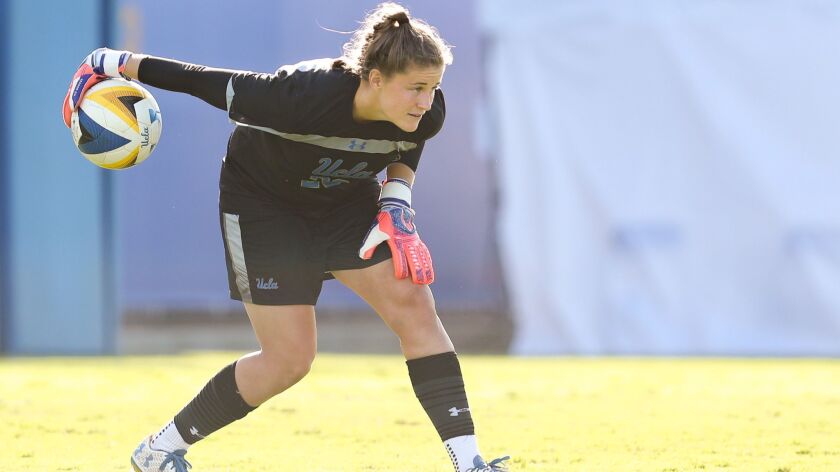 "Receiving that phone call was surreal. I was completely surprised and it was definitely the best moment of my life. It was also such a relief knowing that all the sacrifices that I have made have been worth it."
Micah, a three-year starter for the Bruins, ranks fourth on UCLA's career lists in wins (46), saves (199) and shutouts (26). As a junior in 2018, she compiled a 12-1-2 record with eight shutouts and a 0.74 goals-against average. She led the nation in minutes played by a goalkeeper as a sophomore in 2017, a year after she had played every minute of every game as a freshman and was named to the Top Drawer Soccer Freshmen Best XI team.
She's also one of an impressive number of players with UCLA connections who will compete in France beginning next week. The U.S. team, coached by former UCLA coach Jill Ellis, includes former Bruins midfielder Samantha Mewis and goalkeeper Abby Dahlkemper. Forward Mallory Pugh played three spring games with the Bruins in 2017, but turned pro and gave up her college eligibility.
One of Micah's current Bruin teammates, gifted midfielder Jessie Fleming, will play for Canada. Fleming, who has scored 22 goals in 53 games with the Bruins, won a bronze medal with Canada at the 2016 Olympics and will be making her second World Cup appearance.
Former Bruin Rosie White will make her third World Cup appearance for New Zealand after recently earning her 100th career cap, in a pre-World Cup match against the United States. And goalkeeper Aline Reis, who played for Cromwell at the University of Central Florida and followed her to Westwood to be a goalkeeper coach, will represent Brazil. Reis was the goalkeeper coach for UCLA's 2013 NCAA champion team and later coached Micah.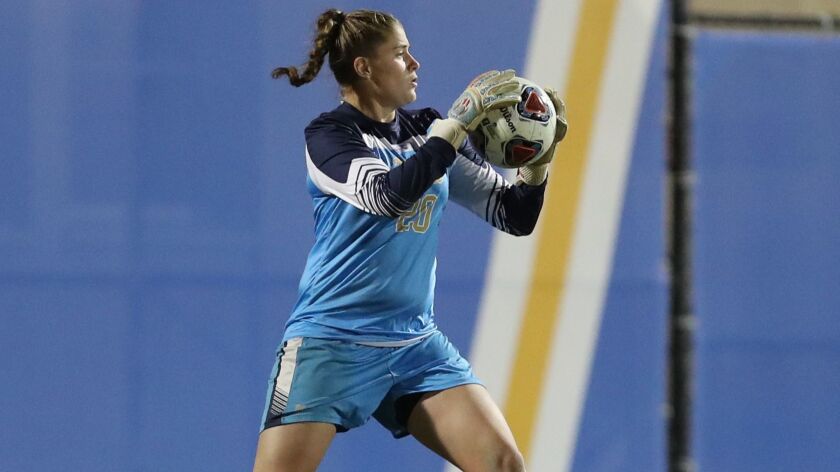 "Looking at these players and these teams, you just think how special it is," Cromwell said. "To know that I've had a little bit of influence on any of these players is very humbling and very rewarding."
Micah didn't plan to play in the U.S. until she was recruited by former UCLA associate coach Joshua Walters, now head women's coach at James Madison University. Being able to mix soccer and academics led her to take the plunge. Occasional bouts of homesickness aside, Micah is happy.
"Moving to UCLA to play here has been one of the best decisions of my life. The standard is at such a high quality, and you can see that by how many players are representing UCLA at the World Cup," she said. "It has allowed me to further my knowledge of the game and also adapt to the different playing styles around the world."
She's looking forward to seeing other UCLA players in France. "I like to see a Bruin doing well," she said. "The college system is phenomenal, the facilities, coaching and academics that it provides is second to none and this was a big reason why I decided to take this route instead of staying in Australia."
Her path has taken her to a tournament whose skill level should be quite high. "I feel like this is going to be the best World Cup to date. Every team has improved significantly and there are multiple contenders for the Cup," Micah said. "I think it will be a great tournament to showcase to the world how much the women's game has improved."
Cromwell, a member of the 1995 U.S women's World Cup team, can attest to the growth of the game worldwide. "There's many teams this year that think they have a shot to make a run at it, and that's not always the case," she said.
The only problem for her will be who to root for when Reis' Brazilian squad and Micah's Matildas — who are both in Group C — face each other. "Those are the ones that will be tough, when it's not the U.S.A. and I have players on both teams," Cromwell said. "I will always root for those players to play well, and at U.S. games, for the U.S. to have a great outcome."
Twitter: @helenenothelen
---