Jordan Chiles shares her perfect 10 with someone special in UCLA win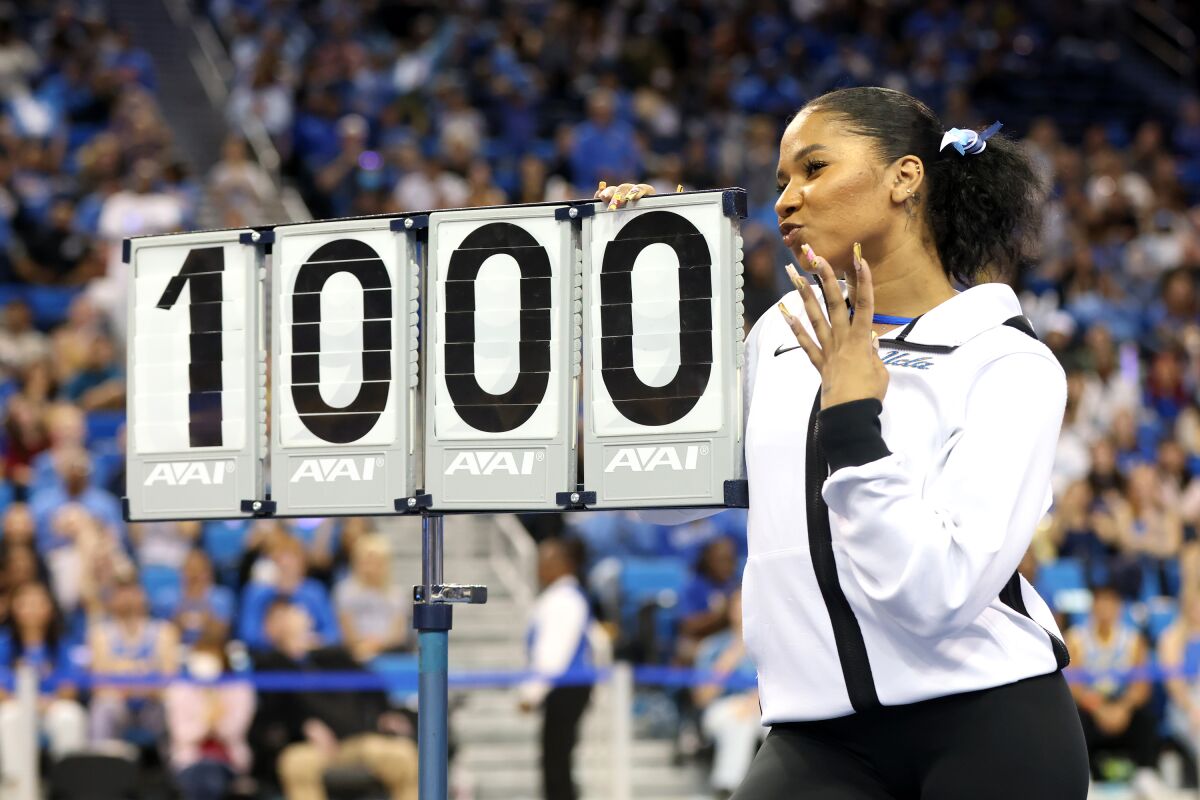 She was out of breath. She probably wasn't supposed to do it. But Jordan Chiles wasn't going to be denied.
After scoring her first perfect 10 this season, the UCLA sophomore ducked under the security rope, sprinted up the stairs and celebrated with the woman she calls her hero: her mother.
"Having her in the audience and being able to get a 10 all in the same moment was just really emotional for me," Chiles said, "because it's something I've always dreamed of."
Chiles' 10 led the Bruins to a season-high 49.675 score on floor as UCLA notched its second-highest total score of the season in a 197.8-196.9 win over Arizona State on Saturday at Pauley Pavilion. UCLA, which entered Saturday's meet with the second-best floor average in the country, improved its national-best floor high score with five scores of 9.9 or better.
Mired in its longest nationals drought in program history, the No. 10 Bruins showcased their NCAA title potential with a strong performance in the Super 16.
Freshman Emily Lee led off with a career-high 9.9, which was matched by sophomore Emma Malabuyo. Senior Margzetta Frazier tied her personal best with a 9.95, and junior Chae Campbell, returning to competition after missing last week's meet because of a family emergency, anchored the rotation with a 9.925.
But the highlight was Chiles, who produced UCLA's first 10 of the year to break through her recent trend of nearly perfect scores on bars and floor.
One judge gave her a 10 on bars on Saturday, but she settled for a dreaded 9.975. Halfway through the meet, Chiles admitted she was "really over these judges" after being denied the satisfaction of a perfect score on a routine she believed was deserving. She reminded herself to not pay attention to the scores.
After nailing her floor routine, Chiles tried to catch her breath as teammates flashed 10 fingers in the air and chanted for a perfect score. When it appeared on the scoreboard, Chiles jumped in the air, ran to the middle of the floor and squatted low to the ground with her head bowed for several seconds before running into the crowd.
When Gina Chiles heard the roar from the crowd, she did all the things she told herself she wouldn't do but just couldn't help. She yelled. She pumped her fist in the air. She jumped up and down. Then she broke into tears when she saw her youngest daughter sprinting up the stairs.
"She just wanted it so bad," Gina said on the phone after the meet. "It was a beautiful moment for me to be able to witness, and to be able to share that moment with me, it was beautiful."
The Chiles family wasn't just waiting for the perfect score.
Although Chiles had gotten perfect scores in college before, this was the first one her mother watched live after she was unable to attend meets last year. After Gina had been there for every step of Chiles' gymnastics career, not having her in the stands for her first college meets was "a struggle," Chiles said.
"Every single day that I walked into the gym or I went onto the competition floor, even just on the bus, I know my mom was with me," said Chiles, who called Gina her best friend and hero.
Chiles scored four 10s last year in a breakout freshman season that came on the heels of a silver medal in the 2021 Tokyo Olympics. Determined to continue her elite career alongside college competition, Chiles was selected to her first World Championships team this summer and helped the United States to the gold medal. Individually, she won silver medals on floor and vault.
Through grit and determination, Jordan Chiles excelled at the world championships. The Olympic gymnast heads back to UCLA with renewed confidence.
Already one of the best gymnasts in the world, Chiles is dominating college gymnastics by combining high difficulty with exquisite execution that resulted in a career-high all-around score of 39.825 on Saturday. It's tied for the highest all-around score in the country, matching fellow Olympians Suni Lee and Jade Carey and Florida star Trinity Thomas.
"Day in and day out, she's training a high skill level, but she really cares about the execution of her gymnastics," coach Janelle McDonald said. "She wants to be known for having a really high skill level but also being able to perform it beautifully with such great energy and artistry, I feel like that's some of the detail work that she puts into every day practice."
UCLA's commitment to details resulted in season-best team scores on bars and floor, which helped overcome a 49.125 on vault, which tied the team's lowest score on that event this season. Chiles won the individual bars title to lead UCLA's four scores of 9.9 or higher on the event that resulted in a 49.575. It was UCLA's best bars score since April 6, 2019.
Gina thought her daughter's bars score would be the long-awaited perfect routine. The wait extended two more rotations, but it was well worth it.
Get the latest on L.A.'s teams in the daily Sports Report newsletter.
You may occasionally receive promotional content from the Los Angeles Times.