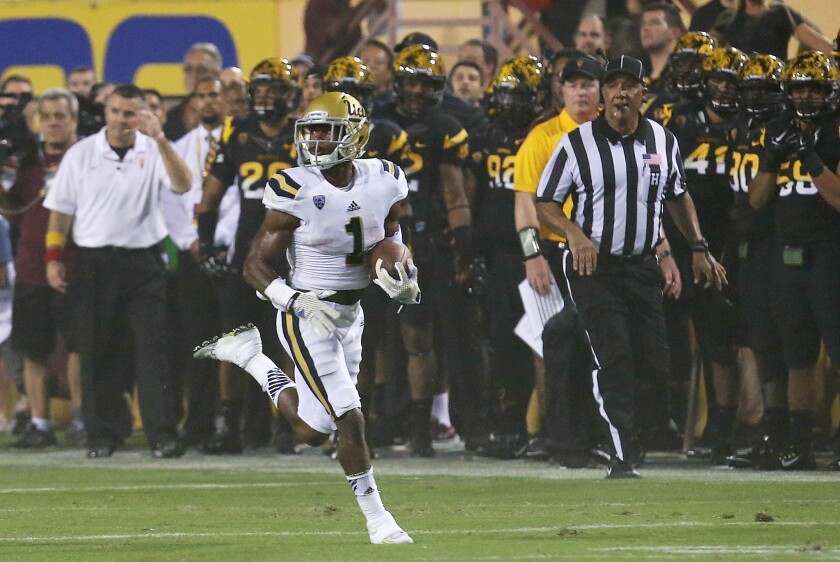 When Ishmael Adams talked to the media on Monday, he was a little coy about why UCLA didn't have him return kickoffs earlier in his career.
Adams returned a kickoff for a touchdown last week against Arizona State, and is averaging more than 28 yards per kickoff return — good for 14th in the nation.
But Adams' return ability has been a bit of a recent revelation, as he didn't start returning kicks until late last season. Adams said on Monday that he almost fell into the role by happenstance, mostly because he didn't return many kicks in high school.
On Wednesday, defensive backs coach Demetrice Martin took the blame for not getting Adams back to return kicks earlier. Last season, the Bruins were worried about putting too much on his plate, considering the lack of depth in the secondary.
"I'm always worried about that, because I have to admit, I'll be the culprit that last year kind of held him back from returning kicks because we didn't have a lot of depth back there," Martin said. "I was kind of like, 'Uh, hold on!' I was kind of that mainstay. This year, he worked himself in shape to the point where I had the confidence to know he could take that extra pounding and that type of thing and still show up on the defensive side of the ball.
"The added job, I thought he would be able to handle it."
Martin also talked about recruiting Adams as a running back when the coach was at Washington, skills that still help Adams as a defensive back and kick returner.
"He still has those natural skills, natural vision, good moves and stuff like that, so when he gets the ball in his hands, he turns into a natural running back," Martin said. "Which we all love."
For more Bruin observations, follow Everett Cook on Twitter @everettcook
---