Live updates: UCLA beats Arizona State, 62-27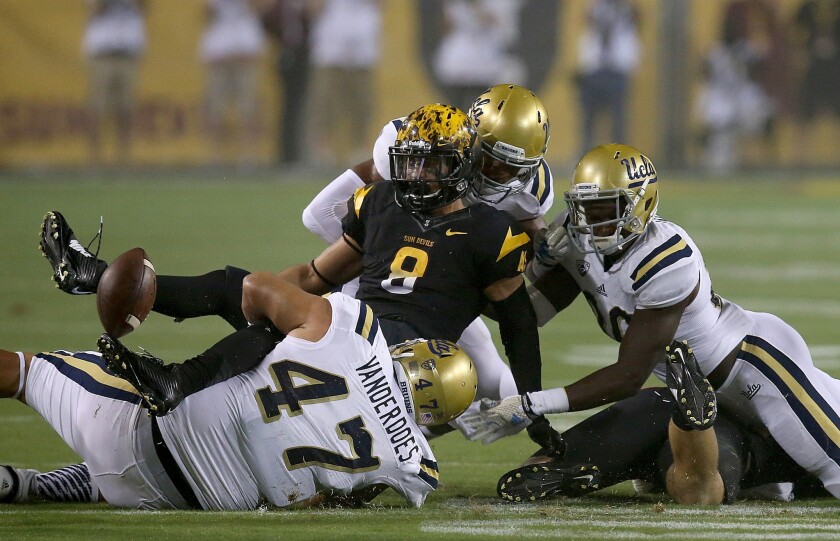 UCLA quarterback Brett Hundley passed for 355 yards and four touchdowns while running for another score to lead the big-play Bruins to a 62-27 victory over Arizona State tonight in Tempe, Ariz.
Bruins defensive back Ishmael Adams returned an interception 95 yards just before halftime and then returned a kickoff 100 yards early in the third quarter to help put away the No. 15 Sun Devils.
By the time No. 11 UCLA (4-0 overall, 1-0 in Pac-12 play) finished dismantling Arizona State (3-1, 1-1) in the 90-degree heat, there seemed little doubt which was the better team.
The Bruins rolled up 580 yards of offense. Hundley, who shook off the affects of an injured left elbow, completed 18 of 23 passes and rushed for 72 yards in the game. Receiver Jordan Payton had five catches for 151 yards.
The Sun Devils were able to move the ball, though, gaining 626 yards. Mike Bercovici, who subbed for injured quarterback Taylor Kelly, completed 42 of 68 passes for 488 yards and three touchdowns. He also had two passes intercepted. The Sun Devils had not had a pass picked off all season.
UCLA 62, Arizona State 27 (4:29 left in fourth quarter)
Brett Hundley is still in at quarterback for UCLA -- why? -- but all he had to do was turn on the first play and handoff to Paul Perkins, who took the ball from inside the UCLA five-yard line all the way to the Arizona State 15.
Six plays later, including a roughing the passer penalty on Arizona State -- why was Hundley in? -- Hundley scored on a one-yard sneak.
That touchdown probably won't win him the Heisman, and he risked injury by remaining in the game.
UCLA fans should restart that Jer-ry, Jer-ry chant.
---
UCLA went into a pseudo-prevent defense for this drive, putting a safety or two back deep and allowing short passes underneath. That will pump up the offensive stats for ASU a bit, but at this point, it doesn't really matter.
A roughing the passer penalty from Matt Dickerson put the Sun Devils inside the 10 yard line, but they couldn't convert a fourth down.
---
Brett Hundleys' stat line deserves its own post. He's completed 18 of his 23 passes for 355 yards and four touchdowns. This is one of the best games of his career and should get him some more talk for the Heisman. Somehow, he's doing it quietly, as the biggest Bruin plays of the night have come from Ishmael Adams.
Jordan Payton is also having a heck of a game, catching five catches for 151 yards and two touchdowns.
---
UCLA 55, Arizona State 27 (10:32 left in the fourth quarter)
Well, that's another big play from UCLA. Jordan Payton caught a short pass and turned it into a 52-yard gain, breaking a couple tackles in the proccess. Payton finished off the drive with a nice catch in the corner of the end zone, and this game is over.
On a side note, Arizona State is one of the worst tackling teams I've ever seen. They go for the big hits with no intention of wrapping up, which has obviously helped some of these big plays get going for the Bruins.
---
ASU quarterback Mike Bercovici almost took a safety, and then was almost intercepted, but managed to get the ball out to the 10 yard line. From there, the Sun Devils got another big fourth down conversion, their second of the half.
But when the situation came up again deep in UCLA's side of the field, ASU failed to convert a fourth-and-four. A big stop for UCLA, as the Bruins get the ball back with 13 minutes left in the game.
---
UCLA got a big chunk of yards after ASU was called for a late hit out of bounds, but the Bruins barely got past midfield before punting. There are two minutes left in the third quarter, and if ASU doesn't score on this drive, we might have seen the last of Hundley tonight.
---
UCLA 48, Arizona State 27 (4:10 left in the third quarter)
A much needed score from Arizona State, but it might be too little too late. The Sun Devils put together a nice drive there, needing four minutes to go 75 yards on 11 plays. Mike Bercovici capped it with his third touchdown pass of the night. If it wasn't for the two interceptions, he'd have a very good stat line going right now.
---
As the Sun Devils get the ball back, I'm thinking Brett Hundley isn't going to finish this game. It doesn't make any sense to keep him out there, not up 28 points and not with the elbow injury. There's an argument to be made for his Heisman stats, but there's also an argument to me made for keeping your best player healthy for conference play. I think the latter is going to win out here. Might be seeing some of young Mr. Neuheisel in the fourth quarter.
---
UCLA 48, Arizona State 20 (9:33 left in the third quarter)
And, this one is just about over. Mike Bercovici fumbles the ball deep in his own zone, Kenny Clark recovers, and then Brett Hundley scrambles for a gain of 22 yards. Freshman running back Nate Starks walked the ball in for the first touchown of his career, and UCLA has blown this thing open. ASU has three turnovers on the night, and it doesn't look like the Sun Devils have much fight left in them.
---
UCLA has four plays tonight that have totaled more than 80 yards. Four. That would be tough to get in a video game, much less the team that was supposed to give the Bruins so much trouble in the Pac-12 South.
---
UCLA 41, Arizona State 20 (9:33 left in the third quarter)
Have a day, Ishmael Adams. Have a day. After returning an interception for a touchdown to end the first half, he took a kickoff from his own end zone and returned it 100 yards for his second touchdown of the game. He was helped out by miserable tackling from ASU, but also wasn't touched on the return. Unbelievable. He's single-handidly blown this game open.
---
UCLA 34, Arizona State 20 (9:33 left in the third quarter)
Arizona State needed a touchdown, but a field goal will help the cause.
On fourth-and-seven, needing a first down in the worst way, Deantre Lewis made a big play in the flat. After catching the short pass, he turned left instead of right, which was enough to free him for a 10-yard gain. The next play, Kalen Ballage picked up a first down on an end around to get the Sun Devils into the red zone. Quarterback Mike Bercovici almost threw another intercpetion in the end zone, though, and the ASU drive stalled on the seven yard line. Zane Gonzalez chipped in the 24-yard field goal, and the Sun Devils are within two touchdowns.
---
Brett Hundley's stat line right now: 16 for 21 for 299 yards and three touchdowns. That is, um, good.
Also, the Bruins have three plays of more than 80 yards on the night. That'll win you some ball games.
---
UCLA 34, Arizona State 17 (14:41 left in the third quarter)
Well, that was quick. On the first play of the second half, Jordan Payton ran a simple fly route down the sideline after being held at the line of scrimmage, and Brett Hundley delivered it perfectly. Payton raced into the end zone for an 80-yard touchdown, and just like that, the Bruins are up by 17.
---
Some halftime stats:
Arizona State quarterback Mike Bercovici has thrown for 215 yards and two touchdowns, but has also thrown two interceptions, including the pick-six to Ishmael Adams to end the half. Running back D.J. Foster, statistically one of the best rushers in the nation, has ran for just 15 yards on six carries. As a whole, the Sun Devils have rushed for 78 yards.
For the Bruins, Brett Hundley is having a really nice game. He's completed 15 of his 20 passes for 219 yards and two touchdowns, and has 31 yards on the ground. Running back Paul Perkins continues to run the ball well, totaling 52 yards and averaging 5.8 yards per carry. Lastly, wide receiver Thomas Duarte has four catches for 95 yards.
It would be a bigger deal if not for the defensive touchdown, but the Bruins have seven penalties for 70 yards. Regardless of the opponent, those numbers need to go down.
---
UCLA 27, Arizona State 17 (Halftime)
Arizona State quarterback Mike Bercovici had three pretty bad throws in a row, but on third down, he was bailed out on yet another penalty by UCLA. This time, it was defensive back Ishmael Adams, who was called for holding.
The Sun Devils were called for holding on the next play, which seemed to take away whatever chance they had of scoring before halftime.
On second down, though, Deantre Lewis turned a drive route down the middle into a 16-yard gain, which got the ASU offense into field-goal position.
The Sun Devils had a chance to get into the end zone, but then Adams made up for his penalty by intercepting a horribly thrown ball from Bercovici and returning it 95 yards for a touchdown. He wasn't touched on the return, and there was no Sun Devil defender within 10 yards of him for most of the return.
Can't stress enough how big of a swing that was. Instead of going into the half tied, UCLA now has a 10-point lead, and will get the ball back to start the second half. Those are the type of plays that win teams championships.
---
UCLA 20, ASU 17 (2:13 left in the second quarter)
UCLA took over at its own 10-yard line, but Paul Perkins put on a filthy juke and picked up 17 yards to give the offense a little breathing room. The Bruins chipped away, then Thomas Duarte caught another ball down the middle of the field, this time for a 30-yard gain. He's been able to split the middle of the ASU defense with ease, and has caught four passes for 95 yards in the first half.
On third-and-two, Brett Hundley scrambled down the near sideline, picking up 21 yards and getting the Bruins to the ASU four-yard line. The next play, Hundley found fullback Nate Iese in the back of the end zone to give UCLA its first lead of the night.
The ASU defense seemed to be focused on Myles Jack in the backfield, which left Iese in good position in the end zone. Of the fullback's six catches this season, two are for touchdowns.
A defensive struggle, this is not.
---
Also of note: The Bruins have been called for six penalties, totaling 60 yards. That is not good, especially considering ASU has just one for five yards.
---
On a first-down screen, ASU running back D.J. Foster got the ball in the open field and gained 20 yards. He might have found the end zone if it wasn't for UCLA defensive back Jaleel Wadood, who made a great tackle in open space.
The drive stalled after the big play, and the Sun Devils were forced to punt for the first time this game with a little over five minutes remaining before halftime.
---
Ah, the difference between Mike Bercovici and Brett Hundley. Bercovici slides to avoid contact, Hundley leaps over a defender and gets pounded by a defender after landing. He got a solid gain, but needed a nice run from Myles Jack to pick up a first down.
UCLA had two chances to pick up serious yardage, and failed twice. The first time was in the flat, but running back Paul Perkins caught the ball with his knee on the ground. In college, that's an incompletion. The second, Eldridge Massington was wide open down the field, but Hundley overthrew him. After the two miscues, UCLA can't capitalize on the interception and punts.
---
Smart play from ASU quarterback Mike Bercovici. He faked a handoff and then scrambled off the shoulder of his right tackle for a first down. Instead of taking the hit and getting another couple yards, he slid early. Smart play from a backup quarterback that knows there isn't another solid option to throw the ball behind him.
The UCLA defense forced its second turnover the day, though, when Anthony Jefferson made a great play to intercept the ball on a well-thrown ball down the far sideline. ASU was putting together another nice drive, but now the Bruins have a chance to get their first lead of the game.
---
ASU 17, UCLA 13 (13:00 left in the second quarter)
Huge, huge play from freshman wide receiver Eldridge Massington. Brett Hundley threw him the ball for a short gain on third down, but Massington broke three tackles and raced all the way down the field for an 80-yard touchdown. Two ASU defenders tackled each other instead of Massington.
Just like that, the Bruins are back in the game.
---
ASU 17, UCLA 6 (14:24 left in the second quarter)
A beautiful pass from ASU quarterback Mike Bercovici, but an even better catch from Cameron Smith to give the Sun Devils another touchdown. The pass went right where it needed to go, between UCLA cornerbacks Fabian Moreau and Jaleel Wadood, and the Sun Devils are ahead by 11 points.
ASU needed just two and half minutes to go 75 yards in eight plays. Bercovici, the backup quarterback, has already thrown for 128 yards and two touchdowns.
---
Some first quarter stats of note: Brett Hundley has looked good, completing seven of 10 passes for 86 yards. Arizona State has rushed for 50 yards. UCLA has rushed for seven. ASU star running back D.J. Foster has 15 yards rushing and is averaging just 3.5 yards per carry.
---
On the second play of this drive, UCLA defensive back Ishmael Adams missed a pick-six by just a couple of inches. He jumped the route, but was just short of intercepting the pass.
The close play opened up the drive for the Sun Devils. At the end of the first quarter, ASU has the ball at UCLA's 31-yard line, looking to extend its 10-6 lead.
---
ASU 10, UCLA 6 (1:54 left in the first quarter)
It didn't take long for the Bruins to rip off a big chunk of yards in response. Ishmael Adams returned the kickoff for 44 yards, then Thomas Duarte caught a pass down the middle of the field and broke three tackles for a 31-yard gain. Duarte came close to another big first-down reception, but was stopped short of the marker by a yard or two.
Ka'imi Fairbairn got some more points on the board with a 24-yard field goal, but the Bruins are still without a touchdown.
---
ASU 10, UCLA 3 (3:43 left in the first quarter)
ASU quarterback Mike Bercovici, the usual backup, was having very real issues throwing the ball in the first quarter. The arm strength seems to be there, but there wasn't a a lick of accuracy out there.
And, as soon as I finish typing that, Bercovici finds a wide-open Cam Smith in the flat for a first down. The next play, he fires a perfect pass into tight coverage for a 25-yard gain.
On second-and-goal, the quarterback executed a perfect throwback pass in the corner of the end zone to score the first touchdown of the game. The pass was caught by an open Kody Kohl for his first career touchdown reception. Linebacker Eric Kendricks bit hard on the play fake, allowing Kohl to get open.
That's a cool nine-play, 75 yard drive in a little over three minutes.
---
Crowd seems to be filling in nicely. Looks to be about 90% full.
---
ASU 3, UCLA 3 (6:54 left in the first quarter)
For the second time in four plays, Kenneth Walker III sees another pass go through his hands, this time on second down. On third down, though, Brett Hundley looked to his most dependable, Jordan Payton, and got into the red zone with a big first down completion.
After the fresh set of downs, the Bruins got cute with an inside flip pass to fullback Nate Iese, which lost a yard. Hundley was sacked on third down, which brought on the field goal team.
ASU burned its second timeout of the half, then kicker Ka'imi Fairbairn tied the game up with a 36-yard field goal.
---
Well, that's a big swing. Star Sun Devil running back D.J. Foster fumbled the ball, and Eric Kendricks recovered. The fumble seemed to be caused by defensive tackle Eddie Vanderdoes. UCLA gets the ball back with great field position.
---
Brett Hundley's first pass was a designed screen to running back Paul Perkins, who got blown up and lost a yard. We then had a television timeout that seemed to last longer than ASU's opening drive.
Perkins ran the ball for two yards on second down, and a strike from Hundley to Devin Fuller moved the chains for the Bruins. Remember, it's Hundley's left, non-throwing elbow that's injured. It's not likely to affect his passing, but could affect the way Hundley scrambles.
Speaking of scrambling, Hundley felt pressure and scurried for a first down, but the play was called back because of an offensive hands to the face penalty on Caleb Benenoch. Hundley appeared to connect with Fuller for another first down, but again, the play was called back on a penalty. This time, the offender was Thomas Duarte, who got called for offensive pass interference. On third down, Kenneth Walker III dropped a short pass, and UCLA was forced to punt.
---
Brett Hundley is starting at quarterback as UCLA takes the field for its first offensive drive. No real surprise.
---
ASU 3, UCLA 0 (12:54 left in the first quarter)
On the first play of the game, ASU quarterback Mike Bercovici flipped the ball to Kalen Ballage for a 10 yard gain. The Sun Devils kept driving, picking up a big first down on third-and-eight, then snatching up 15 yards for a facemask penalty called on Myles Jack.
The Sun Devils picked up the first points of the game on a career-long 49-yard field goal from Zane Gonzalez.
Arizona State seems to be making a concerted effort to spread the defense out, but so far, Bercovici hasn't been accurate enough to make that work. His passes are going wide, low, and everywhere in between.
---
And, we're off. Arizona State has elected to receive the ball, and UCLA will get it in the second half. No Texas-like snafus at the coin flip.
Temperature is announced at 98 degrees. That, combined with the leftover smoke from the opening introduction, makes it seem like these two teams are about to play in a volcano.
---
With the opening kick in five minutes, the student section has begun to fill up. Other than that, still a ton of empty seats here.
I went to a carnival once and did that little jelly bean in the jar guessing game. The actual number was something around 4,000. I guessed something around 400. So I'm not good at estimating numbers, but I would say this stadium is probably around 75% full right now.
---
Pretty empty stadium here so far. Fifteen minutes until kickoff, the stadium is at maybe 20% capacity. Could be a late arriving crowd, but there are not a lot of folks in their seats right now.
---
More warmup observations: Junior defensive lineman Ellis McCarthy is not on the field for warmups. He's easily the biggest Bruin defensive lineman at 325 pounds, a real space-filler in every sense of the phrase.
Update: After being absent for the initial warmup, Ellis McCarthy came out onto the field for the closing warmup.
---
Other injury updates: Tackle Malcolm Bunche (lower leg), safety Anthony Jefferson (anke) and cornerback Fabian Moreau (elbow) are all on the field warming up. Again, not definitive, but certainly a good sign for their chances of playing tonight.
---
For people asking about what the official depth chart says about Brett Hundley's status, there is no real official depth chart. UCLA coach Jim Mora doesn't believe in them.
Don't believe me? Randall Goforth is still listing as the starting safety. Last week, the Bruins announced that he's having surgery on both shoulders and will be out for the season.
---
The Brett Hundley watch continues. UCLA players are now warming up on the field in full uniform, and Hundley is wearing a massive brace on his left elbow. He's warming up normally with the rest of the quarterbacks, though, which is a good sign for his playing status tonight.
---
I suppose it's not a certainty until the game actually starts, but it looks like Brett Hundley is going to play when UCLA takes on Arizona State tonight in a Pac-12 Conference football game.
If Hundley makes it through warmups, indications are that the redshirt junior quarterback is going to play.
And, so far, so good. He's warming up with the other quarterbacks, like normal, and is skipping around like a man who doesn't expect to sit on the bench.
::
Hello from sunny Arizona, where the temperature seems to be somehow getting warmer as the day goes on. It was in the low 90s when the LA Times crew arrived, and the temperature at kickoff is going to be around 97 degrees. Shouldn't be too much of a factor, mostly because it's a dry heat and also because the Bruins practice on a turf field that feels much hotter than it does on the field right now.
More than 90 minutes before kickoff, there are already some shenanigans on the field. Someone who is theoretically associated with the Bruins carved a "UCLA" into the Arizona State pitchfork at midfield. The Sun Devils were not too pleased. After painting over the message, there are now three security guards standing at midfield, making sure it doesn't happen again.
On scene today, along with yours truly, are Times reporter Chris Foster and columnist Chris Dufresne. I'll be updating this blog post as well as tweeting @everettcook.
If you have questions you want answered in this space, tweet or email (everett.cook@latimes.com). I'll get to as many as I can, so long as the oppressive Arizona sun doesn't do me in first.
---
Get the latest on L.A.'s teams in the daily Sports Report newsletter.
You may occasionally receive promotional content from the Los Angeles Times.