USC QBs Max Wittek, Cody Kessler could present a tough choice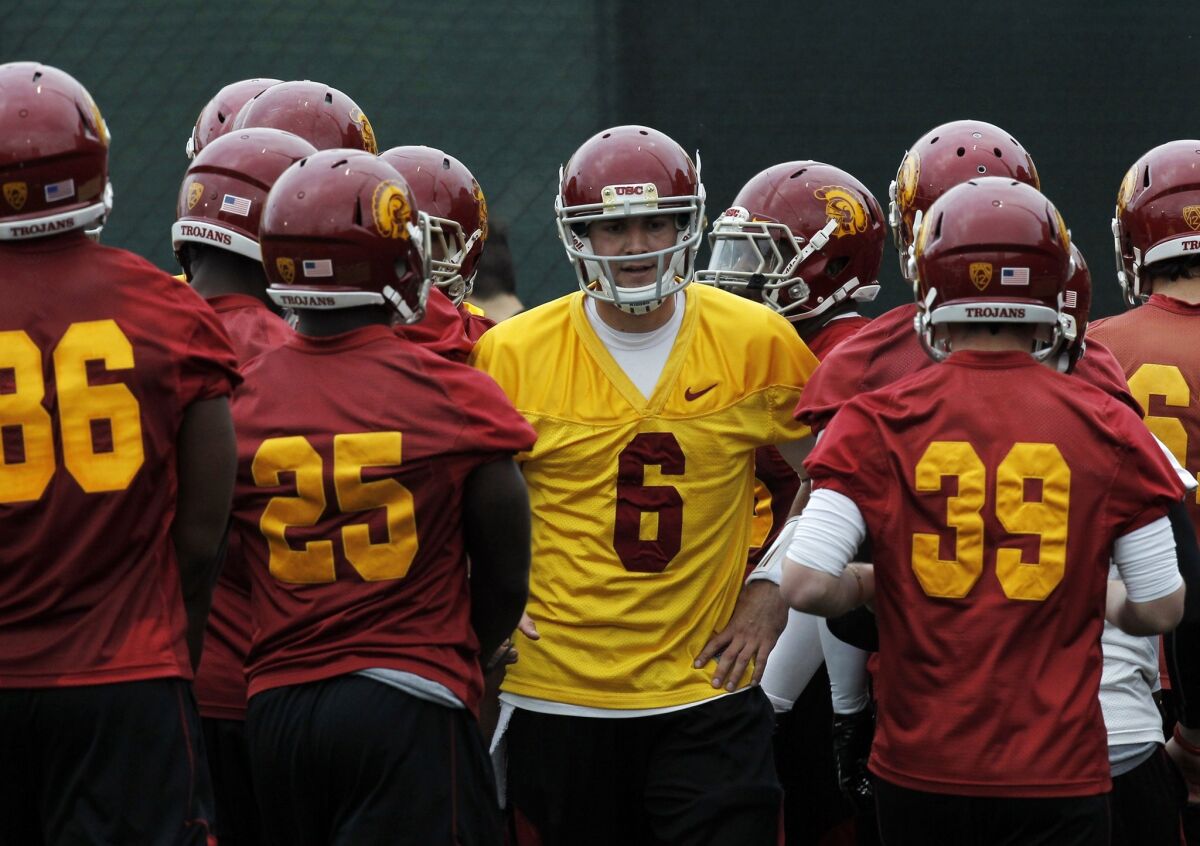 In the last 12 years, USC coaches chose a starting quarterback and kept him in the lineup, changing course only because of injuries.
So Coach Lane Kiffin is expected to pick Max Wittek or Cody Kessler as the No. 1 quarterback for USC's Aug. 29 opener against Hawaii — and beyond.
When asked Monday if he would consider splitting playing time at quarterback in the first few games before making a decision, Kiffin reiterated, "We'd never say never. We haven't done that before. But we'll see."
Through three days of practices, Wittek and Kessler are making it a difficult decision.
Each suffered only one interception in the first two days. During a full-squad drill Monday, Kessler connected with a leaping Marqise Lee for a touchdown, and Wittek followed with a nearly identical touchdown pass to Nelson Agholor.
Kessler and Wittek appeared incredulous when asked if they could foresee Kiffin allowing the competition to continue through several games.
"That's up to [Kiffin]," Kessler said. "I don't know how that would work. All I know is if that does happen…. I'm going to go in and make the most of my opportunity."
Said Wittek: "I think by the very nature of USC, by the very nature of Coach Kiffin, it just doesn't seem like something that would happen. So this competition is going to be a competition."
Wittek also clarified a remark he made Saturday. When asked if would consider transferring if he was not named the starter, Wittek told reporters he would "cross that bridge" if he got to it.
On Monday, Wittek said, "In my head, I'm confident enough to where I'm not worried about that. I've never considered it an option. That's just my competitive nature. That's really what I meant by it."
Browne competing
Barring injuries suffered by Wittek or Kessler, freshman quarterback Max Browne probably is on track to redshirt.
But Browne is practicing as if it is an open competition to start.
"I just try to focus on the reps that I'm getting, whether it's the ones, twos or threes, and make the most of them," Browne said. "I'm not trying to count them, but just making sure my completion percentage is up and making sure I get better every day."
Quick hits
The Trojans wore shoulder pads for the first time. They are scheduled to practice in full pads Wednesday…. Freshman Darreus Rogers is competing with senior De'Von Flournoy and sophomore Victor Blackwell for the No. 3 receiver spot. "He's kind of made a significant play every day," Kiffin said of Rogers, "and we're really excited about how he looks out there." … Linebacker Hayes Pullard did not practice but he is expected to return Tuesday, Kiffin said.
Twitter.com: @latimesklein
Get the latest on L.A.'s teams in the daily Sports Report newsletter.
You may occasionally receive promotional content from the Los Angeles Times.